Cam Newton explains what makes five-star QB Dante Moore so special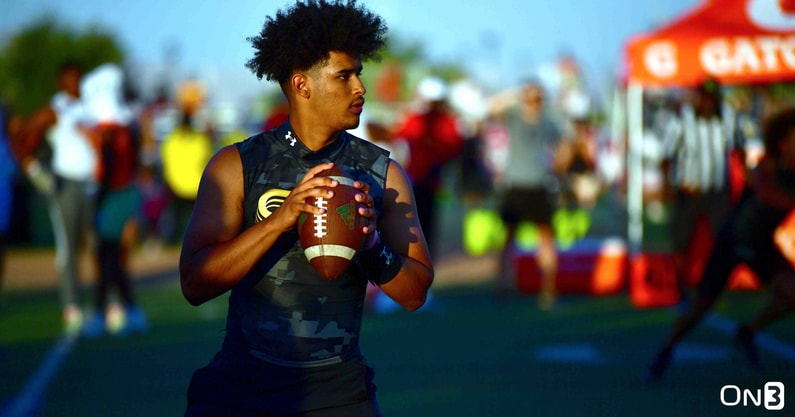 Five-star Detroit (Mich.) King quarterback Dante Moore has been showcasing his skill-set in front of a captivated audience all week at the OT7 Tournament in Las Vegas. His coach has had a front-row seat along for the ride.
Cam Newton has watched Moore lead C1 to a 4-2 mark and the No. 7 seed in the star-studded event. More than that, the former NFL MVP and Heisman Trophy winner believes Moore is shining in this setting.
"Very poised, very calm, very collected," Newton said of Moore, the No. 8 player overall on the On3 Consensus, "I've seen a lot of quarterbacks. He's no different than Bo Nix, Sam Howell, Malik Willis, Justin Fields — all of them came from the C1 program. I didn't make them; they made themselves and used this platform to showcase themselves … his body of work that he put in this summer is impeccable."
Moore has been brilliant picking apart 7-on-7 defenses with wise decision-making and was On3's MVP Day One in Sin City. The five-star has been exceptionally accurate, fired the ball out rapidly and can rocket it anywhere all over the field. Newton, who helped orchestrate this OT7 event, provided more perspective on what else distinguishes Moore.
"Everybody is talented, but he's been posied," Newton explained. "He's been in the ringer, when we were down he brought us back It's not just the talent — that counts — but as the quarterback, you're the default leader. His MO around his teammates, so his ability to make good guys geat, the young guys better, a guy who knows he has to be great each and every time — they're better off with him at quarterback. It's about that presence that gives you comfort. Dante Moore is that guy. If he comes to your school, his presence will bring that (to a team)."
The Detroit (Mich.) King standoout is continuing to mull over his options and doesn't have a timeframe on his decision. Ohio State, LSU, Oregon, Texas A&M, Michigan and Notre Dame are all recruiting the five-star quarterback, who Newton says is mature beyond his years.
"I like him and I appreciate his professionalism," Newton said. "It's a 7-on-7 tournament, you throw a lot of balls. Sometimes, the biggest enemy is in your head, your arm is hurting, you're mentally fatigued, you're away from the home, you're away from your parents, your girlfriend, your homeboys. you're out of your element. it's hot out here, so to come out mentally and physically and be coachable and not boujee …"
Moore is the nation's No. 4 quarterback on the On3 Consensus, a complete and equally weighted industry-generated average that utilizes all four major recruiting media companies.