2024 Four-Star Cam Scott names top 6 schools, talks decision timeline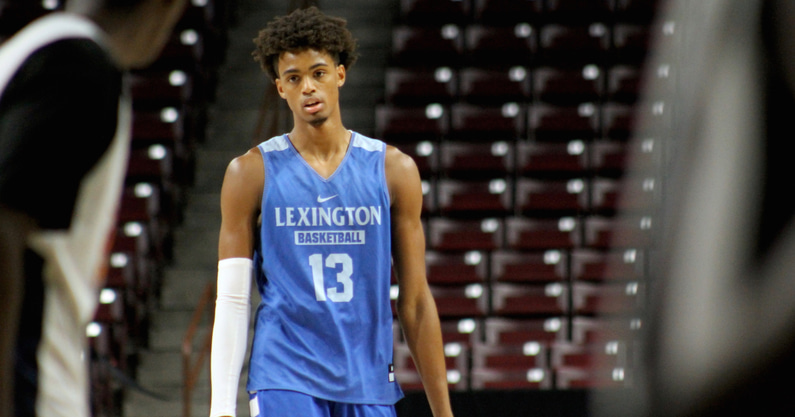 Four-star shooting guard Cam Scott of Lexington (S.C.) High is down to six schools: Texas, Florida State, Kansas, South Carolina, Tennessee, and Auburn.
The South Carolina native has visited each of his finalists, besides Kansas. His trips to Texas, Auburn, and South Carolina were official visits, while his trips to Florida State and Tennessee were unofficial.
Scott also received offers from North Carolina, Texas Tech, LSU, Miami, Alabama, Georgetown, and others.
The 6-foot-5, 175-pound 2024 prospect ranks as the No. 23 overall prospect nationally, according to the On3 Consensus. The On3 Consensus is the average ranking from all four major recruiting media companies. On3's evaluators are even higher on him, ranking him 14th nationally. He's also the No. 1 player in the state of South Carolina.
Scott talks finalists
In a previous interview, Cam Scott discussed several of his finalists.
Texas: "It's just the way they play for me. They play a fast-paced offense, getting up and down the floor. They play more of a four-around-one or five-out type offense. So they got a lot of freedom within their play style and that's just something that I love."
Florida State: "They've had a bunch of high level, highly-touted long wings and guards. Coming in at like 6-foot-5 and being their shortest position player. So just being in there, being able to run one through four, and then just their play style defense first and let their defense create their offense."
South Carolina: "Just the school being close to home. They have a huge fan base, just seeing the way that they're gonna play. They've been recruiting a lot of high-level guys some of them are signed now. So it's just something, I want to see what they have. Coach says he is looking for me to come in and be the man on the team, have everything run around me. So I'm just seeing how I can get that and have that get me to the next level."
Cam Scott recaps South Carolina visit
Tennessee: "I like what Tennessee has done with Ju (Julian Phillips). They turned him into well rounded player down there. At Link, he was more of an offensive mind that I saw. So they have really been trying to work on him with developing defense and just getting that settled in."
Auburn: "It really has to do with their coach. He is a very high level coach and just watching how he's put people into place and just getting them to the next level. He says he likes my build. It's like Jabari Smith, a long and athletic build. It's something where he likes the shooters too. So he likes being able to get up and down the floor and get quick shots."
What Scott is looking for in a program and a timetable for a commitment
"I want to go somewhere I can feel comfortable, where I can get better every day, but still be able to have my fun when I need it. I want to go somewhere where I can keep everything easy, off my mind and I can just go in and work every day."
Scott says he is aiming for an early February commitment. He says it's possible he takes more college visits but added "that's less than likely."
Scouting Summary
"Cam Scott is a lengthy wing prospect with a lot of pop," On3's Jamie Shaw writes. "The natural tools are very impressive all the way around. Scott has a mature game, plays within the flow of the offense, and rarely forces things. The jump shot release can be cleaned up, but the pull-up is smooth. Since the summer, Scott has developed his footwork and handle in the half-court, creating space to elevate into his jumper. Scott can take over a game and carry his team. I would like to see him develop the comfort to take a more aggressive alpha role on his teams. He is very efficient in his game, and his ability to score with a less is more approach is mature. Strength will come, and he is tracking as one of the top players in the 2024 class."