Top 15 Cam Scott WENT OFF in last night's win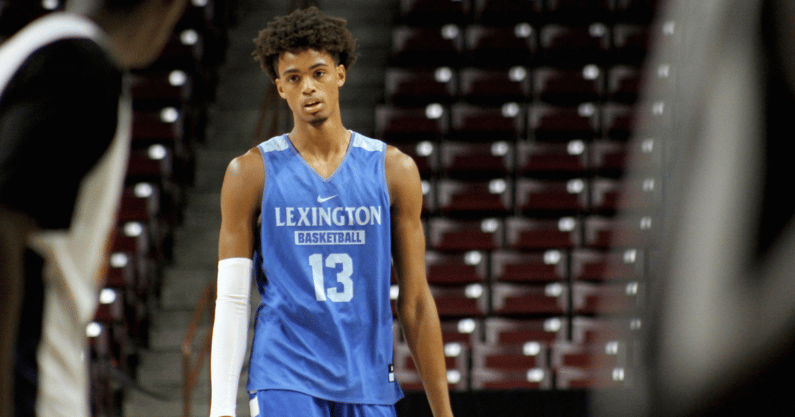 Cam Scott came in at No. 14 in the 2024 On3 150 update, keeping the 6-foot-5 shooting guard among the top 15 players in the country. This is ahead of his industry-standard 2024 On3 Consensus No. 23 ranking.
On Tuesday night, Scott exploded for 51 points in a Glymph Fall League win. The Glymph League is a South Carolina staple, a league that brings 30 or so of the best South Carolina teams together to compete. The Lexington (SC) High School wing finished 7-of-11 from three. The 51-point total came in a 40-minute game, 30 of which were running clock.
Scott carries over 20 D-I offers. He was 5A All-State for the second time last season after averaging 21.1 points, 5.9 rebounds, and 2.5 steals per game. The 6-foot-5 shooting guard was the leading scorer for one of the best 16u teams – Team United – on the Nike EYBL Circuit, averaging 11.8 points and shooting 50.7 percent from the field in 15.4 minutes per game. 
Scott also led the NBPA Top 100 Camp in three-point shooting, knocking down 50 percent of his shots and winning a camp championship.
Scott's recruitment
Cam Scott has three junior year official visits set and is rescheduling a fourth. He will visit South Carolina (10/22), Auburn (11/11), and Texas (10/25). Scott had an official visit set with Florida State; however, it had to be rescheduled due to Hurricane Ian.
The four-star wing will travel to Durham, North Carolina, for an unofficial visit on November 30. Duke will be playing Ohio State in the ACC-BIG 10 Challenge. He will also be in Knoxville, Tennessee, this weekend (Oct. 15.) for an unofficial visit to Tennessee.