Cameron Corhen, 2022 4-star, commits to Florida State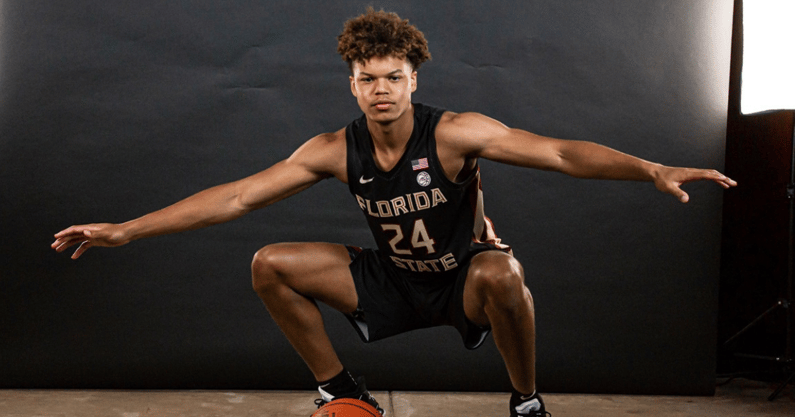 Cameron Corhen, a 6-foot-9 center out of Allen (Texas) Sunrise Christian has committed to Florida State basketball for the class of 2022, he tells On3.
Corhen is the Seminoles' first commitment of the 2022 class. He chose the Seminoles over Illinois, Kansas, Minnesota, Creighton, among others.
Florida State is also targeting Jaden Bradley, Dillon Mitchell, Julian Phillips, among others.
Cameron Corhen discusses his commitment to Florida State
"I'll be heading to Florida State," Corhen told On3. "After my visit, it sealed the deal. Just the amount of pros they have. They're getting dudes to the pros every year. Just the way they explained it, they have a system of getting dudes to the pros. It's not just like they're getting the top players and then getting them out. They have a system for how they do it, they look into stats heavily, and they have a lot of NBA connections. And that's obviously somewhere I wanna go, the NBA, so I feel like it's the best spot for me."
Florida State has been recruiting Corhen for quite some time, but things started to get real when he visited Florida State officially earlier this month.
"Coach Stan (Jones) has been recruiting for about six months," Corhen said. "But when I went on campus, Coach Leonard (Hamilton) was really the one to step in and was like 'we gotta get this finished. We need you here.' It was just one of those things that clicked."
What was Florida State's recruiting pitch to Corhen?
"Their pitch was… we all know where I wanna go, which is the NBA and they have a long list of dudes that look like me…similar frame, similar height, dimensions," Corhen said. "It's not a guard's school, it's a wing-forward school, for getting you better."
Corhen also touched on the culture at Florida State.
"When I was on campus, I hung out with the players and it was really fun," Corhen said. "With the dorms, all the players stay on the same floor. Everybody's cool. The walk-ons are treated like the star players, and the stars are treated like the walk-ons. It's one of those great culture schools."
What's Coren most excited about?
"Just the development they have," Corhen said. "They develop their players. They take a different approach with each player's development. So like all the players are going to learn how to dribble, shoot, and pass. I went to a practice and they have a 7-foot-4 dude doing the same ball handling drills as the guards. Just that fact stood out to me, that they want everyone to be versatile. And obviously, I'm a versatile player, I can do a lot of things on the court so that stood out to me. And how they wanna embrace that."