Carolina Panthers: Ben McAdoo has startling analogy when assessing quarterback competition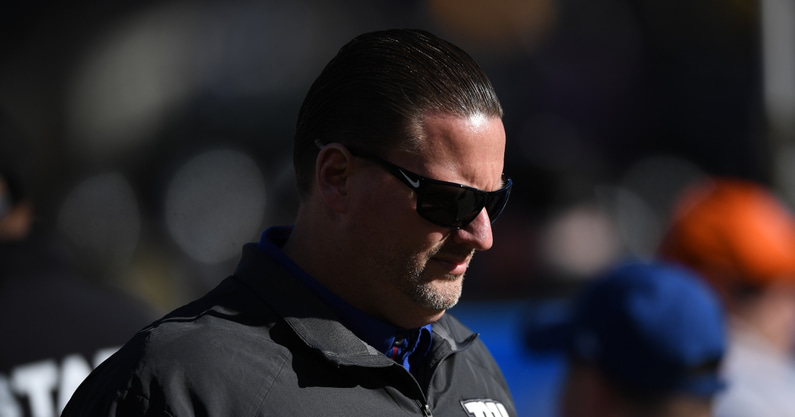 The Carolina Panthers have one of the more interesting quarterback situations in the NFL. On a roster that already had former first-round pick Sam Darnold, they added former first-overall pick Baker Mayfield. The Panthers also drafted Matt Corral out of Ole Miss.
Now, offensive coordinator Ben McAdoo has strange insight into the Carolina Panthers quarterback situation, through a startling analogy.
"As long as we don't resort to cannibalism, I think we have a chance to get out of this pretty good," Ben McAdoo said.
Who the quarterback is going to be in 2022 remains a question for the Carolina Panthers, though. McAdoo has been unwilling to say who the starter is going to be, saying that he "left his crystal ball in his other pants." However, the relationship between Darnold and Mayfield is reportedly healthy.
It's not surprising that McAdoo hasn't named the Carolina Panthers starter. Head coach Matt Rhule has already said that the team won't name a starter until after the team's second preseason game. That game will be against Bill Belichick's New England Patriots.
"The Patriots week is a true litmus test for us. That will really show us where guys are," said Matt Rhule.
The Carolina Panthers need to figure out their QB situation
It's clear that the Carolina Panthers need to figure out their quarterback situation to have a successful season in 2022. ESPN even gave them an over under of only 6 wins for the 2022 season. They traded for Sam Darnold in 2021, but he wasn't able to revive his career. Now, they've tried to do the same with Baker Mayfield.
Former Carolina Panthers star Steve Smith thinks the job should go to Baker Mayfield.
"But at the end of the day, you have to look at the guy who has dealt with adversity the best and that has to be Baker Mayfield," Steve Smith said. "Yes, I just said Baker Mayfield does handle adversity better than Sam Darnold. He's experienced that. Sam Darnold has been here a full year and has not solidified that seat. So when it's an open competition, the guy who can handle the most pressure I believe is Baker Mayfield. He will take that quarterback position, because they're also doing alternate reps with the first team. So that's telling you they want to make the right decision with the right guys and go throw-for-throw. That's very abnormal, but it's exciting as a fan to watch."