Carolina Panthers place punter on injured reserve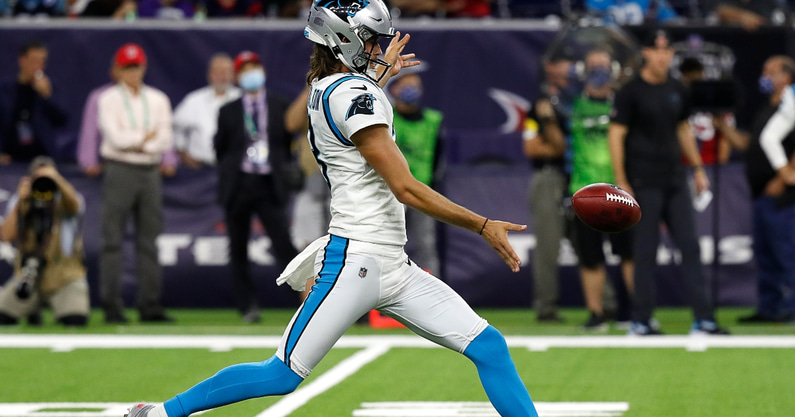 The Carolina Panthers are dealing with an important injury in their special teams unit. Today, punter Joseph Charlton was placed on the injured reserve.
Earlier this week, Charlton popped up on the injury report with a back issue — and subsequently was listed as limited. However, it turns out the problem will cost him at least the next three weeks of the season.
So far in 2021, Charlton had taken a step back following his rookie season. The former South Carolina Gamecocks punter has faced his struggles this season. Charlton's net average this season has been 37.5 yards per punt, after it was an impressive 40.8 as a rookie in 2020.
Moreover, the Panthers punt had a punt blocked last week against the Philadelphia Eagles. On the drive following, the Eagles scored the game-winning touchdown.
As a corresponding move, the Panthers signed safety Kenny Robinson from their practice squad. Originally, Robinson was drafted by the Panthers in the fifth round of the 2020 NFL Draft. He gained notoriety from playing in the XFL prior to the draft.
As for Charlton's possible replacement, the Panthers signed punter Ryan Winslow to the practice squad. In his career, Winslow has spent time with the Bears, Cardinals and Packers and in the AAF.
On Sunday, Winslow will be a candidate to be elevated the the team's active roster. He's played in two NFL games – both with the Cardinals in 2019 – possessing a 48.5-yard gross and 44.2-yard net punting average.
By being placed on the injured reserve, Joseph Charlton will miss at-least the next three games. In those games, the Panthers will face the Minnesota Vikings, New York Giants and Atlanta Falcons.
If running back Christian McCaffrey can return from his injury, perhaps he can help alleviate some of the pressure off the Panthers replacement punter.