LOOK: Carolina Panthers release new jersey numbers for Matt Corral, rookies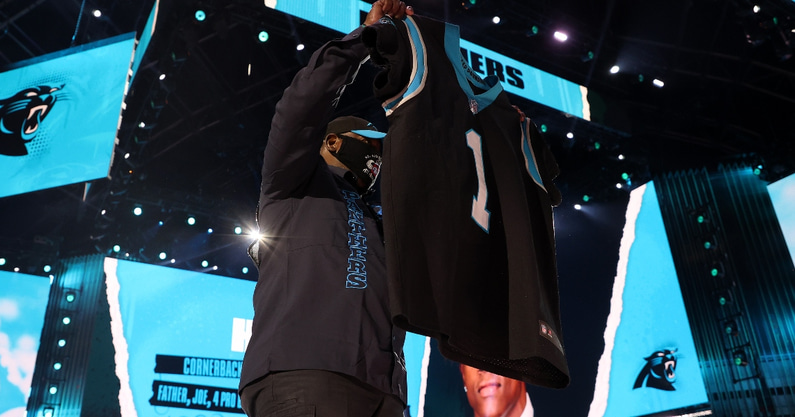 The Panthers have revealed the jersey numbers for their rookie class, including quarterback Matt Corral. If the former Ole Miss star is as good for Carolina as he was in Oxford, his jersey could become a hot commodity in The Queen City.
Here's the full list of jersey numbers for the Panthers 2022 rookie class.
No. 79 — Ikem Ekwonu, OT, NC State
No. 9 — Matt Corral, QB, Ole Miss
No. 40 — Brandon Smith, LB, Penn State
No. 46 — Amare Barno, DE, Virginia Tech
No. 64 — Cade Mays, OL, Tennessee
No. 35 — Kalon Barnes, CB, Baylor
No. 87 — Josh Babics, TE, North Dakota State
No. 4 — Davis Cheek, QB, Elon
No. 52 — Isaiah Graham-Mobley, LB, Boston College
No. 37 — Drew Hartlaub, S, Penn State
No. 10 — Ra'shaun Henry, WR, Virginia
No. 13 — Talolo Limu-Jones, WR, Eastern Washington
No. 37 — John Lovett, RB, Penn State
No. 78 — Marquan McCall, DT, Kentucky
No. 90 — Arron Mosby, LB, Fresno State
No. 15 — Andrew Parchment, WR, Florida State
No. 85 — Charleston Rambo, WR, Miami
No. 94 — Khalan Tolson, LB, Illinois
No. 83 — Derek Wright, WR, Utah
Matt Corral: 'My approach is just to be the best I can be each and every day'
Selecting Ole Miss quarterback Matt Corral with the No. 94 overall pick of the 2022 NFL Draft, the Carolina Panthers are setting up a quarterback battle for the 2022 season. However, they still have former New York Jet Sam Darnold, who has received some votes of confidence this offseason from the Panthers staff.
Reporters asked the newest Panthers quarterback his intentions for year one and how he plans to approach his first NFL quarterback battle.
"My approach is just to be the best I can be each and every day, get one percent better every day," Corral said. "My competitive nature is obviously going to want me to be the starter and I'm going to do everything in my power to do that, I'm just going to put my best foot forward and again, just let God take control."
The Panthers traded the No. 137 overall pick and a future third-rounder to the New England Patriots for the No. 94 pick.
Corral was a former four-star recruit according to the On3 Consensus, a complete and equally weighted industry-generated average. Corral was fifth amongst quarterbacks in the 2018 recruiting class.
In 2020, Corral had his breakout season and led the FBS in total offense with 384.3 yards per game. He ranked top-ten in passing efficiency, touchdowns and yards in his 10 starts — and was a Manning Award finalist. In their Outback Bowl win over Indiana, Corral threw for 342 yards and two touchdowns. His final season saw him finish seventh in Heisman Trophy voting in a season. He threw for 3,349 yards and 20 touchdowns with just five interceptions — as well as rushing for another 11 touchdowns.