CBS Sports college football Top 25: Week 3 wreaks havoc on rankings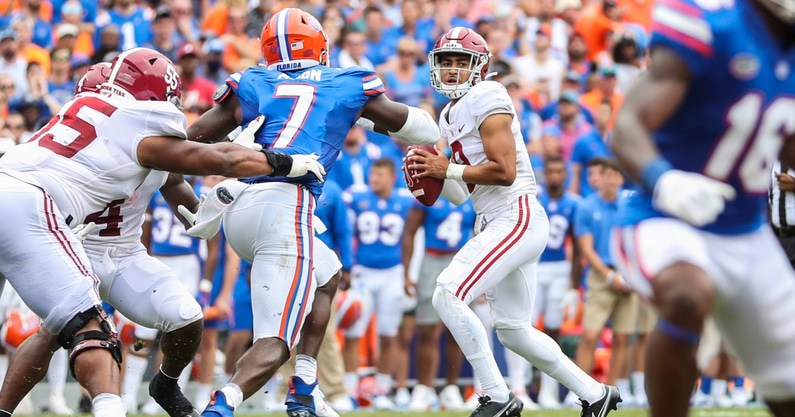 Following a tumultuous weekend of college football, the CBS Sports college football Top 25 has been shaken up. While the Alabama Crimson Tide still lead the way, multiple teams are making their way up the rankings.
Unfortunately, moves up the rankings correspond with moves down them. Inevitably, teams like the UCLA Bruins and Auburn Tigers suffered setbacks following losses.
Furthermore, teams like the Arkansas Razorbacks and Michigan State Spartans are slowly but surely making their way up the rankings. Check out the full CBS Sports college football Top 25 below.
CBS Sports college football Top 25:
1) Alabama Crimson Tide
2) Georgia Bulldogs
3) Oregon Ducks
4) Oklahoma Sooners
5) Penn State Nittany Lions
6) Iowa Hawkeyes
7) Texas A&M Aggies
8) Cincinnati Bearcats
9) Ohio State Buckeyes
10) Florida Gators
11) Clemson Tigers
12) Ole Miss Rebels
13) Notre Dame Fighting Irish
14) Michigan Wolverines
15) Iowa State Cyclones
16) Arkansas Razorbacks
17) Wisconsin Badgers
18) BYU Cougars
19) Michigan State Spartans
20) Coastal Carolina Chanticleers
21) North Carolina Tar Heels
22) Auburn Tigers
23) Fresno State Bulldogs
24) UCLA Bruins
25) Kanas State Wildcats
Biggest Risers
Fresno State Bulldogs (+39). No longer a sleeper team, Fresno State shot up the CBS Sports rankings following their upset win against UCLA.
West Virginia Mountaineers (+33). CBS mentions that originally their voters were simply too low on West Virginia, accounting for the Mountaineers huge rise this week. While they didn't make the Top 25, they could be on their way.
Kansas State Wildcats (+19). The Wildcats remained undefeated this weekend, but can they keep it going? CBS mentions that how they fare in conference play will be their true test.
Michigan State Spartans (+14). Mel Tucker has brought the Spartans back to respectability. In the CBS Sports college football top 25, they're once again one of the biggest risers.
Biggest Fallers
UCLA Bruins (-12). First, CBS mentions that part of Fresno State's meteoric rise was due to the belief that UCLA is a good team. While they remain in the Top 25, a move down was a must.
Arizona State Sun Devils (-12). Simply, Arizona State's win quality isn't there, according to CBS. However, a lot rides on how good BYU can make their one loss look.
Virginia Tech Hokies (-16). After a 2-0 start, CBS mentioned that they may have jumped the gun ranking the Hokies so high. Evidently, it looks like Virginia Tech's slide was a return to the median.