CBS Sports gives six-pack of Week 13 college football predictions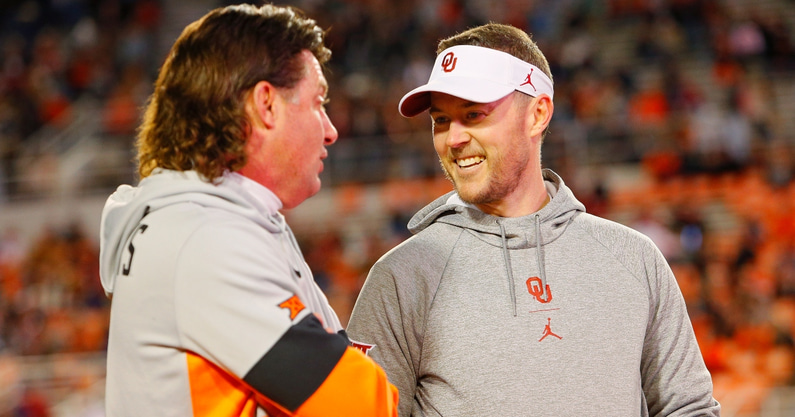 Week 13 is extremely important in college football. The weekend will have major impacts on the College Football Playoff picture and will solidify conference championship matchups. Ahead of the Week 13 action, CBS Sports has released six predictions for the weekend.
CBS Sports Week 13 predictions
No. 2 Ohio State at No. 5 Michigan: Ohio State -8
Everyone knows the importance of 'The Game' on Saturday between Ohio State and Michigan. The winner of the game clinches a berth in the Big Ten Championship and will also likely be all but locked into a spot in the College Football Playoff. Ohio State's offense is dominant, and CBS thinks it will be too much for Michigan to handle. CBS' prediction is Ohio State 38, Michigan 27 with the Buckeyes covering the eight point spread.
No. 10 Oklahoma at No. 7 Oklahoma State: Under 49.5
There is another important matchup this weekend in Bedlam between Oklahoma and Oklahoma State. Oklahoma State already has a spot in the Big 12 Championship locked up, but Oklahoma needs to win to have a shot. If Oklahoma or Oklahoma State can win in Bedlam and also win the Big 12 Championship, that team will pick up two more top ten wins, as Baylor is also ranked in the top ten and is alive in the Big 12. Oklahoma State's defense is great, and CBS thinks that the under hits in Bedlam with Oklahoma State winning 24-21.
Navy at Temple: Navy -12.5
Temple is 3-8 on the season with a current six-game losing streak. Navy is 2-8 overall with a two-game losing streak. Stopping Navy's triple option offense is always tricky, and could be even more difficult with a struggling Temple team. Over the last six games, Temple has been outscored 261-45. In a game where offensive possessions could be limited, the Owls are going to have a tough time. CBS predicts Navy easily covering the 12.5 point spread with a 34-10 victory.
No. 16 Iowa at Nebraska: Under 41
CBS published its Week 13 predictions prior to Friday's games, and Iowa and Nebraska faced off on Friday. CBS predicted a low-scoring game with a 21-14 Iowa victory, remaining under 41 points. Iowa ultimately won the game 28-21, meaning that the under did not hit.
FIU at Southern Miss: Southern Miss -10.5
Like Temple, FIU is seeing serious struggles right now. FIU has lost ten consecutive games. The Panthers lost 49-7 to North Texas last week. On the other hand, Southern Miss has turned things around after a slow start to the year. Southern Miss beat Louisiana Tech 35-19 last week. CBS thinks that the distractions within FIU's program will be too much, and that Southern Miss covers the 10.5 point spread with a 31-3 victory.
Northwestern at Illinois: Illinois -6.5
Northwestern has won six straight against Illinois. But the Wildcats have struggled on both sides of the ball this season. Illinois can run the ball well at times, which could present issues for Northwestern. While a win would only give Illinois a fifth win, they could have an outside shot at being picked for a bowl game at 5-7. CBS predicts that Illinois wins 24-13, covering the 6.5 point spread.