CBS Sports releases Way Too Early Top 25 for 2022 college football season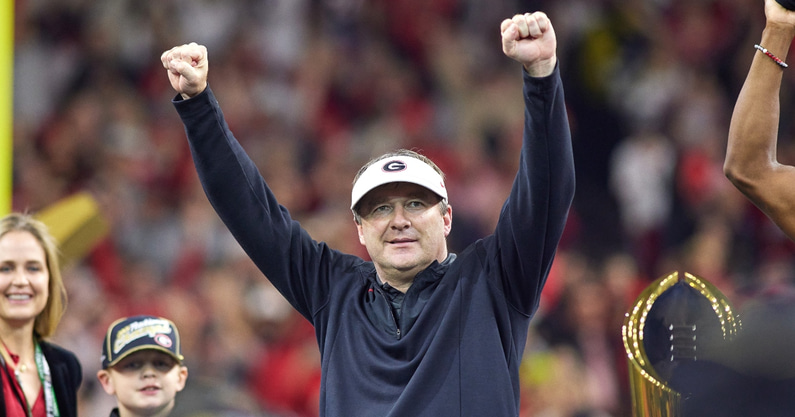 After one of the wildest seasons in recent memory, the long layoff until college football begins once again will feel like forever. In the meantime, CBS Sports released their Way Too Early Top 25 for the 2022 college football season.
Wild upsets, a shocking coaching carousel and transfer portal drama dominated the 2021 season. Still, the two best teams in the nation found a way to separate themselves — Georgia and Alabama facing off in the finale after being on a collision course since September.
The game lived up to expectations, with the Bulldogs ending a forty-year drought. However, CBS Sports believes the Crimson Tide will be the team to beat in 2022. With the reigning Heisman winner returning to quarterback their team, Nick Saban will be tough to beat as he looks to avenge his loss to Georgia. There's few things scarier in the sport of college football than an angry, vengeful Nick Saban.
Moreover, the 2022 college football season will determine if the landscape of the sport has officially been changed. Are Kirby Smart and the Georgia Bulldogs the class of the sport, or is Saban still the man to beat? Additionally, what can coaches like Brian Kelly and Lincoln Riley do for programs like LSU and USC?
With so much unknown about the future, CBS Sports tried their hand at predicting it. Here's the CBS Sports Way Too Early Top 25 for the 2022 college football season.
CBS Sports Way Too Early Top 25:
1) Alabama Crimson Tide
2) Ohio State Buckeyes
3) Georgia Bulldogs
4) Oklahoma Sooners
5) Texas A&M Aggies
6) Baylor Bears
7) Notre Dame Fighting Irish
8) LSU Tigers
9) Clemson Tigers
10) Arkansas Razorbacks
11) Michigan Wolverines
12) Miami Hurricanes
13) Utah Utes
14) USC Trojans
15) Tennessee Volunteers
16) Texas Longhorns
17) Wake Forest Demon Deacons
18) Oregon Ducks
19) Wisconsin Badgers
20) Michigan State Spartans
21) BYU Cougars
22) South Carolina Gamecocks
23) Cincinnati Bearcats
24) Penn State Nittany Lions
25) Oklahoma State Cowboys