CBS Sports updates Top 25 college football rankings ahead of Week 5
J.D.'s CFP Rankings After Week 4
CBS Sports updated its top 25 rankings after the Week 4 slate of college football and Week 5 sets up for more good matchups.
There weren't massive shake ups in the rankings, but, there's a bit of a surprise near the top. No, it's not Georgia, but someone out west right up the Bulldogs' tail.
Let's dive into the latest top 25 rankings ahead of Week 5, according to CBS Sports.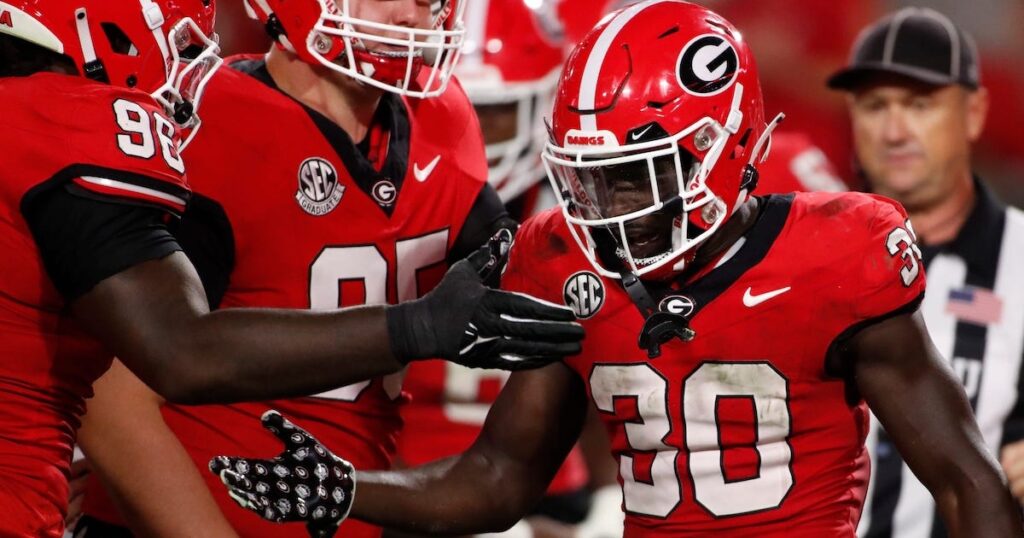 The Bulldogs remained undefeated with a 49-21 win over UAB, although Georgia led just 7-0 after the first quarter. It's a new week, so we're trying to find a kink in the armor of the two-time champions.
There's not many, if any, in the armor of Georgia. Carson Beck had a fantastic game, throwing for 338 yards and three scores. Brock Bowers led the way with 9 catches for 121 yards and two touchdowns. Even Daijun Edwards scored twice on the ground off just 12 carries and 66 yards.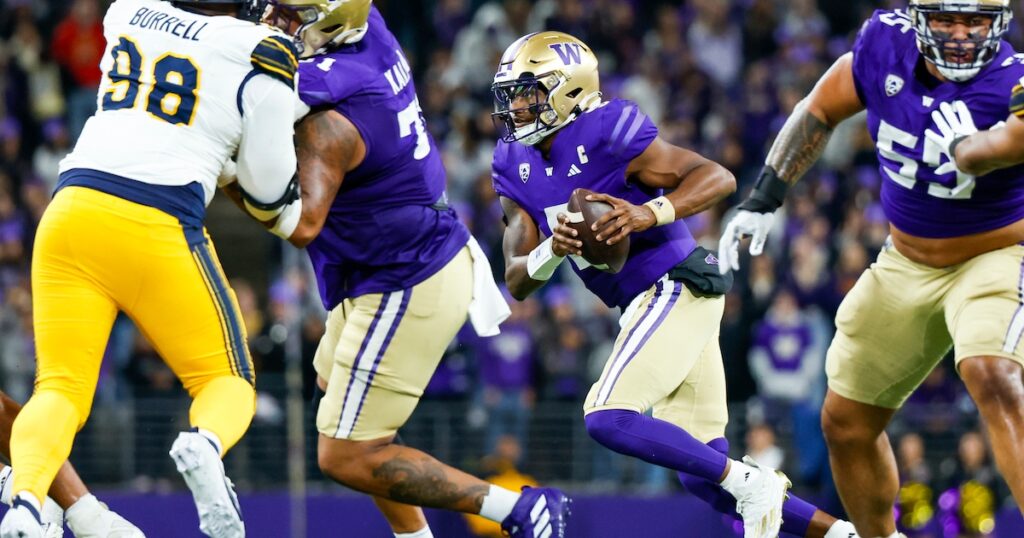 Washington as the No. 2 team? That's right, the Huskies are the best team in the country not named Georgia according to CBS Sports. They've been dominant.
In fact, this is a team led by quarterback Michael Penix Jr. that can probably outscore anyone given the chance. Don't get into a track meet with these guys. It's time to start looking at Washington as one of the most dangerous teams in the country.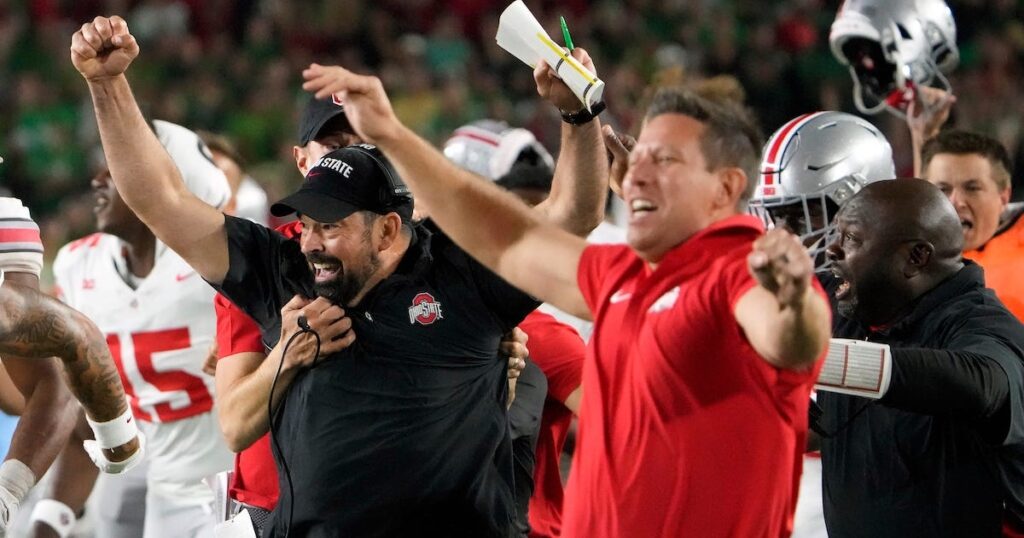 Likely the biggest win of the weekend came in South Bend, but it wasn't the Fighting Irish celebrating. Ryan Day and the Buckeyes won 17-14 following a touchdown from Chip Trayanum with one second left.
Notre Dame seemingly had the game in its grasp but Ohio State toughed it out in the end. Day made sure to yell that loud and proud during his postgame interview on NBC. But this is the type of win that put Ohio State back on the shortlist of contenders.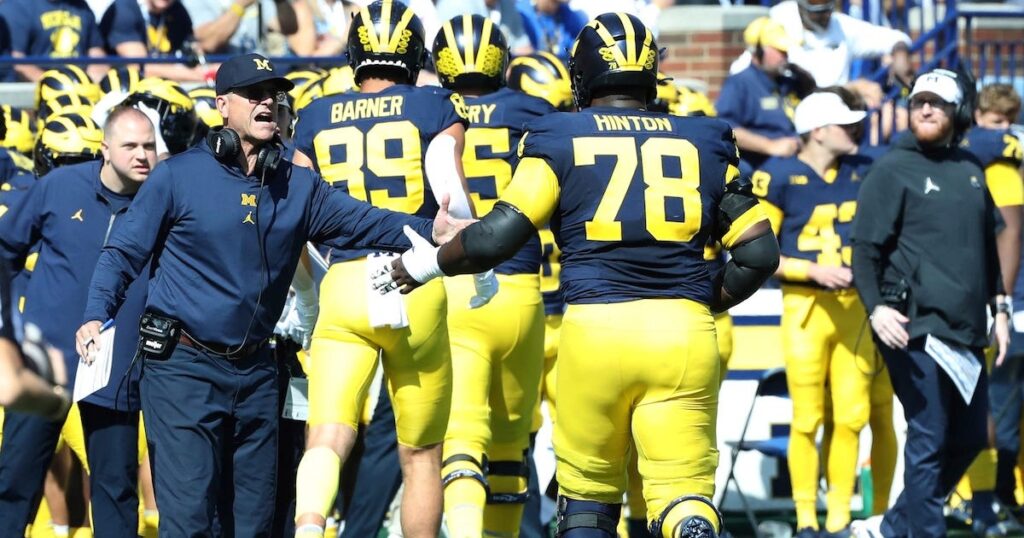 The Wolverines had their first Big Ten game this season with Rutgers coming to town. The Scarlet Knights struck first before MIchigan pulled away with a 31-7 win.
Highlighted on this day was the return of Jim Harbaugh to the sidelines. If anything can be taken away from this game, the defense is elite. The offense is very talented but still needs to work out some kinks against the best of the best.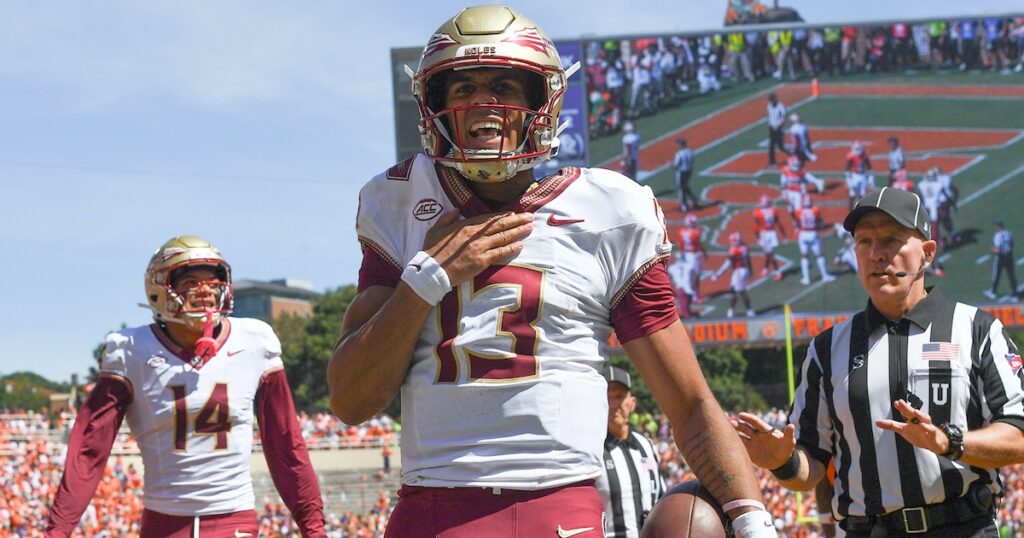 The Seminoles were arguably a missed field goal away from an upset loss at Clemson. Clemson, while still unranked, gave Florida State all it could in a 31-24 overtime win for FSU.
Johnny Wilson and Keon Coleman made absurd catches and the Seminoles escaped and remained undefeated. They're not at the top of the ACC and Clemson has some soul searching. What a win.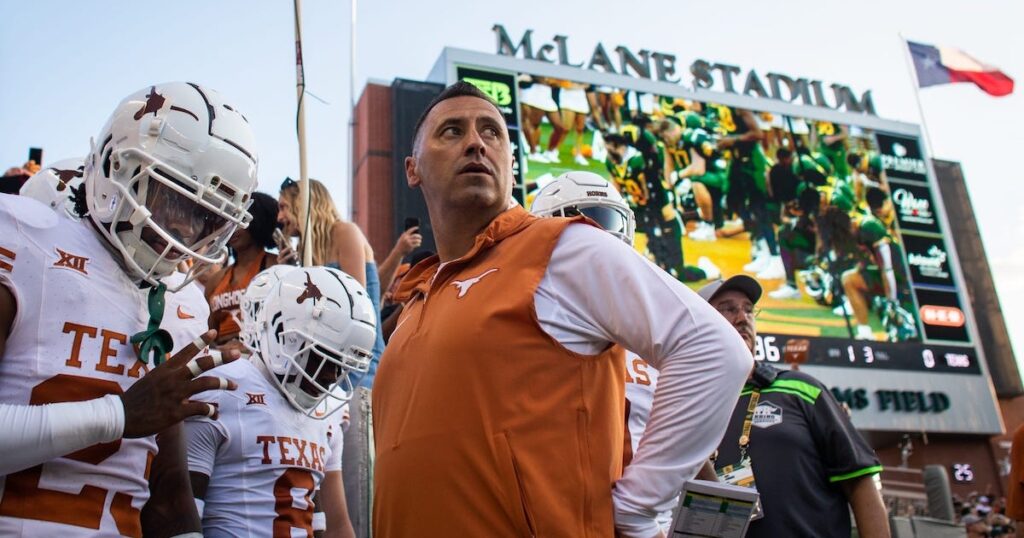 Texas rolled to a 38-6 victory over Baylor in what was a quiet Big 12 game by all things considered. That's how much Texas was on cruise control to win another game and stay undefeated this season.
The defense swarmed the Bears offense while Quinn Ewers and Jonathon Brooks dominated in the air and on the ground. Chalk it up for another win for Steve Sarkisian as Texas remained unbeaten.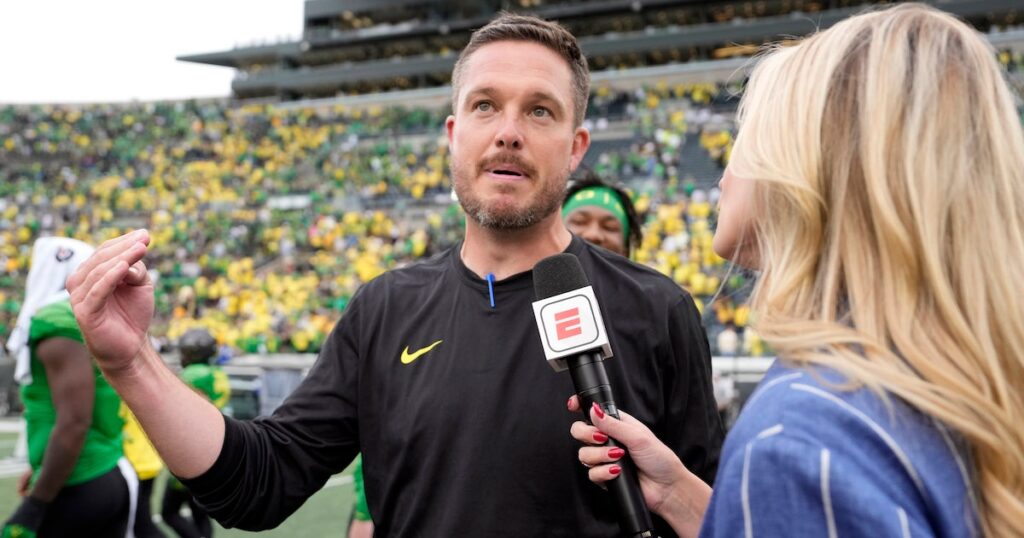 Oregon made a lot of headlines with its domination of Colorado over the weekend. Heck, Dan Lanning made the biggest ones with his pregame speech.
Yes there was some response from Deion Sanders in the postgame pressers, and that is basically the story of this one, but lost in the sauce is how good the Ducks are. Bo Nix is a Heisman candidate and Oregon could very well find itself in the CFP.
Penn State had a hyped matchup with the Iowa Hawkeyes, but the Nittany Lions wanted no part of a nail biter. James Franklin and company methodically rolled to a 31-0 victory and once again, they kept pace with Michigan and Ohio State.
Drew Allar played much better under center. He threw for just 166 yards but tossed four touchdowns on an average night for the run game. Penn State improved to 4-0 and remained in the top 10.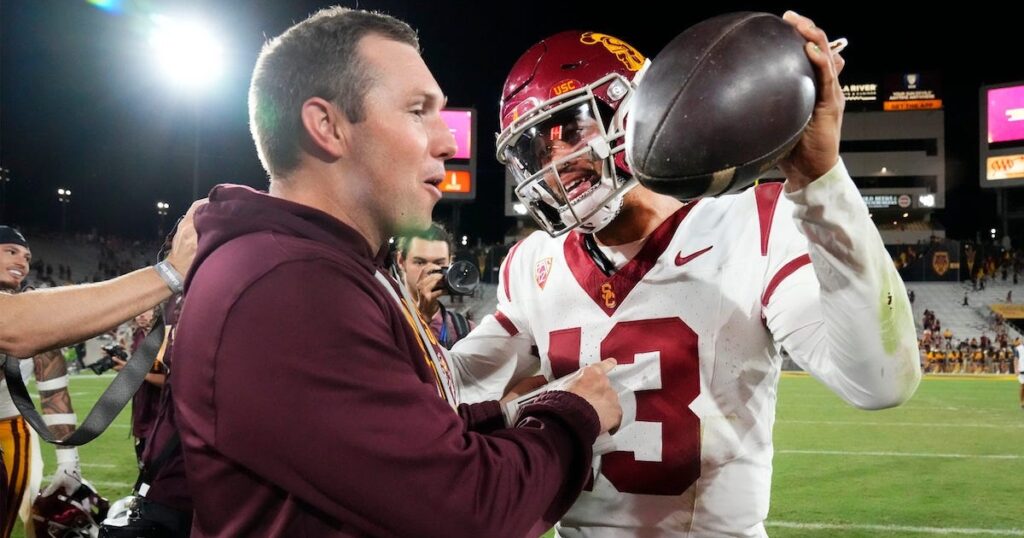 USC kept it rolling with a 42-28 win over Arizona State, but giving up four scores could be concerning for some. Alex Grinch's defense will be the Achilles heel for this team until he isn't.
On offense, Caleb Williams did what he usually does: 322 yards and three touchdowns, plus two more on the ground. As he goes, USC goes. But the schedule is only going to get tougher.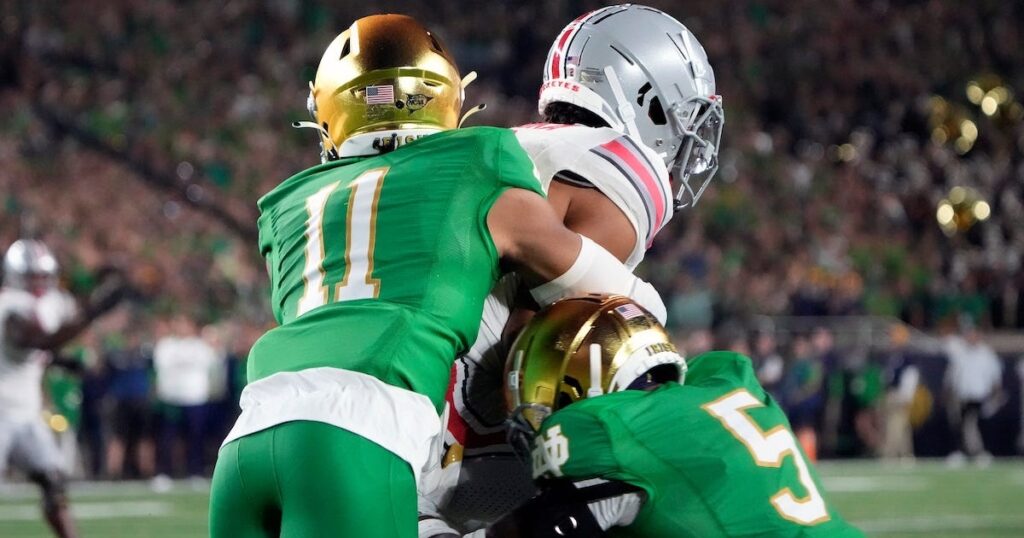 Marcus Freeman and the Fighting Irish aren't going to let one loss define the team this season. They have to turn the page quickly with Duke on the schedule this weekend.
Sam Hartman and the offense have to be better as 14 points is not going to cut it against future opponents. But again, if Notre Dame won a defensive slugfest against the Buckeyes, we'd have a different conversation.
Rest of CBS Sports Top 25
11. Oklahoma
12. Utah
13. Duke
14. Alabama
15. Washington State
16. LSU
17. Miami
18. North Carolina
19. Ole Miss
20. Oregon State
21. Missouri
22. Tennessee
23. Florida
24. Kentucky
25. Kansas
Can these rankings really change going into next week? Absolutely. Heck, the top 10 could really change if there are some upsets. One thing's for sure, there are plenty of teams gunning for Georgia this season.