CBS Sports updates power rankings after Week 6 of college football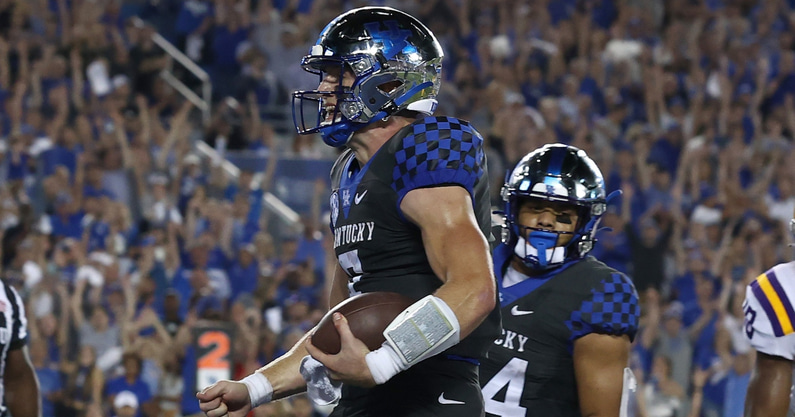 The results from Week 6 have drastically impacted the college football world, and that is also true for the latest CBS Sports power rankings from Dennis Dodd. Dodd's latest rankings reflect the chaotic weekend and features some significant movement.
Dodd's power rankings after Week 6
Georgia Bulldogs (6-0)
Iowa Hawkeyes (6-0)
Alabama Crimson Tide (5-1)
Cincinnati Bearcats (5-0)
Oklahoma Sooners (6-0)
Oregon Ducks (4-1)
Kentucky Wildcats (6-0)
Penn State Nittany Lions (5-1)
Ohio State Buckeyes (5-1)
Michigan Wolverines (6-0)
Michigan State Spartans (6-0)
Notre Dame Fighting Irish (5-1)
Oklahoma State Cowboys (5-0)
Florida Gators (4-2)
Coastal Carolina Chanticleers (6-0)
Wake Forest Demon Deacons (6-0)
BYU Cougars (5-1)
Texas A&M Aggies (4-2)
Ole Miss Rebels (4-1)
NC State Wolfpack (4-1)
Clemson Tigers (3-2)
SMU Mustangs (6-0)
Arkansas Razorbacks (4-2)
Arizona State Sun Devils (5-1)
San Diego State Aztecs (5-0)
Alabama's loss shakes up the top five in the rankings after Week 6
With Texas A&M taking down Alabama, there is a new consensus No. 1 team in college football in Georgia. The Bulldogs take over the top spot in Dodd's rankings after Week 6, and Alabama falls to No. 3. Iowa sits in between Georgia and Alabama at No. 2 following a big victory over Penn State. Cincinnati remains in the fourth spot for Dodd and Oklahoma rises one spot to round out the top five.
Kentucky's surge has continued and the Wildcats rise four spots up to seventh in Dodd's Week 6 rankings. Penn State falls three spots down to eighth following its first loss of the season. Ohio State and Michigan each fall one spot in Dodd's ranking but still come in at ninth and tenth to round out the top ten.
Michigan State and Oklahoma State each rose two spots and sandwich No. 12 Notre Dame in the rankings after Week 6. Then, Florida and Coastal Carolina rise three spots each to round out the top 15. Wake Forest rises seven spots up to 16 while BYU falls seven spots to 17 after losing for the first time. Texas A&M and Ole Miss join Dodd's rankings at 18 and 19 after missing out last week.
NC State, Clemson, SMU, and Arizona all stand pat at their previous rankings while Arkansas falls seven spots to come in at 23. San Diego State rounds out the top 25 after not being ranked last week. Texas, Auburn, and Pittsburgh fell out of Dodd's latest rankings.