CBS Sports updates Top 25 rankings ahead of Week 7 of college football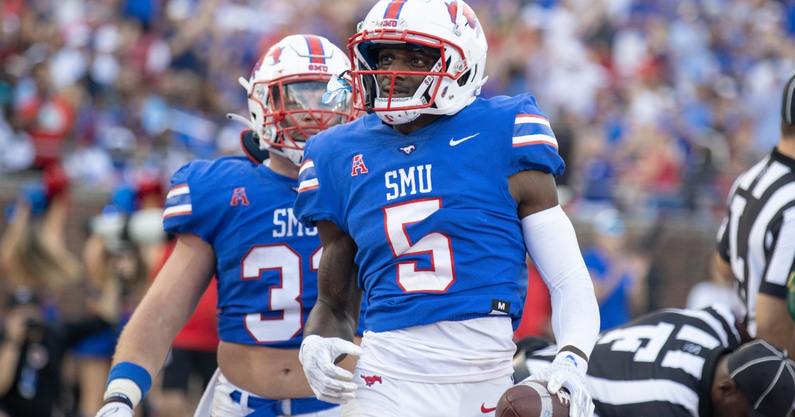 CBS Sports updated their Top 25 rankings ahead of a highly anticipated Week 7 of college football. Coming off of a weekend of games that saw some huge upsets, this weekend has potential to surpass the drama we saw.
First, Texas A&M's gigantic upset of the Alabama Crimson Tide shook the college football world to its core. In one of the most shocking upsets in recent memory, the CBS Sports Top 25 was knocked for a loop.
This week, another huge SEC game has the chance to change the rankings — the Kentucky Wildcats will attempt to dethrone the Georgia Bulldogs. Prior to another huge college football weekend, here's the updated CBS Sports Top 25 rankings.
CBS Sports Top 25:
1) Georgia Bulldogs
2) Iowa Hawkeyes
3) Cincinnati Bearcats
4) Alabama Crimson Tide
5) Oklahoma Sooners
6) Ohio State Buckeyes
7) Michigan Wolverines
8) Penn State Nittany Lions
9) Michigan State Spartans
10) Kentucky Wildcats
11) Oklahoma State Cowboys
12) Oregon Ducks
13) Ole Miss Rebels
14) Coastal Carolina Chanticleers
15) Notre Dame Fighting Irish
16) Wake Forest Demon Deacons
17) Florida Gators
18) SMU Mustangs
19) Arkansas Razorbacks
20) Arizona State Sun Devils
21) Texas A&M Aggies
22) BYU Cougars
23) NC State Wolfpack
24) Texas Longhorns
25) Baylor Bears
Biggest Risers
Texas A&M Aggies (+12). One was to make a drastic climb up the CBS Sports Top 25 is to beat the consensus best team in the country. Against Alabama, quarterback Zach Calzada was a revelation — he was a man possessed on the way to shocking the Crimson Tide.
Oklahoma State Cowboys (+4). Slowly but steady, the Cowboys are climbing up the rankings. Now up to No. 11 according to CBS and No. 12 in the AP Poll, Oklahoma State is getting the job done anyway they can.
SMU Mustangs (+4). The undefeated Mustangs continue to impress, as they enter their bye week at the perfect time. If they can enter a late-season matchup against Cincinnati with an undefeated record, there's no telling how high they can climb.
Florida Gators (+4). Last week, the Gators took a huge hit in the CBS Sports Top 25 when they lost to the Kentucky Wildcats. However, the convincing victory from Kentucky over LSU last weekend may have helped the Gators out. Also, winning 42-0 helps too — even if it comes at the expense of Vanderbilt.
Biggest Fallers
BYU Cougars (-11). Everything was going swimmingly for BYU, until the Boise State Broncos came to town. Now with their undefeated season by the wayside, the Cougars will have to rebuild their credibility.
Arkansas Razorbacks (-7). Sam Pittman received immense praise prior to the Razorbacks matchup with the Georgia Bulldogs. However, two straight losses have put a damper on things. Arkansas was a play away from victory over Ole Miss, but they couldn't get it done.
Texas Longhorns (-5). There's no telling how high the Longhorns could've climbed up the CBS Sports Top 25 with a victory over Oklahoma. It was in their grasps, but Caleb Williams ripped it from their hands.
Alabama Crimson Tide (-3). They fell down the CBS Sports Top 25, but not far. When you're the No. 1 ranked team in the country, going to No. 4 feels like a sinking ship. However, the Crimson Tide control their own destiny — win out and they'll be back at the top.