CeeDee Lamb's practice availability updated ahead of Thanksgiving Day game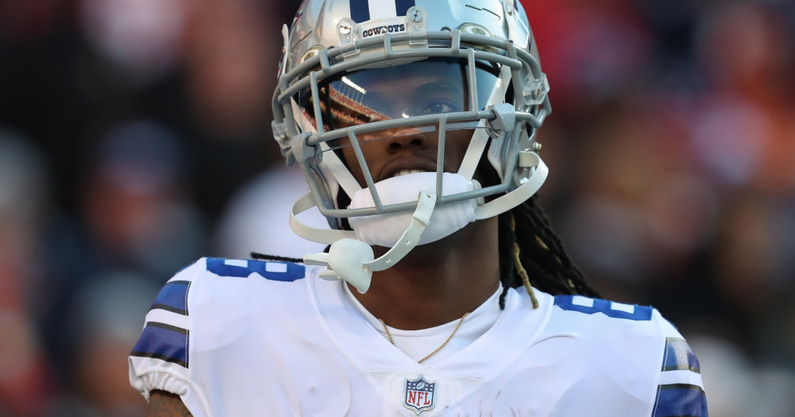 Things are trending in the right direction for Cowboys star wide receiver CeeDee Lamb. After leaving Sunday's loss against the Kansas City Chiefs with a concussion, Lamb was spotted at practice on Wednesday.
In addition to being present at practice, Dallas coach Mike McCarthy provided an update on Lamb's status.
"He hasn't missed a step. If he's able to keep progressing, we see him being available," said McCarthy, per Jon Machota of The Athletic."
The former Oklahoma star suffered his injury while attempting to break up an interception against the Chiefs. As a result, he didn't return to the game.
While CeeDee Lamb didn't practice earlier this week, you can see he's on the field as the Cowboys prepare for Thursday's showdown with the Las Vegas Raiders. Moreover, Lamb's status is all-important — especially with Amari Cooper sidelined for the second consecutive game under COVID-19 protocols.
More on CeeDee Lamb, Cowboys injuries
CeeDee Lamb isn't the only Cowboys player dealing with injuries. Earlier this week, running back Ezekiel Elliott, tackle Tyron Smith and wide receiver Cedrick Wilson showed up on the injury report. Luckily, the three aforementioned players are expected to play on Thursday.
Furthermore, Elliott aggravated his existing knee injury against the Chiefs. On a short passing route, Elliott was wrapped up and tackled in routine fashion. Unfortunately, the defenders' weight came down directly on Elliott's right ankle and further twisted his already injured knee. Elliott limped off the field after the play, but returned on the next offensive drive.
Despite being listed on the Monday injury report as limited, both Elliott and Tyron Smith were full participants in practice on Tuesday.
Smith's health continues to be worth watching as he recovers from an ankle injury, but the Cowboys stated on Tuesday that they do not believe this injury will linger throughout the season. The Cowboys' offensive line has battled injuries and the suspension of La'el Collins all season long, but found stability behind solid backup play and flexible players filling in where needed.
The Cowboys are optimistic that Smith will return this Thursday, but the star tackle has not played since Week 8 against the Minnesota Vikings.