Chase Claypool discusses perception about Ben Roethlisberger's retirement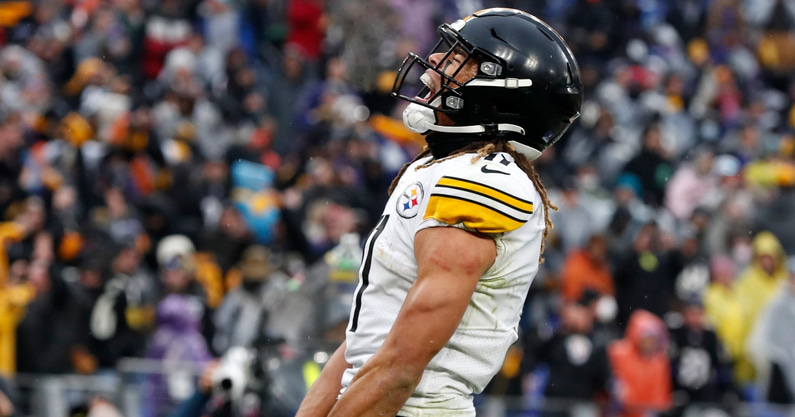 The Pittsburgh Steelers drafted Kenny Pickett as their quarterback of the future in the first round of the 2022 NFL Draft to join the competition to replace former Pittsburgh legend Ben Roethlisberger. The Steelers legend finally hung up his cleats following the 2021-2022 NFL season, but many fans thought Big Ben waited too long to finally retire, holding on a few years longer than he should have. Chase Claypool disagrees.
Roethlisberger's old teammate, Steelers wide receiver Chase Claypool, recently sat down with former NFL stars Brandon Marshall, Adam "Pacman" Jones, and LeSean McCoy on the I AM ATHLETE Podcast to talk about the perception surrounding the quarterback's retirement. He stuck up for his old quarterback and said it's easy for fans to say he should have retired after watching him play.
"You know, I think at the end of my first year, no one would have said that. I feel like everyone [was] saying that as the year went on, 'Oh, he should have retired.' It's so easy to do that after the fact. Right? It's tough to say. He was banged up, for sure. He was fighting though a lot of stuff and he's a vet quarterback that brings a lot of intangibles to the game that no one will ever see. But, you know, if he did retire and we have some other dude come in and go what, 5-for-12? They'd be like, 'Man, Ben should have came back.' It's hard to say that. It's easy to say that after the fact," Claypool said.
Chase Claypool discussed his struggles during his sophomore year
Chase Claypool came into the NFL with a burning desire to make his name known, and that's exactly what he did during his rookie season. The former Notre Dame wide receiver joined the Steelers and looked like the next great in a long line of wide receivers, catching nine touchdowns in his first year.
However, his sophomore slump was highly-publicized — Claypool's touchdown count dropped all the way down to two last year. In an appearance on the I AM ATHLETE Podcast , the Steelers star revealed why he believes he didn't receive as many redzone targets throughout his second season.
"Every time there's a veteran quarterback that's been there for awhile and wins games, if you don't make a couple particular plays, you're probably not going back. So, there's a lot of times like, I got formationed away from shots that were in the endzone," stated Claypool. "That's because I had a couple shots at, maybe 50/50 balls.
"So, it's like, I think this last year it kind of shifted away from, 'Hey, I need to get Chase the ball every time we hope in the redzone.' You know?"
While the former Notre Dame star dealt with uneven play at the quarterback position, it's evident he believes his lack of hauling in contested catches led to less confidence in his abilities.
Nevertheless, Chase Claypool remains one of the most talented young wide receivers in the league, and he'll be expected to catch many more touchdowns than the two he had last season. Last year, he hauled in 59 catches for 860 receiving yards and two touchdowns.
On3's Stephen Samra also contributed to this article.