Matt Nagy, Andy Dalton on impact of moving QBs in and out of the game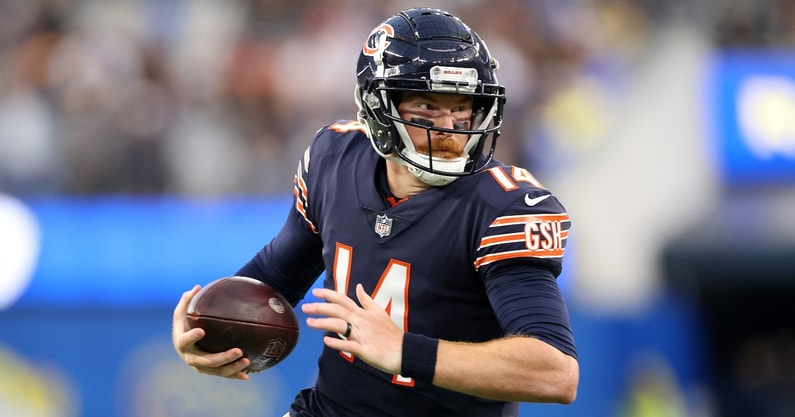 The Chicago Bears fell 34-14 to the Los Angeles Rams on Sunday night to begin the season. Andy Dalton got the start at quarterback for the Bears, but Justin Fields had some designed packages for him as well. Dalton said that using both he and Fields in the quarterback in the offense doesn't bother him. Bears head coach Matt Nagy said that both quarterbacks were well prepared for the gameplan coming into the game.
Nagy: Both quarterbacks must be comfortable
The Bears didn't know exactly how much Fields would see the field against the Rams, but Nagy said that the team did have some designed plays for Fields. The big Rams' lead impacted Chicago's ability to get Fields more snaps in the game.
"Well, being the five plays like Adam said, it's when and how you do it," Nagy said to reporters. "You gotta have a little feel to it and see but again you gotta have a why as to why you do it. We didn't really know the exact amount of plays it would be — could have been more, could have been less but once we got behind a couple scores there in the fourth quarter, we knew it was going to limit a few of his stuff."
Moving forward, Nagy plans to continue using some combination of Dalton and Fields at quarterback in the Bears' offense. The comfort of both quarterbacks is important, so proper preparation will be important.
"That's something we gotta keep an eye on. You want to make sure that when you're doing it, like going into this game we know we're going to do that with Justin, that he feels comfortable and knows exactly what the plays are he's going in for and then situational how we're going to use it. I don't think that's a bad question at all I think that's real. When you go through these situations or these experiences, you gotta look at all that stuff because you want to make sure that you're taking care of both guys the right way."
Dalton understands that Fields will have a role on the Bears' offense
Fields completed both of his two passes for 10 yards and ran for his first career NFL touchdown. Dalton completed 27 of his 38 pass attempts for 206, no touchdowns and an interception. The Bears did have a plan coming in, causing an interesting dynamic at the position. Nagy doesn't think that getting Fields into the game impacted Dalton, though. Dalton threw an interception in the game, but Nagy said that the quarterback rotation had nothing to do with it.
"No, no because they knew and we knew and we practiced. And they know the progression of those plays. So I don't think that had anything to do with that. The kid tipped the ball and then made a great catch too."
Fields is just happy to be getting an opportunity to see the field while not starting. Dalton admitted that it was weird heading to the sidelines in favor of Fields at first, but was happy that the former Ohio State star could make a positive impact on the game for the Bears.
"Yeah first time doing it, but we have some good stuff in for him. Obviously it helped us. He was able to score a touchdown so. We're trying to do and find ways to put the ball in the endzone. It's just kind of part of how we're going to play."
The Bears will host the Cincinnati Bengals on Sunday for their home opener. Every team in the NFC North lost in week one, opening the door for a team like the Bears to make a run at the division.