Chris Livingston, 2022 5-star, cuts list to 4 schools, G-League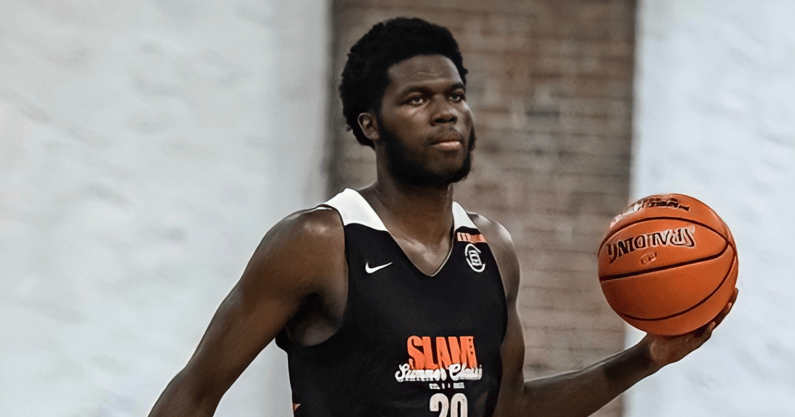 Chris Livingston, a 6-foot-7 small forward out of Akron (Ohio) Buchtel tells On3 he is down to four schools – Kentucky, Memphis, Tennessee State, and Georgetown. Livingston also says he will consider the NBA G-League.
Livingston is the No. 1 ranked small forward in the On3 100 rankings.
Livingston has visited each of his finalists, besides Memphis. He will see the Tigers on Sept. 17. The plan for Livingston is to announce his commitment on his birthday, October 15th.
In June, Chris Livingston announced a top 11 which consisted of Kansas, Florida, Alabama, Tennessee State, Georgetown, Kentucky, Ohio State, Memphis, LSU, North Carolina, and the Overtime Elite league.
Livingston on Kentucky
"The history, and the formula of how the make pros…development," Livingston said. "Coach (John) Calipari has a fiery coaching style and believes in his players. He has a special connection with his players while they're there, you know not just being a coach but being a mentor at the same time. The history, culture, fan base…all of that plays into what makes Kentucky."
Livingston on Memphis
"I've been liking Memphis since I first got the offer from them," Livingston said. "I just like what they did with James Wiseman when he was there. I liked the direction they were going, that incline. Penny Hardaway knows what he's doing. He could be a really good mentor for all the players that come through the program. I think they just got Rasheed Wallace. They got NBA guys on their program to help you if you choose to go there. I just really like Memphis, I'm familiar with Tennessee. That's where my AAU team (WACG) is from. They would be a good option."
Livingston on Tennessee State
"I took away Coach Penny's (Brian Collins) approach to the game…he's a fiery young coach. I feel like we connect in many ways. The standpoint of it being bigger than basketball…what a move it would be just for the African American community across the country…how it could shake up the basketball world. Also, they're on the rise to be a better basketball program. Coach Penny is really a smart coach and really knows what he's doing. I think we could possibly work something out over there. We talked about NIL and how that could benefit me and my brother (Cordell). We definitely talked about Hercy Miller and how it benefited him. We covered everything. Coach Penny didn't want us to leave with any questions."
Tennessee State freshman, Hercy Miller, recently signed a $2 million endorsement deal with a tech company called Web Apps America. Hercy is the of Percy Miller, aka Marter P, the rap legend.
Livingston on Georgetown
"I like Georgetown a lot," Livingston said. "I like the family aspect of it. They made me feel like a family while I was there on the visit. I really enjoyed the coaching staff. My family enjoyed them too. Patrick Ewing is such a legend but he's really down to earth. He knows how to talk to young people and connect with them. I feel like he could be someone I could be developed under and coached under, not just as a player but as a person. I feel like he would really look out for me. I really like the program. I really like the area, it being in Washington D.C. A lot of NIL opportunities, it's a nice city. I already have people that I know that go to Georgetown, so that helps a lot with my decision. I just really like the atmosphere. I like Georgetown a lot, for real."
Livingston on NIL
Livingston says "NIL leveled out the playing field…but you shouldn't base your (college) decision off of how much money you could make here or there."
Livingston says schools discuss NIL but they try not to put a number on potential earnings.
"They definitely touch on NIL a lot," Livingston said. "And they will allude to like 'you could me a lot of money if you come here.' Or 'there is a lot of business people we could get you connected with if you come here.' But they try not to put a number on it."
Livingston on the Overtime Elite league
Livingston included the Overtime Elite league on his list of eleven finalists in June. They have now since been cut from consideration.
Livingston says it was just early talks with the Overtime Elite league, and was never too serious.
"They got into what they're trying to build and the foundation of it," Livingston said. "But they didn't really get into dollar amounts and how long a contract would be or anything like that. We never made it that far."
"I love the people at Overtime and what they're doing," Livingston continued. "We are still closely connected but you know if you have an option like G League…I'd rather go with something that's proven to work so to speak, rather than something that's just starting. I don't doubt that it will work. I definitely know that they're a great program and know what they're doing. I'd just rather go for something already structured."
Livingston on the NBA G-League
When Chris Livingston announced his four finalists (Kentucky, Memphis, Tennesse State, Georgetown), he also mentioned he would consider the G-League.
The G-League talks with Livingston aren't far along, though.
"They've shown interest," Livingston says, "but it wasn't like 'if you come here, you can get x amount of money, we can do this for you or anything like that. It's just a second option."
College fans can relax, for now at least.
This story has been updated.