City of Palms Classic Top Performers Day Three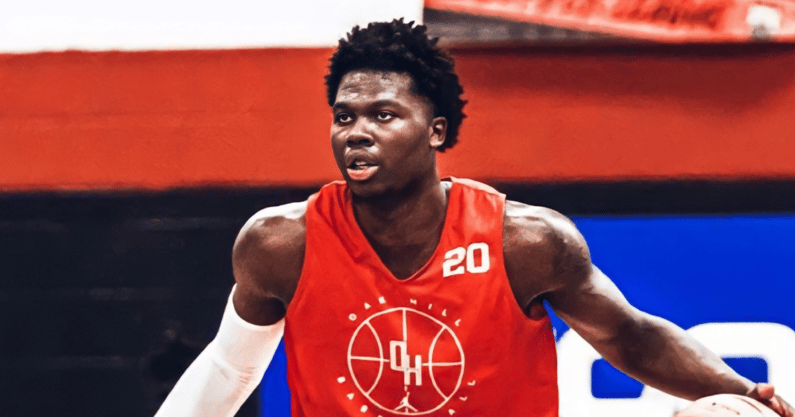 It was a short third day here at the City of Palms Classic, with only four games played. Here are your top performers on this fine Sunday in Fort Myers, FL.
Mackenzie Mgbako & Gill St. Bernard's get the easy win
On the first game of the day, Gill St. Bernard's cruised to a win over Isidore Newman, with a final score of 64-49. Five-star junior Mackenzie Mgbako was incredibly efficient, scoring 16 points, on 6-of-8 from the field and an impressive 3-of-4 from three-point land. I was really pleased to see him connect from deep and he also did a good job of hedging ball screens, and sliding his feet. Mgbako can also handle the ball when needed, but I'd like to see him tighten up his dribble (which will come with time), and also protect the ball a bit more, as he had several turnovers. Mgbako is averaging 19 points per outing in his two games thus far.
Sophomore stud Naasir Cunningham continued to show us his potential, the majority of it still being untapped. He finished with 11 points and a team-high eight rebounds. Cunningham is a phenomenal player for his age and I'm really excited to see how he develops and progresses because he truly has no ceiling.
A full team effort for AZ Compass in the win
AZ Compass Prep and Victory Rock both struggled in the first quarter of this game. Compass just struggled a little less, and made up for it on the defensive end, holding Victory Rock to only five points in the first. The rest of the game was much better and AZ Compass held the lead for its entirety, but not without a fight from Victory Rock. The final score was 66 to 45 but honestly, AZ Compass could've beaten this team by 30. They shot well from the field for a team average of 50% but struggled from three, only connecting on 3-of-16.
AZ Compass had an all-around performance, with everyone on the team (besides one player) scoring at least one bucket in the game. Auburn signee Chance Westry and five-star junior Mookie Cook led the team with 10 points each. Westry had a solid game in front of his future head coach, Bruce Pearl. He also showed he was comfortable handling the ball with UCLA signee Dylan Andrews out. Cook showed off his quickness, athleticism, and bounce. It was nice to see him hit the mid-range shot too.
Kylan Boswell is an underrated piece to this AZ Compass Prep squad. He's such a scrappy guard and I love his on-ball pressure defensively. He can impact the game without scoring and he has high basketball IQ. He is wise beyond his year when it comes to the game of basketball.
AJ Smith impresses in Combine Academy win against Crestwood Prep
First, I have to give it up to Combine Academy head coach, Jeff McInnis. His squad is so well coached and his team was a joy to watch. Unsigned senior AJ Smith led his team in scoring with 16 points on 57% from the field in the 92-68 win. Smith is definitely one of the stronger players here at the City of Palms, and he used that to his strength (no pun intended) to score the basketball anyway he wanted.
Combine's 7-foot center Patrick Wessler also impressed me. He runs the floor well for the big and was able to alter plenty of shots. The Virginia Tech signee also exhibits nice footwork and he's very fundamental.
Crestwood's Romad Dean was incredibly productive on the night, finishing with 29 points on 64% from the field. He was able to score a bit from mid-range but I really love his ability to get to the rim and be a slasher. He also had a team-high 12 rebounds, and I really liked his effort on the boards. Dean is a guy who plays his butt off.
Five-star junior Elijah Fisher finished with 25 points, with the majority of his scoring coming in the fourth quarter. He loves to get to the basket and can finish through contact. Fisher also showed he can hit the mid-range jumper.
Oak Hill puts the hurt on Whitney Young
Boy, oh, boy, what a game for Oak Hill.
Coming into this game, I had my doubts about Oak Hill due to their ups and downs this season, but not anymore. They put 97 points on a very talented Whitney Young team and won the game by 30. Oak Hill as a team shot 64% from the field, and 53% from three-point range. It was an all-around game for Oak Hill, with six of their eight players scoring double figures, but no one was more important than Chris Livingston and Judah Mintz.
Livingston finished with a near-perfect game, only missing one field goal all night, and had a team-high 23 points. He connected on all four of his free throws and knocked down his lone three-point attempt. Best known as being a slasher, Livingston was able to get to the rim so well tonight, while finishing through contact. He also showed off a little mid-range game, including a nice turnaround jumper. He rebounded well and played with a high motor. If Kentucky's staff was watching him tonight, they definitely loved what they saw.
Judah Mintz also had himself a game and scored the ball efficiently at all three levels. He's usually known for his mid-range game but showed us tonight that he's crafty getting to the rim (and able to finish through some contact) and can score from three. Mintz finished with 22 points.
Whitney Young's AJ Casey was also quite impressive, despite the loss. He was effective getting to the rim and showed he can post up on the block, make a strong move, and finish through some contact. He can also play out on the wing a little bit. Casey hasn't fully filled out his long, 6-foot-8 frame, but once he does, watch out. The Miami signee finished with 20 points.