Class of 2024 OT Daniel Akinkunmi names Top 5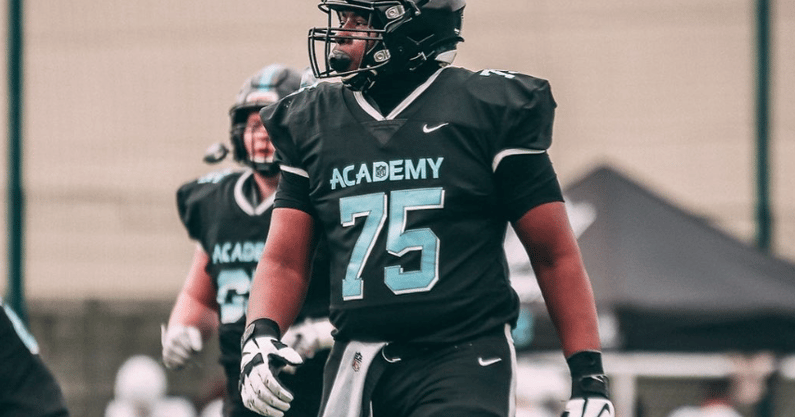 Class of 2024 offensive tackle Daniel Akinkunmi of London (England) NFL Academy narrowed his list to five schools.
The 6-foot-5, 300 pounder is down to the following: Oklahoma, Baylor, Ole Miss, Clemson, and Miami.
Breaking down the finalists
Akinkunmi broke down what stands out about each of his top schools:
Oklahoma: OU is an amazing program which has a history of winning and I want to be able to compete for a national championship one day. Coach B has been there for 11 years, and has a great history of developing some of the best offensive linemen in the game. The fan base is massive and the support the fans make is amazing. When I went to the game it was amazing to see how much the team has improved in a short amount of time.
Baylor: Baylor is truly a great program as a person and a player. I love how Baylor makes you feel like it's your home. The person over the player is something they take very personal. Which is something which separates them from other programs. Baylor was my first ov and it was unreal. The atmosphere, the environment and the experience was so amazing. I will never forget that visit and how they made me feel a part of the family atmosphere. Coach Mateos is a great young and upcoming coach who will definitely keep on doing more amazing things in the future. Me and his relationship is very close. We have been talking for over 1 year and 1/2 now.
Ole Miss: Ole Miss is a great program, I can't wait to see it in person because I have never seen it before in person. I love Ole Miss' attitude when coming into a season; it just shows how great the program wants to be. Lane is a very funny head coach who loves the game of football which I love a lot. Can't wait to experience and explore Ole Miss.
Clemson: When I went to Clemson last summer, I could feel the energy and atmosphere around me. That's just from being at a camp; now imagine if it's a game. I can't wait to experience a game in Death Valley and see the atmosphere. The fans are amazing and just love Clemson. Coach Austin is a great coach, which helped me a lot when I went to their camp. Clemson is just an amazing place, and I can't wait to be able to see it again.
Miami: Miami is a great program which is upcoming who knows where they could be in the near future. Coach Mirabal has done some good things in his career and he is an amazing person and coach with a lot of energy. I can't wait to see the beautiful place of Miami.
Daniel Akinkunmi Recruiting Profile
Akinkunmi ranks as the No. 680 player in the On3 Industry Ranking, a weighted average that utilizes all four major recruiting media companies. He also tabs in as the No. 45 offensive tackle. and the No. 23 player in the state of Georgia.
He currently does not have an On3 NIL Valuation publicly listed. The On3 NIL Valuation is the industry's leading index that sets high school and college athletes' projected annual value (PAV). The NIL valuation does not act as a tracker of the value of NIL deals an athlete has completed to date. It rather signifies an athlete's value at a certain moment in time.