NC State completes upset, knocks off No. 9 Clemson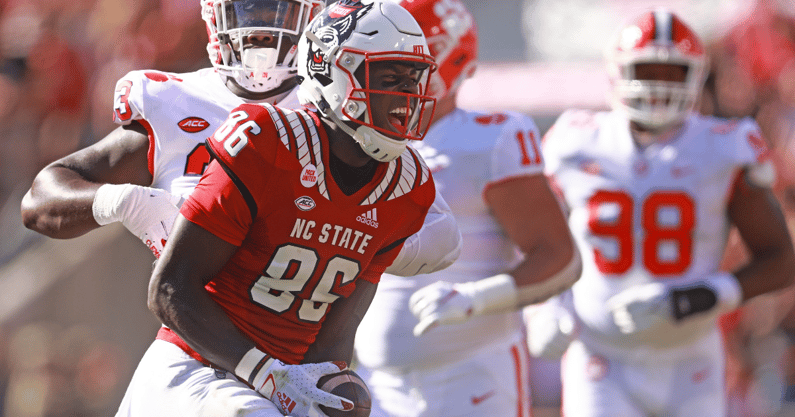 Clemson will not run through the ACC with a perfect conference record this season. In only its second league game of the season, the No. 9 Tigers fell 27-21 in overtime on Saturday. The loss makes them 2-2 on the season and ruled out of College Football Playoff consideration.
The problems that popped up in the season-opening loss to Georgia in Charlotte continue to plague the Clemson offense. The Tigers struggled to move the ball as their offensive line problems continue, producing just 214 yards of total offense in the loss. And defensive leaders Bryan Bresee and James Skalski each exited the game with injuries.
Clemson has won six-straight ACC title games. But that is officially in jeopardy. The NC State offense had their way, scoring the first touchdowns of the season on the Clemson defense. Wolfpack quarterback Devin Leary was 32 off 44 for 238 yards and four touchdowns, his last a the dagger in the second overtime to hand Clemson the loss.
D.J. Uiagalelei and the Tigers had an opportunity to tie the game in the second overtime, but the offensive production was not there. The final play was a fade route to end zone looking for Justyn Ross, but the ball was overthrown. NC State fans stormed the field soon after.
What the loss means for the Tigers
Clemson knew its offense was going to look significantly different with Trevor Lawrence and Travis Etienne off to the NFL. But this was never really expected. Uiagalelei has not looked like the same quarterback he was against Notre Dame and Boston College a year ago.
Because of the offensive struggles, the Tigers defense has been under a mountain of pressure. They did not allow a touchdown until Saturday, but they made costly mistakes down the stretch. A penalty gave NC State a second chance in the first overtime, and the Wolfpack soon scored.
And while Dabo Swinney and Clemson can still win the ACC, their time in the College Football Playoff conversation this season is done. With a strong defense and an incapable defense, the Tigers were eventually going to lose. And that formula is not going to work against a teams in the national championship picture.