Coaching Carousel Rumblings: Jim Leonhard's audition to become Wisconsin head coach, who's in the mix at Colorado, more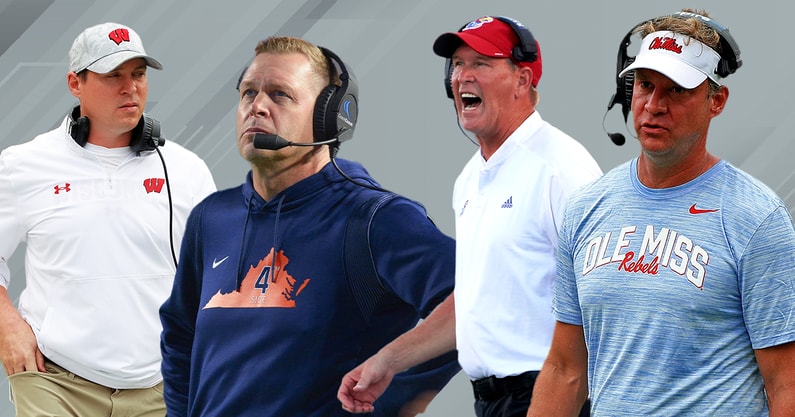 Colorado head coach Karl Dorrell was fired early Sunday afternoon, adding a fourth opening just five weeks into the 2022 season. 
No surprise there. 
Then boom. 
Wisconsin took a snow globe to the coaching carousel, shaking up the entire landscape by firing eighth-year head coach Paul Chryst on Sunday evening. 
Although the Badgers had been trending in the wrong direction since the 2020 season — just 15-10 including 2-3 to start this year — few had Chryst on a true hot seat at his alma mater. Chryst had won three Big Ten West Division titles and six bowl games. 
Most believed the veteran coach's fate would be determined by the end of the year, allowing Chryst time to fix a sputtering offense.
Instead, AD Chris McIntosh used Saturday's blowout loss to former coach Bret Bielema and Illinois as the perfect opportunity to hit the eject button on the Paul Chryst Era. 
"I'm tasked with making difficult decisions about the future and of the direction of this program," McIntosh said. "And I felt at this point in time that a change was needed."
Why now?
Well, it's fairly obvious. 
The Badgers instantly become 1A on the open market. Nebraska and Arizona State may have 'shoot-the-moon' upside, but the stability, recent success, finances and the program's consistent identity make Wisconsin a Top 20 job by most insiders and coaches. 
With the new Big Ten's new billion-dollar media rights deal, McIntosh could be looking to even raise the expectations in Madison. He did just pay $16.4 million to usher Chryst out the door. 
And yet, the man for the job could be someone who has been billed as Chryst's eventual successor for several years now.
Former Badgers All-American safety and current DC Jim Leonhard, 39, was named the interim head coach, and the timing here is critical. 
Wisconsin loves its Badgers. Ever since Barry Alvarez turned the program into a Midwestern power in the early 90s, the Badgers have mostly kept the job in the family. When Alvarez retired, he tabbed Bielema, who may have an Iowa Hawkeye tattoo but worked under the Hall of Fame coach, as his replacement. 
Following an odd two-year marriage with Gary Anderson, Alvarez, the longtime AD in Madison until last July, went back to one of their own and hired Chryst. 
Now, Leonhard, who turned down a DC gig with the Green Bay Packers last year, has a seven-game runway to prove he's the man so many in Madison wanted as head coach anyways. 
"I have very mixed emotions at this point," Leonhard said Sunday, noting that Chryst gave him his first coaching opportunity and is his mentor. 
"But I feel like I can take this opportunity and help this place grow. And that's why I came back a number of years ago and that's why I haven't left."
Take a peek at the rest of Wisconsin's schedule, and it makes sense why many see Leonhard as "being set up for success" to get the job.
The Badgers don't have a ranked team remaining on the slate. Leonhard's trial-run starts this weekend at Northwestern, with games to follow at Michigan State, Purdue, Maryland, at Iowa, at Nebraska and Minnesota. 
There are losable Saturdays there for sure, but by making the move now, McIntosh — another former Badger player back at his alma mater in a power position — is giving Leonhard a real opportunity to rise to the challenge.
Still, McIntosh made it clear that Wisconsin would conduct "a full search," so plenty of other candidates — including sitting Power 5 head coaches — will be interested. 
So if not Leonhard, where could Wisconsin turn?
Lance Leipold's agent is somewhere smiling because one way or another, Kansas' head coach is going to be paid this offseason. 
The Jayhawks are 5-0 with ESPN's College GameDay coming to Lawerence this weekend. Leipold is seen as one of the frontrunners for the Nebraska opening, where he was an assistant. But what about a return to the Badger State? Leipold is a Wisconsin native who played at Wisconsin-Whitewater and then won six D-III national titles at his alma mater. The marriage makes too much sense. 
Iowa State head coach Matt Campbell is another potential Nebraska vs. Wisconsin candidate. Though he's just 42, Campbell might've waited a year too late to get a job like Wisconsin right now. 
That's not the case for Baylor head coach Dave Aranda. The former Wisconsin defensive coordinator spent three years in Madison building top-flight defenses and would be a home run hire. In just his second season as a head coach, Aranda won the Big 12 Championship in 2021. If the Badgers want to bring back someone they know, Aranda should top the list. 
Another former Wisconsin defensive coordinator who would love to be in the mix for the job: NC State head coach Dave Doeren. Doeren has never seemed smitten in Raleigh, flirting with multiple openings in recent years. If there's interest from Wisconsin, watch out.  
A couple of other names to monitor are promising Kent State head coach Sean Lewis (another former Wisconsin player) and Los Angeles Rams assistant head coach/tight ends coach Thomas Brown. Last week, I outlined the complicated nature of NFL assistants' candidacies due to the league schedule and Early Signing Period, but if Wisconsin really wants to make it work, Brown is someone to know. 
The former Georgia Bulldogs tailback spent a season in Madison coaching Melvin Gordon to a Big Ten record 2,500 yards. 
Finally, it's obviously Day 1 in the search, but I have a hard time believing Wisconsin will go bobbing for a retread hire — so while Chris Peterson, Matt Rhule and Dan Mullen have all been mentioned by some insiders, the safe bet is the Badgers look elsewhere. 
WHO'S IN THE MIX AT COLORADO?
With a bye week upcoming, Colorado's decision to fire Karl Dorrell on Sunday was intentionally timed.
We teased as much in this space just last week. 
Dorrell, who started his CU coaching career 4-0 before losing 15 of his last 19 games, agreed to a reduced buyout, getting over $8 million after an 0-5 start to the 2022 season. 
So what's next for Colorado?
The Buffs are in a bad, bad place right now. 
The program doesn't have many resources or relevancy. Sure, they have a national title trophy from 1990, but how committed is Colorado to football in the present?
Boulder is a beautiful, awesome city, but it's not particularly attractive to football players. It's hard to recruit there. The facilities are fine, but the lack of revenue means Colorado can't pay $4.5 million annually for a head coach. 
That significantly shrinks the candidate pool. 
A top target is likely Illinois defensive coordinator Ryan Walters, a former CU team captain who has turned the Fighting Illini into a Top 5 defense in 2022. Walters played for the Buffs, and so did his father, who was a quarterback in the 1980s. The 36-year-old is viewed as a rising star and should at least be in the mix late in the process. 
While I'm skeptical that Wisconsin will dip into the waters of ex-coaches currently not on college sidelines, I don't feel the same about the Buffs' opening.
Former Virginia head coach Bronco Mendenhall could be a good fit in Boulder. 
As he noted on his own podcast, Mendenhall needed a year off to reset and "reconnect with life," but he also admitted he has interest in getting back into coaching. By working at tough insinuations (BYU, UVA) before, he'd have a keen understanding of the challenge working at Colorado. 
Kansas City Chiefs offensive coordinator Eric Bieniemy was a candidate when CU hired Mel Tucker in 2019, but the 53-year-old NFL assistant wasn't overly interested in returning to his alma mater, hoping to land a head coaching job in the pros. That's proven quite difficult, so perhaps Bieniemy would entertain Colorado this time around. The former Buffs star tailback spent two different stints in Boulder as an assistant and could use the opportunity to jumpstart his head coaching career. 
A few others worth mentioning: What about staying in-state and hiring veteran Air Force head coach Troy Calhoun? He beat Colorado by 31 points this season, and although he runs an option offense at a service academy, he has a background as an NFL OC, too. 
Lastly, Baylor offensive coordinator Jeff Grimes and Oregon State offensive coordinator Brian Lindgren, who worked at CU from 2013-17, both look ready to get head coaching opportunities soon. And then there's an up-and-comer like USC secondary coach Dante Williams, who served as the Trojans' interim head coach last season. Williams is a renowned California recruiter, and then some believe the best way for Colorado to reestablish itself in the Pac-12 is to rebuild its pipeline in SoCal. 
MORE COACHING CAROUSEL CHATTER
There are five Power 5 jobs open right now, and one of them isn't Auburn. Kinda amazing. Bryan Harsin made it to October, but with a bye week coming after a trip to No. 2 Georgia, it's still unlikely he survives before Halloween. … The Carolina Panthers lost again Sunday, making Matt Rhule 11-26 in the NFL. If Rhule is fired in the coming weeks, then the former Baylor head coach would become a legitimate college coaching candidate for the 2022 cycle. … Paul Finebaum went on ESPN this weekend and mentioned that Ole Miss head coach Lane Kiffin could "find himself in the portal" this offseason, and that checks with what all we've heard too. Kiffin isn't discontent in Oxford, but there's clearly some frustration there, and with Auburn and others potentially looking his way, he could be on the move once again later this fall.