Coaching Carousel Rumblings: The Georgia Tech opening, weird vibes at Boise State, latest on Bryan Harsin and Karl Dorrell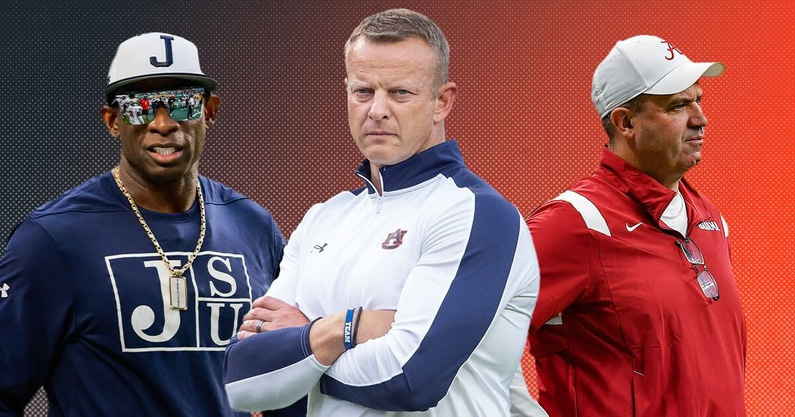 Geoff Collins was fired at Georgia Tech on Monday after going 10-28 in four seasons, as a once steady Yellow Jackets' program completely bottomed out in its transition away from the triple-option under former longtime coach Paul Johnson. 
Collins never won back-to-back games with the Bees, topping out at three wins the last three years. 
Georgia Tech joins Nebraska and Arizona State as the third Power 5 opening already in 2022, and it's not even October yet. 
Collins proved to be a disaster at Tech, and while the job has some attractive aspects, but the opening also comes with real challenges and questions. 
Unlike Nebraska or ASU, Georgia Tech's search will be trickier, as AD Todd Stansbury was fired as well.
Will Tech tab a new AD first? Yes, and they are using the Parker Executive Search Firm to help with the process.
But how much money does Georgia Tech have? It coughed up $11 million to fire Collins, and is considered cash-strapped with its current debt paying off facilities.  
The Rambling Wreck's academic hurdles are somewhat misconstrued — they can get some prospects into Tech, but it's staying eligible that's the challenge. Because of certain degree requirements, it's very difficult for Georgia Tech to accept a bunch of transfers from the portal.
Deion Sanders might be a candidate, though he may not be interested in combating subpar facilities or the stringent academic standards. Again, the inability to pluck-and-play transfer could deter Sanders, too. Arizona State still seems like a much better fit for Primetime.
The ACC is eliminating divisions next season, and there's a prevailing thought amongst some that Georgia Tech would be best served going back to a flexbone-type offense if it wants to become competitive again in the conference. 
If that's the case, there's an obvious top target. 
Coastal Carolina head coach Jamey Chadwell is ready for a Power 5 job and would be an excellent choice if Tech opts to return to its option roots. He's 26-3 since 2020 and has shown he can do more with less in Myrtle Beach. Coastal Carolina plays a fun spread-option offense that could connect the old with the new at Georgia Tech. The Bees had concerns about fan interest under Paul Johnson, but Coastal Carolina has had no issues selling tickets under Chadwell's entertaining brand of option football.  Chadwell, 45, is from Tennessee and his family wants to stay in the South. Where better to make new roots in Atlanta?
And yet, there's a whole other faction of Georgia Tech influencers — including former coach George O'Leary — who believe that staying away from the option is the best approach for the program to bounce back. If that's the case, then keep an eye on Alabama offensive coordinator Bill O'Brien. He's no stranger to tough rebuilds, and the former Houston Texas and Penn State head coach has strong ties to O'Leary, spending eight years on staff at Tech. O'Brien worked his way up from grad assistant to runnings backs coach to offensive coordinator under O'Leary and has the backing of his longtime mentor. 
Other names to potentially watch for Tech, per industry insiders, are Army's Jeff Monken (another option-offense head coach), who worked under Paul Johnson at Georgia Southern, Georgia running backs coach Dell McGee (a longtime high school coach in the state with strong ties to the city), Florida State offensive coordinator Alex Atkins, and Marshall head coach Charles Huff.
A darkhorse candidate is Los Angeles Rams assistant head coach/tight ends coach Thomas Brown. The former Georgia Bulldogs running back is on the fast track to becoming a head coach — either in the NFL or college. He would be the first black assistant to come from the Sean McVay tree, and would mesh seamlessly in the city he was born and raised in. As a college assistant at Georgia, Wisconsin and Miami, Brown was a strong recruiter. Brown feels like a longshot candidate though, as the NFL schedule and the Early Signing Period complicates any NFL assistant's candidacy for a college head coaching job.  
WHAT'S GOING ON AT BOISE STATE?
The Broncos have a case of the blues right now — and I'm not talking about their turf. 
The Andy Avalos era isn't off to a resounding start after a disappointing 7-5 season in 2021 and a 2-2 start this fall. After Boise State lost 27-10 at UTEP on Friday, Avalos fired offensive coordinator Tim Plough. 
Plough's replacement?
Dirk Koetter. 
As in former Boise State (1998-2000) and Arizona State head coach (2001-2006) Dirk Koetter. As in longtime NFL OC and Tampa Bay Bucs head coach Dirk Koetter. 
"If we were going to go this route Dirk was the right man for it, he was the only man for it," Avalos said. 
"We have other coaches on our staff that are going to have increased roles."
There are some complicated power dynamics brewing right now in Boise. Avalos, a former Broncos linebacker, hasn't maintained the momentum after taking over for Bryan Harsin, and now faces even more internal pressure after making an in-season change at OC. 
If Boise State struggles in Mountain West play, then Avalos could start to feel some real heat even though he's only in Year 2.
More Coaching Carousel Chatter
Auburn head coach Bryan Harsin survived a Punt'a'Palooza, gaffe-filled win over Missouri, but the piano is still set to drop on the maligned Tigers' head coach. If he loses to LSU this weekend, don't be surprised by a Sunday announcement. … Similarly, despite receiving the most tepid vote of confidence from his AD last week, Karl Dorrell is in real trouble at Colorado. The Buffs are looking at a potential 0-12 season. They play at Arizona this weekend with their bye week to follow. So while the administration likes Dorrell, this coming weekend might be a prime opportunity to make a change. Colorado is on the hook for over $11 million if it fires Dorrell, but even though it has financial issues, it doesn't do them any good to wait until Jan. 1 for the buyout to be reduced. … Over the weekend, I made the case for Lance Leipold to be Nebraska's top target after taking Kansas to 4-0 to start the season, and the rumblings in Lincoln have the veteran HC among the primary candidates early in its search. … Seth Littrell won 9 games in back-to-back seasons at North Texas in 2017-18, but he seems to have overstayed his welcome in Denton. The Mean Green's head coach is 2-3 in 2022 and a head coaching change appears imminent come season's end. … Lastly, it's no secret that Matt Rhule is in a playoffs-or-bust situation as the Carolina Panthers head coach, and if Rhule does get an early pink slip then don't be surprised to see the former Baylor head coach back in college football in 2023.