College basketball insider predicts 2022-2023 All-ACC team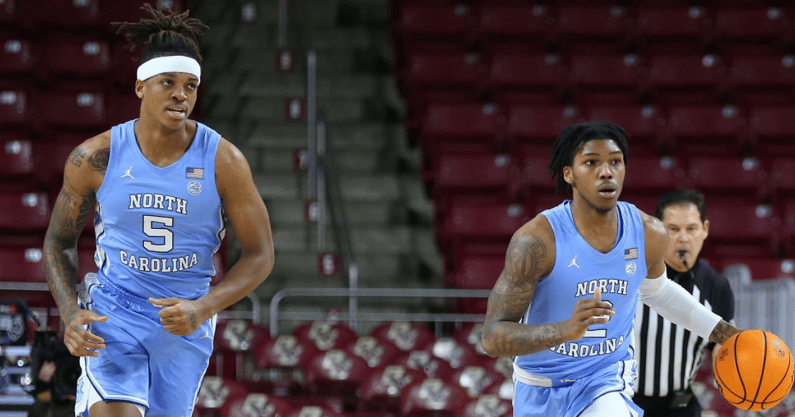 With August finally arriving, the college basketball season is right around the corner. After a down year in the conference, the ACC is prepared to have a bounceback season in college hoops. With plenty of talent remaining in and joining the conference, CBS Sports' Jon Rothstein has released his preseason All-ACC Team.
Rothstein has his preseason ACC leader, the North Carolina Tar Heels, taking two of the five selections, including the ACC Player of the Year.
Preseason All-ACC First-Team
Terquavion Smith – NC State
Isaiah Wong – Miami
Caleb Love – North Carolina
Dereck Lively II – Duke
Armando Bacot – North Carolina
ACC Preseason Player of the Year
Armando Bacot – North Carolina
Tar Heel senior center Armando Bacot had a breakout season in '21-'22. He posted career highs in points per game (16.3), rebounds (13.1), and blocks (1.7). He helped lead North Carolina, who opened as a No. 8 seed in the NCAA Tournament, all the way to the Final Four and a national championship appearance. The NCAA named Bacot to their All-Tournament and All-Region Teams during UNC's run. Afterward, he elected to return for a senior season and will be back to lead a contender in Chapel Hill.
North Carolina point guard Caleb Love joins Bacot on Rothstein's preseason First Team. Love improved on a strong freshman campaign with 15.9 points and 3.6 assists as a sophomore. Alongside Bacot, they'll likely open as pieces of a top team in the preseason.
NC State's Terquavion Smith, Miami's Isaiah Wong and Duke freshman Dereck Lively round out Rothstein's All-ACC First Team. Smith was an honorable mention last season while Wong was a member of last year's All-ACC Third Team. Lively II is expected to be the next great Blue Devil freshman as the No. 2 player in the 2022 class according to On3's Consensus Top Basketball Recruits.
Rothstein selected five top-level talents for the team with four of them coming from team's that at least made the Elite Eight. All five will be vying for a similar end to their season once college basketball tips off soon.