College coaches weigh in on recruitment of Bronny James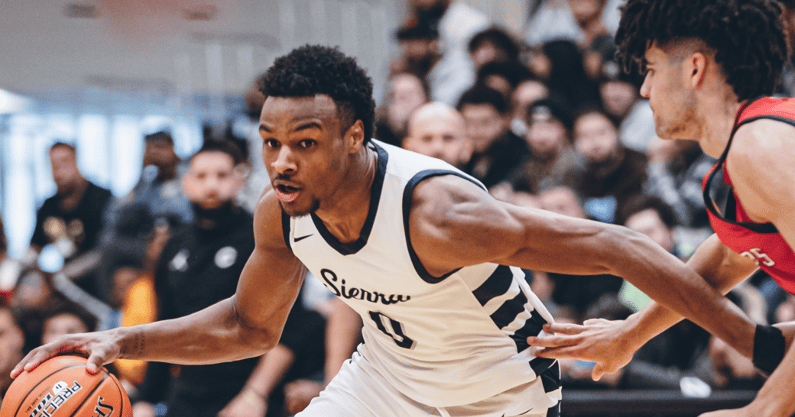 "Simply put, Bronny is special, and he possesses the same greatness we see from LeBron," one west coast college assistant said of LeBron "Bronny" James, Jr. to On3.  
This seems to be a general thought throughout the coaching community. Bronny James is in the class of 2023 and the son of LeBron James. Bronny is the No. 33 player in the 2023 On3 Consensus.
James' recruitment has been a mystery to this point. The circle is very tight. Despite college coaches across the country echoing the sentiments of his talent, no one knows where the four-star point guard's recruitment currently stands. 
But why is this one being kept so close to the vest? 
"I tried to get involved, but you had to jump through a thousand hoops just to get to the mom," an ACC coach told On3. "You're not allowed to talk to the kid. You have to schedule a time on Tuesday or Thursday with the publicist just to talk to the mom."
Bronny James the celebrity
There is no denying Bronny James is a celebrity. He has been, quite possibly, the most famous high school basketball player from the second he stepped foot on campus as a freshman at Chatsworth (CA) Sierra Canyon High. His games routinely sell out around the country, his social media following is in the millions, and many of his games are televised on the ESPN network.
Bronny James has an On3 NIL Valuation of $7.5 million. That ranks No. 1 in On3's NIL 100. The On3 NIL Valuation is the industry's leading index that sets the standard market NIL value for high school and college athletes.
On3 has reported NIL deals in place with Beats by Dre, Nike, and PSD Underwear for the younger James.
The recruitment of James
In August, ESPN's Paul Biancardi dropped a nugget that took the internet by storm. It was one sentence in the 32nd paragraph of an ESPN+ article that Biancardi wrote outlining a three-game trip to Europe that ESPN would be broadcasting of Sierra Canyon. It was not the feature of the article, but those 16 words ended up going viral, "He is being pursued by the likes of UCLA, USC, Michigan, Ohio State, and Oregon, among others."
As much uncertainty as there was with the media and Bronny James' recruitment, there was the same amount of uncertainty with college coaches.
"Looking back on it, we probably should have tried to get involved," said one SEC coach. "To be honest, I didn't know how realistic the recruitment would be."
Going back to August, On3 was able to confirm that Ohio State, Oregon, and Southern California were actively recruiting James. We were also able to confirm that Michigan and UCLA were not. Joe Tipton also reported that Memphis had gotten involved with an offer out to the four-star guard. LeBron's relationship with Penny Hardaway has been well documented.
Dating back to August, college coaches told me the feeling was that while no schools had officially been eliminated, they felt only a few schools were able to get involved. There is still a general feeling that James hand-picked a handful of schools he had an interest in attending and reached out to gauge interest. A separate SEC coach said, "We had a connection, so we reached out to get involved. We heard back that he had a couple of schools in mind, and it would not be worth our time trying to get involved."
The prospect that is Bronny James
A piece that makes this recruitment so interesting is that Bronny James has become a player in his own right. No longer is he talked about as LeBron James' son, but Bronny is stepping into his own as a prospect.
"Bronny has a chance to be a really good college player on a winning team," an ACC coach told On3. "He has a high-level feel, athleticism is a plus at his position, and he doesn't try to play hero ball. He makes the right passes and can hit shots." 
During Nike's Peach Jam, in front of sold-out crowds, James averaged 16.0 points, 5.8 rebounds, and 5.3 assists per outing. He has continued this caliber of play throughout his senior season.
During his four games at the Les Schwab Invitational, James averaged 15.3 points on 59% shooting from the field. At the recent Hoophall Classic in Springfield, Massachusetts, James finished with 13 points, eight rebounds, and five steals. He also knocked down three threes and finished with a three to one assist to turnover ratio.
While celebrities sit courtside at many of his games, and the national television spotlight following him around, James continues to produce.
What we do know
The short answer is not much.
Recently Bronny James told On3s Joe Tipton, "I'm still open, but those are options." James was responding to Tipton about a report by Luca Evans of the LA Times stating that James has a top three of Ohio State, Oregon, and Southern California. We also know that five-star PF KJ Evans recently told Krysten Peek of Yahoo! Sports that Bronny James does like Oregon.
One visit is public knowledge for James, an unofficial visit to Ohio State in September.
Stay tuned to On3 as we continue to keep you up-to-date with Bronny James and all the nation's top recruiting news and player information.