College football top to bottom: The 1-130 rankings after Week 4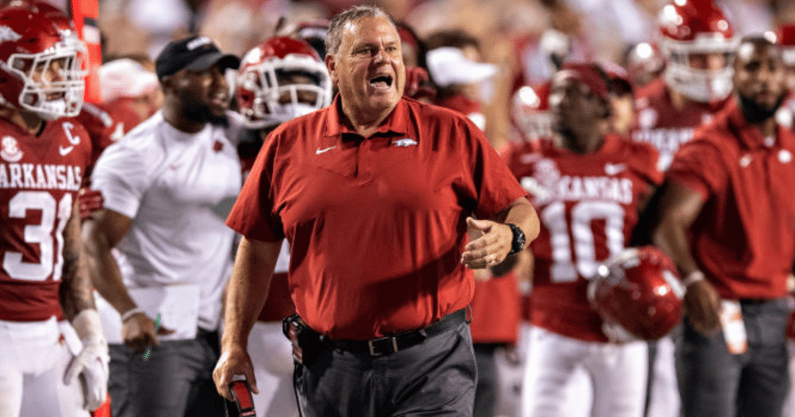 Here are our 1-130 rankings after Week 4.
There are two new teams in the top 10, and one moved in by beating a team that had been in last week's top 10. In addition, there are seven new teams in the top 25 as last week was particularly tough for a bunch of teams that had been ranked between 15th and 25th.
Anyway, here are this week's 1-130 rankings; the rankings are updated every Tuesday during the season. There are comments on each of the top-25 teams; in addition, there are comments on other noteworthy teams this week.
Top 25
1. Alabama (4-0 / last week's ranking: 1st)
The buzz: Lane Kiffin, Matt Corral and Ole Miss are heading to Tuscaloosa this Saturday. Next week, the Tide travel to Texas A&M. In short, this is a monster two weeks for Nick Saban's team.
2. Georgia (4-0 / 2nd)
The buzz: The Bulldogs are coming off a 62-0 evisceration of Vanderbilt in which Georgia had twice as many touchdowns (eight) as Vandy had first downs (four). Presumably, it will be tougher for the Bulldogs this week when Arkansas visits Athens.
3. Oregon (4-0 / 3rd)
The buzz: Heading into a game at Stanford this week, the Ducks lead the nation with a plus-12 turnover margin. In addition, the defense's 13 takeaways also lead the nation. Oregon has nine picks, tied for the most in the nation with Kent State and Notre Dame.
4. Penn State (4-0 / 4th)
The buzz: The Nittany Lions welcome in Indiana this weekend. Last season, IU beat Penn State in the opener and Penn State never really recovered. In other words, it's payback time.
5. Arkansas (4-0 / 16th)
The buzz: If you didn't believe in the Hogs before, surely you believe in them now (and, yes, there's some self-reflection in there). Early on, Arkansas carved up Texas A&M's much-touted defense. This week, the Hogs play at Georgia and its much-touted defense.
6. Iowa (4-0 / 6th)
The buzz: Iowa already has beaten archrival Iowa State in what may have been the most anticipated game in that series. Now it really gets serious for the Hawkeyes: They play at Maryland on Friday, then welcome in Penn State next week.
7. Oklahoma (4-0 / 7th)
The buzz: We're four games in — a third of the season — and OU's offense remains a concern. The Sooners are averaging 6.25 yards per play; yes, a lot of the schedule remains, but that figure would be the lowest season-ending mark since 2014 (6.4), which is when then-coach Bob Stoops fired Josh Heupel as play-caller and brought in Lincoln Riley.
8. Cincinnati (3-0 / 8th)
The buzz: The Bearcats play at Notre Dame on Saturday, and it's fair to think it's the biggest regular-season game in school history.
9. Florida (3-1 / 10th)
The buzz: The Gators play at Kentucky on Saturday night. Florida has won 39 of the past 41 in the annual series, but each of the past three in Lexington — all UF wins — have been one-possession games ultimately decided in the final minute.
10. Ohio State (3-1 / 11th)
The buzz: The Buckeyes play at Rutgers on Saturday. The Scarlet Knights made Michigan sweat over the weekend; can they do the same to the Buckeyes?
11. Texas A&M (3-1 / 5th)
The buzz: Truthfully, it wasn't that surprising that the Aggies' offense struggled against Arkansas. What was surprising is that A&M's defense suffered numerous breakdowns in the first half, and the Aggies never could recover.
12. BYU (4-0 / 12th)
The buzz: BYU plays at Utah State on Friday. The Cougars already beat Utah, and now they're trying to move to 2-0 against in-state FBS opponents.
13. Notre Dame (4-0 / 14th)
The buzz: The Irish offense didn't do much against Wisconsin; indeed, Notre Dame rushed for 3 yards against the Badgers. And yet the Irish won by 28 because they forced Wisconsin QB Graham Mertz to throw. Good plan.
14. Ole Miss (3-0 / 15th)
The buzz: Ole Miss was off this past weekend and presumably heads into this week's showdown at Alabama well-rested. The Rebels are 2-28 all-time in Tuscaloosa.
15. Arizona State (3-1 / 18th)
The buzz: The Sun Devils play at UCLA this week in what has become one of the most important games of the season in the Pac-12 South. The winner becomes the front-runner to win the division.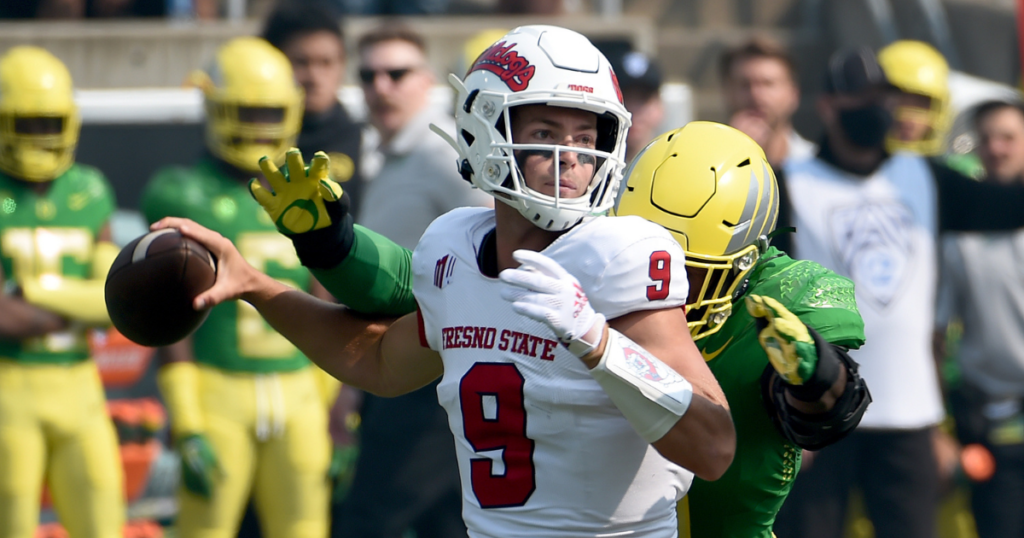 16. Fresno State (4-1 / 19th)
The buzz: QB Jake Haener continues to roast opposing secondaries; he threw five TD passes in this past Saturday's win over UNLV. This week's opponent is Hawaii, which has held two opposing QBs to a completion rate under 50 percent.
17. UCLA (3-1 / 20th)
The buzz: The Bruins play their fourth home game of the season Saturday when Arizona State comes to town. UCLA RBs Zach Charbonnet and Brittain Brown are a good 1-2 punch, and the Bruins' run defense has been surprisingly good
18. Oklahoma State (4-0 / 31st)
The buzz: Raise your hand if, before the season, you thought Baylor-Oklahoma State in Week 4 would feature two unbeaten teams. Oklahoma State is coming off an impressive win over Kansas State.
19. Michigan (4-0 / 22nd)
The buzz: It's all about the run for the Wolverines thus far. That aspect will be tested Saturday when they play at Wisconsin. The Badgers' offense is … well, it's not much, but the Badgers' defense is for real.
20. LSU (3-1 / 26th)
The buzz: The Tigers held off Mississippi State to get a SEC West win. This week, it's another chance for a division win when Auburn comes to town.
21. Texas (3-1 / 27th)
The buzz: The Longhorns have scored 128 points in the past two games, which means they have rebounded nicely from getting beaten up and down the field by Arkansas in Week 2.
22. Boston College (4-0 / 32nd)
The buzz: The Eagles are one of two ACC unbeatens (Wake Forest is the other). BC plays at Clemson on Saturday, and as much as the Tigers are struggling, it's not that hard to see the Eagles getting the win.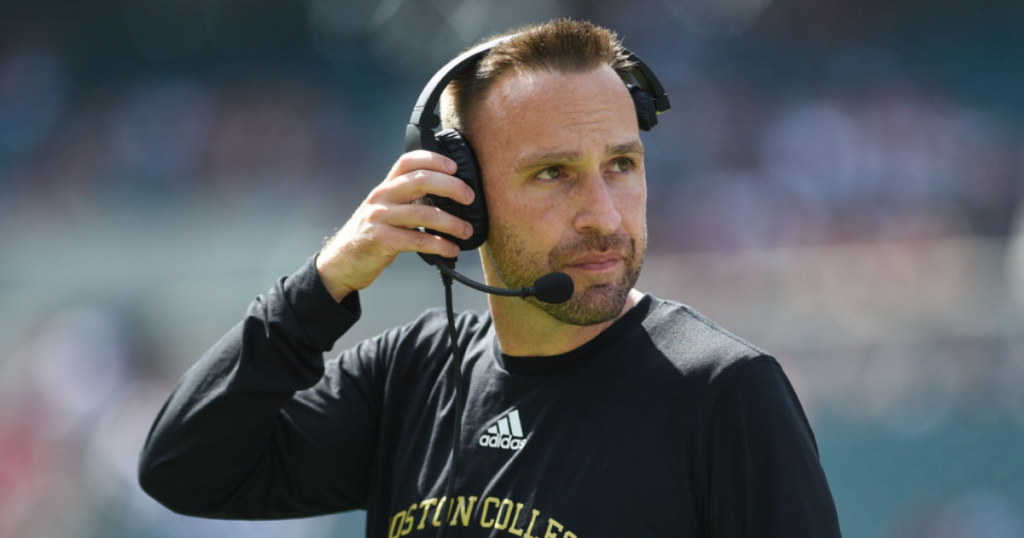 23. Michigan State (4-0 / 28th)
The buzz: The Spartans had a desultory win over Nebraska this past Saturday. Thing is, that's the kind of game Michigan State lost the past few seasons. Yep, they won a game in which they were outplayed most of the way.
24. Wake Forest (4-0 / 40th)
The buzz: Don't look now, but the Demon Deacons' remaining schedule isn't exactly daunting. They should — seriously, should — be 8-0 headed into a closing stretch of North Carolina, NC State, Clemson and Boston College.
25. Maryland (4-0 / 37th)
The buzz: The last time the Terps started 5-0? It was 2001, and they won the ACC that season. A win Friday against Iowa accomplishes that, and almost certainly would propel the Terps into the top 20, where they haven't been since 2003.
Teams 26-50
26. Auburn (3-1 / 21st)
27. Coastal Carolina (4-0 / 30th)
28. West Virginia (2-2 / 38th)
29. Louisiana (3-1 / 29th)
30. Clemson (2-2 / 9th)
The buzz: It's mystifying as to the disappearance of Clemson's offense. Poof — it's gone. The biggest issue: The line is not doing its job. Clemson has one — one! — play of 40-plus yards.
31. Kansas State (3-1 / 25th)
34. NC State (3-1 / 50th)
The buzz: The Wolfpack, fresh off the OT victory over Clemson, gets Louisiana Tech this week in its fourth home game of the season. NCSU is off October 9, then plays four of its next five on the road.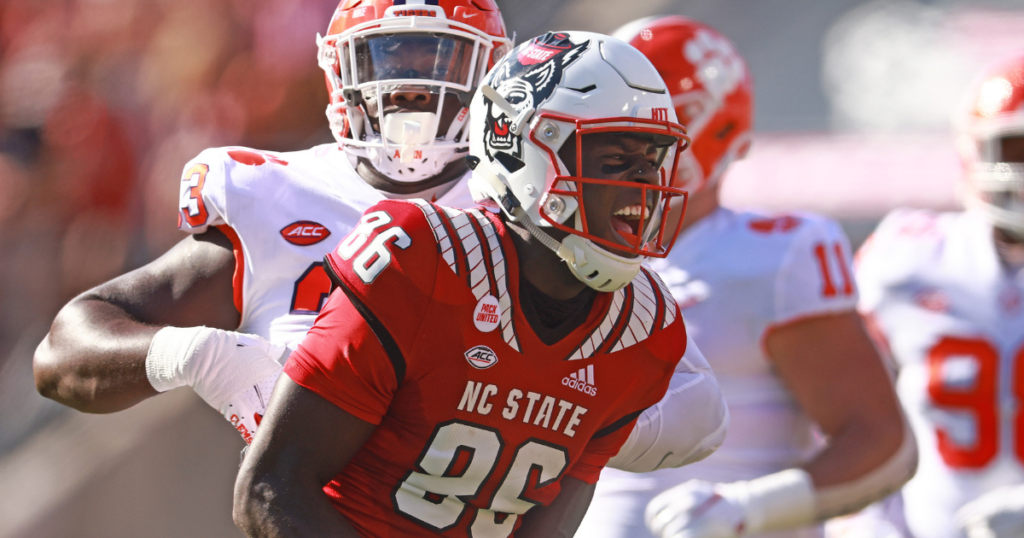 33. Indiana (2-2 / 33rd)
34. Iowa State (2-2 / 13th)
The buzz: The Cyclones started playing football in 1895 and never have won double-digit games in a season. Going into the season, the Cyclones looked like a sure bet to win at least 10 games. Now? Well, it's hard to see them getting to 10 … or even nine.
35. Wisconsin (1-2 / 17th)
The buzz: You want to know why the Badgers are 1-2 for the first time since 2001? QB Graham Mertz has one TD pass and six picks. The Badgers' passing attack scares no one (well, except Wisconsin fans).
36. Stanford (2-2 / 35th)
37. SMU (4-0 / 61st)
The buzz: The Pony Express revisited! The Mustangs rushed for 350 yards in Saturday's win over TCU; that's their third-highest rushing total this century.
38. TCU (2-1 / 24th)
39. Virginia Tech (3-1 / 39th)
40. Baylor (4-0 / 69th)
The buzz: The Bears already have doubled their win total from last season. A win Saturday at Oklahoma State would mean they're legit in the hunt for the Big 12 crown.
41. Louisville (3-1 / 41st)
42. UCF (2-1 / 42nd)
43. Boise State (2-2 / 43rd)
44. Nevada (2-1 / 44th)
45. Kentucky (4-0 / 45th)
46. North Carolina (2-2 / 23rd)
The buzz: UNC went to a New Year's Six bowl last season. Barring winning out, which seems … unlikely, that ain't happening this season.
47. Miami (2-2 / 47th)
48. Appalachian State (3-1 / 48th)
49. Missouri (2-2 / 46th)
50. Mississippi State (2-2 / 49th)
Teams 51-75
51. Rutgers (3-1 / 67th)
The buzz: Last week, the Scarlet Knights took Michigan to the wire in Ann Arbor. This week, they welcome in Ohio State.
52. UAB (3-1 / 55th)
53. Utah (2-2 / 52nd)
54. San Diego State (4-0 / 56th)
55. Purdue (3-1 / 64th)
56. Virginia (2-2 / 53rd)
57. Oregon State (3-1 / 73rd)
The buzz: Oregon State beat USC this past Saturday. It was the Beavers' first win at USC since 1960. Oregon State now is 4-42-3 against the Trojans in L.A.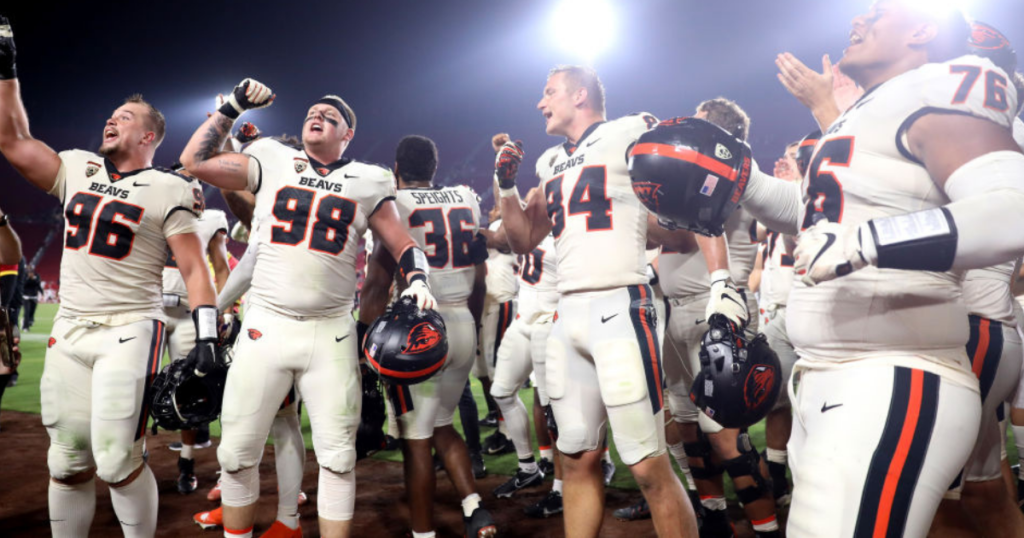 58. Western Michigan (3-1 / 81st)
59. Pitt (3-1 / 59th)
60. Washington (2-2 / 60th)
61. UTSA (4-0 / 71st)
62. USC (2-2 / 36th)
The buzz: USC was hammered by Oregon State and that made us look this up: The last time the Trojans had a losing record twice within a four-season stretch (they were 5-7 in 2018) was 1958-61 (they actually had three in that span). And in 1962, they won the national title under John McKay.
63. Liberty (3-1 / 34th)
64. California (1-3 / 57th)
65. Texas Tech (3-1 / 58th)
66. Memphis (3-1 / 65th)
67. Houston (3-1 / 66th)
68. San Jose State (2-2 / 54th)
69. Tulane (1-3 / 63rd)
70. Tennessee (2-2 / 70th)
71. Syracuse (3-1 / 93rd)
The buzz: The Orange already has tripled its win total from last season after beating Liberty on a last-play field goal. Syracuse has Florida State this week and is 0-6 all-time in Tallahassee.
72. Nebraska (2-3 / 72nd)
73. Florida State (0-4 / 68th)
74. Kent State (1-3 / 74th)
75. South Carolina (2-2 / 75th)
Teams 76-100
76. Georgia Tech (2-2 / 90th)
The buzz: The Yellow Jackets got their first FBS win of the season by blasting North Carolina 45-22. QB Jeff Sims came off the bench to run for three scores and pass for another.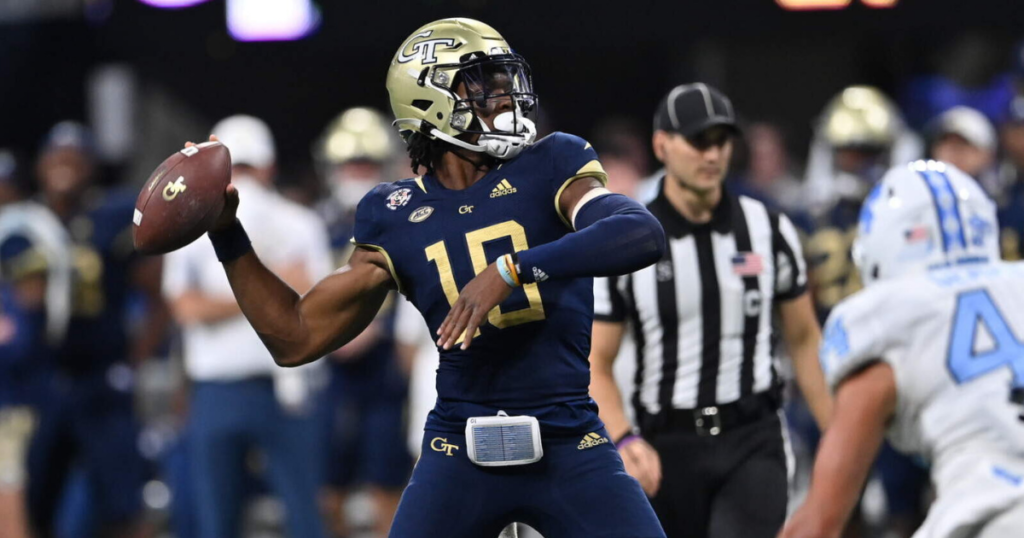 77. East Carolina (2-2 / 76th)
78. Marshall (2-2 / 77th)
79. Tulsa (1-3 / 79th)
80. Louisiana Tech (2-2 / 80th)
81. Wyoming (4-0 / 82nd)
82. Toledo (2-2 / 86th)
84. Minnesota (2-2 / 51st)
The buzz: The Golden Gophers are coming off an embarrassing loss to Bowling Green. Can they regroup when they play at Purdue this week?
85. Buffalo (2-2 / 78th)
86. Colorado (1-3 / 62nd)
87. Illinois (1-4 / 83rd)
88. Army (4-0 / 88th)
89. Utah State (3-1 / 84th)
90. Washington State (2-2 / 85th)
91. Air Force (3-1 / 91st)
The Buzz: The Falcons should get their fourth win this Saturday when they play at New Mexico. An aside: Air Force has completed eight passes in the past two games. The average gain on those eight completions is 31.5 yards.
92. Central Michigan (2-2 / 92nd)
93. Ball State (1-3 / 87th)
94. FAU (2-2 / 89th)
95. Arkansas State (1-3 / 94th)
96. Northern Illinois (2-2 / 95th)
97. Duke (3-1 / 96th)
The buzz: Saturday's game at North Carolina will be the Blue Devils' second road game of the season. It also will be the fifth consecutive game played in the state of North Carolina. This will be the 108th Duke-UNC game.
98. Northwestern (2-2 / 97th)
99. Hawaii (2-3 / 98th)
100. Georgia State (1-3 / 100th)
The bottom 30
100. Colorado State (1-3 / 103rd)
101. Charlotte (3-1 / 99th)
102. Miami (Ohio) (1-3 / 102nd)
103. Bowling Green (2-2 / 128th)
The buzz: All hail the mighty Falcons, who stunned Minnesota as a 30.5-point underdog this past Saturday.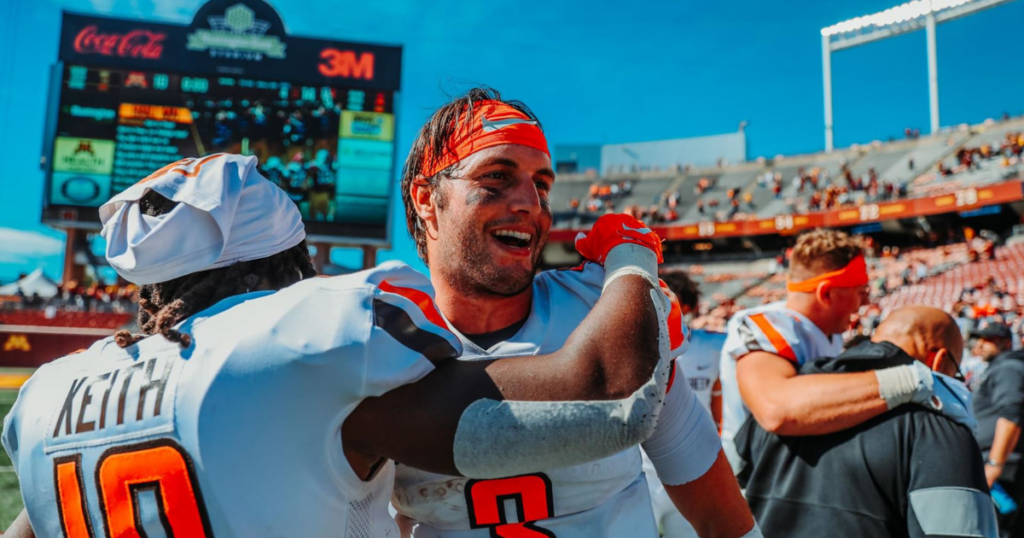 104. USF (1-3 / 107th)
105. Georgia Southern (1-3 / 104th)
The buzz: The Eagles have been to three bowls in a row, and the losses this season have been to Arkansas, Louisiana and FAU. So of course coach Chad Lunsford was fired Sunday.
106. Western Kentucky (1-2 / 105th)
107. Eastern Michigan (3-1 / 114th)
108. Navy (0-3 / 109th)
109. Ohio (0-4 / 106th)
110. Kansas (1-3 / 110th)
111. Middle Tennessee (1-3 / 111th)
112. South Alabama (3-0 / 113th)
The buzz: The Jaguars are off to a nice start, though they have beaten no one of note. We'll find out more about Kane Wommack's team this week when it plays host to Louisiana.
113. North Texas (1-3 / 112th)
114. Vanderbilt (1-3 / 108th)
115. Arizona (0-4 / 115th)
116. Texas State (1-3 / 116th)
117. FIU (1-3 / 117th)
118. ULM (2-1 / 126th)
119. Troy (2-2 / 101st)
120. Rice (1-3 / 120th)
121. Temple (2-2 / 121st)
122. UTEP (3-1 / 122nd)
The buzz: The Miners have beaten New Mexico, New Mexico State and a FCS team. And they could get victory No. 4 this week when a bad Old Dominion team comes to town.
123. Southern Miss (1-3 / 118th)
124. UNLV (0-4 / 123rd)
125. New Mexico (2-2 / 119th)
126. Akron (1-3 / 124th)
127. Old Dominion (0-4 / 127th)
128. UConn (0-5 / 125th)
The buzz: As bad as the Huskies are, the next two games are winnable, though both are on the road. This week, UConn is at Vanderbilt. Next week, it's UConn at UMass.
129. Massachusetts (0-4 / 129th)
130. New Mexico State (1-4 / 130th)