College football top to bottom: The 1-130 rankings after Week 3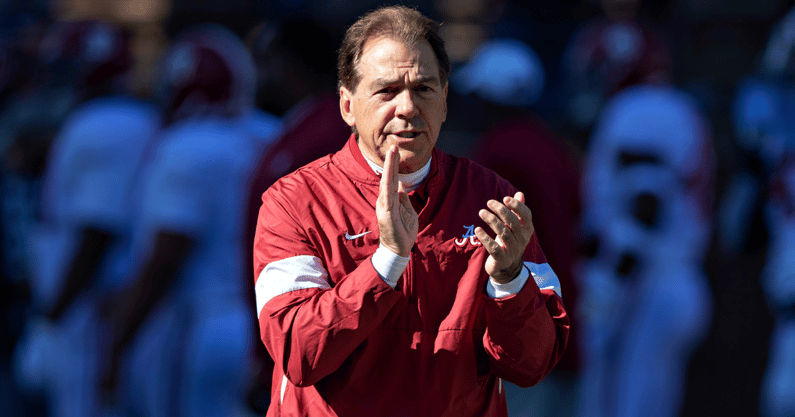 Here are our 1-130 rankings after Week 3.
There's only one new team in the top 10 — and that team moved in after a loss. In addition, there is a lot of movement in the teens and 20s, including teams that had been in the 30s, 40s and even 50s now in the top 25. We're a quarter of the way through the season (hey, it goes by quick, so savor every weekend), and we're starting to get a clearer picture of what is what. All the movement is an offshoot of doing 1-130 rankings early in the season.
Anyway, here are this week's 1-130 rankings; the rankings are updated every Tuesday during the season. There are comments on each of the top-25 teams; in addition, there are comments on other noteworthy teams this week.
The top 25
1. Alabama (3-0 / last week's ranking: 1st)
The buzz: The Tide lines were outplayed by their Florida counterparts; the defensive line, in particular, had all sorts of issues. But Bryce Young stayed calm in front of an extremely raucous crowd and the Tide ran their winning streak to 17 games.
2. Georgia (3-0 / 2nd)
The buzz: The Bulldogs pounded South Carolina this past Saturday and will pound Vanderbilt this Saturday. Then things get at least mildly interesting, with back-to-back-to-back games against Arkansas, Auburn and Kentucky.
3. Oregon (3-0 / 3rd)
The buzz: We're confident in saying that Oregon has made history. The Ducks beat Ohio State two weeks ago, then whipped Stony Brook this past Saturday. No team ever has done that before, and it's hard to imagine it happening in the future. (An aside: The Ducks get Arizona this week … and you wonder if Stony Brook might be better than the Wildcats.)
4. Penn State (3-0 / 8th)
The buzz: Two big games, two big wins for the Nittany Lions this season. They won at Wisconsin in Week 1, then held off Auburn this past Saturday. The October 9 game at Iowa is looking like one of the most important games of the season.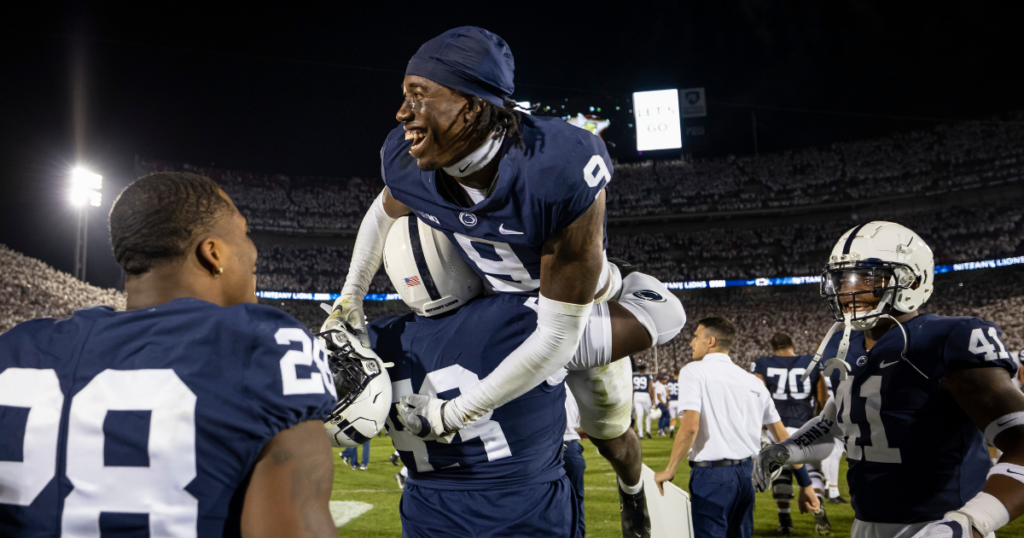 5. Texas A&M (3-0 / 5th)
The buzz: The Aggies scored 34 points against New Mexico with backup QB Zach Calzada at the controls. But the Lobos are … well, they're bad. What will Calzada do this week against Arkansas? There are no questions about the Aggies' defense, though.
6. Iowa (3-0 / 7th)
The buzz: The defense has been sterling. But questions remain about the offense, especially the passing attack. The Hawkeyes have thrown two TD passes this season.
7. Oklahoma (3-0 / 4th)
The buzz: Barely holding off Tulane. Looking unimpressive against Nebraska. What's going on here?
8. Cincinnati (3-0 / 10th)
The buzz: One Power 5 opponent down, one more to go. The Bearcats are off this week, then play at Notre Dame on October 2 in a potential season-making game. (The Bearcats really want the Irish to beat Wisconsin this weekend.)
9. Clemson (2-1 / 6th)
The buzz: The offense has disappeared. As in, it is gone. A big reason: The Tigers' offensive line is really struggling. (Thank goodness for them they don't have to block the Tigers' defensive linemen.)
10. Florida (2-1 / 11th)
The buzz: The Gators' offensive line bullied Alabama's touted defensive front as Florida outrushed the Tide 258-91. Alas, the Gators' secondary got toasted in the first quarter, and Alabama never relinquished its early lead.
11. Ohio State (2-1 / 9th)
The buzz: The Buckeyes struggled to put away Tulsa. You know, Tulsa — the team that lost its opener to FCS UC Davis. Total yards: Ohio State 508, Tulsa 501.
12. BYU (3-0 / 18th)
The buzz: The Cougars are 3-0 against Pac-12 teams, and the past two were ranked. And get this: BYU never had beaten ranked teams in back-to-back weeks until this season.
13. Iowa State (2-1 / 13th)
The buzz: The Cyclones open Big 12 play with what look to be back-to-back easy wins — this week against Baylor and next week against Kansas.
14. Notre Dame (3-0 / 14th)
The buzz: The Irish haven't been all that impressive. The running game has really struggled, and a physical Wisconsin defense looms this week.
15. Ole Miss (3-0 / 22nd)
The buzz: QB Matt Corral has accounted for 14 TDs this season. That's more than 86 teams.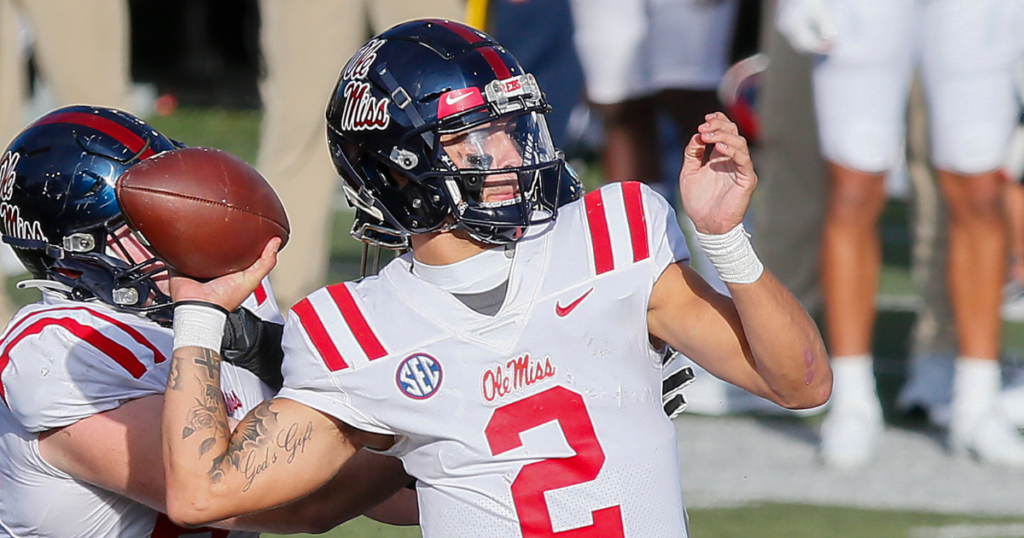 16. Arkansas (3-0 / 16th)
The buzz: The Hogs already beat up on two teams from Texas, whipping Rice in Week 1 and the Longhorns in Week 2. This week, Arkansas gets Texas A&M.
17. Wisconsin (1-1 / 17th)
The buzz: The Badgers were off last week and get Notre Dame this week at Solider Field in Chicago. It'll be the first time the teams have played since 1964.
18. Arizona State (2-1 / 12th)
The buzz: The Sun Devils committed four turnovers and an astounding 16 penalties (for 121 yards) in losing 27-17 at BYU. Seven of the penalties came in the fourth quarter, not ideal when you're trying to rally.     
19. Fresno State (3-1 / 57th)
The buzz: The Bulldogs lost in the final three minutes at Oregon in Week 1 (they opened with a Week Zero win over woebegone UConn). That was a "good" loss. Then came this past Saturday, when Jake Haener threw for 455 yards and two TDs as the Bulldogs stunned host UCLA. That was a "good" win.
20. UCLA (2-1 / 15th)
The buzz: You want to freak Chip Kelly out? Walk up to him and say, "Jake Haener." The Bruins need to bounce back quick, as they play at Stanford this week.
21. Auburn (2-1 / 33rd)
The buzz: The Tigers blew out Akron and Alabama State in their first two games. Who cares, right? Well, they took Penn State to the wire in the Nittany Lions' annual "White Out" game, which means a loss is more impressive than their wins.
22. Michigan (3-0 / 35th)
The buzz: Who needs to pass? Michigan leads the nation in rushing offense at 350.3 yards per game, and the Wolverines have attempted just 49 passes, which is fifth-fewest nationally. Four of those passes have gone for TDs, though.
23. North Carolina (2-1 / 25th)
The buzz: Sam Howell and the Tar Heels answered the bell this past Saturday in beating Virginia 59-39. Howell was 14-of-21 for 307 yards and five TDs, and he also rushed for a career-high 112 yards in guiding the Tar Heels to 699 yards of total offense.
24. TCU (2-0 / 24th)
The buzz: TCU welcomes in rival SMU for the 100th meeting in the series. It's the third of four consecutive home games to open the season for the Horned Frogs.
25. Kansas State (3-0 / 45th)
The buzz: Who needs to pass, part 2. K-State has attempted just 48 passes, which is fourth-fewest nationally, ahead of only triple-option teams Army, Navy and Air Force. The Wildcats have thrown one TD pass and three picks. The rushing attack and the run defense have been top-notch, though.
Teams 26-50
26. LSU (2-1 / 26st)
27. Texas (2-1 / 27th)
28. Michigan State (3-0 / 69th)
The buzz: It's not a stretch to think the surprising Spartans could be 7-0 when they welcome in Michigan on October 30. The next four games for Sparty: Nebraska, Western Kentucky, Rutgers and Indiana.
29. Louisiana (2-1 / 28th)
30. Coastal Carolina (3-0 / 30th)
The buzz: The Chanticleers haven't allowed a TD pass this season; they also don't have an interception. They're the only team in the nation with that particular double-double.
31. Oklahoma State (3-0 / 31st)
32. Boston College (3-0 / 32nd)
33. Indiana (1-2 / 21st)
The buzz: The Hoosiers began the season in the top 25 but already have lost twice. Thing is, the losses were to Iowa and Cincinnati, which are both in the top 25. Thing is, there still are games left against Michigan State, Ohio State, Penn State and Michigan.
34. Liberty (3-0 / 36th)
35. Stanford (2-1 / 37th)
36. USC (2-1 / 38th)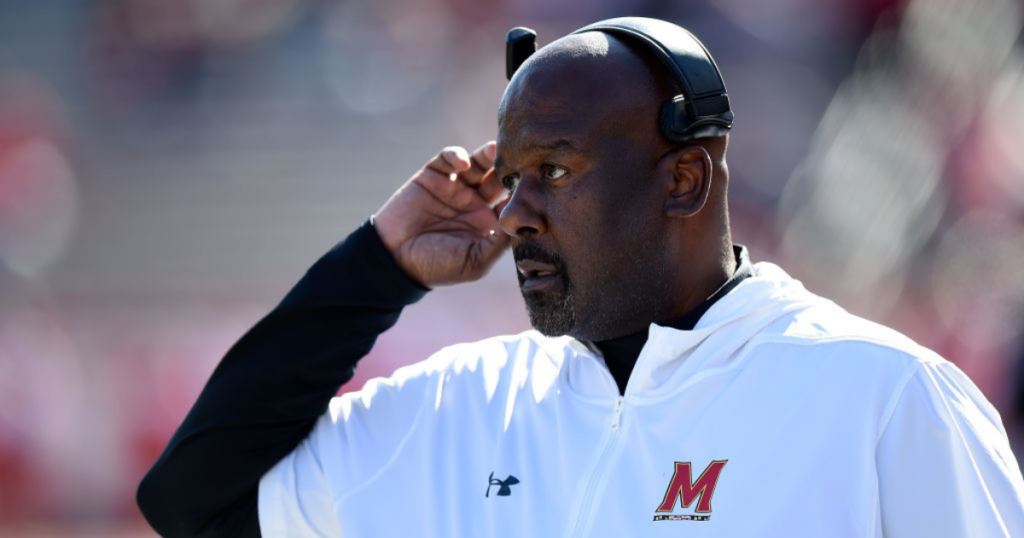 37. Maryland (3-0 / 48th)
The buzz: The Terps haven't opened 4-0 since 2016. Heck, they haven't won more than three games in a season since 2018. They have Kent State this week, then welcome in Iowa on Friday, October 1.
38. West Virginia (2-1 / 49th)
39. Virginia Tech (2-1 / 34th)
40. Wake Forest (3-0 / 41st)
41. Louisville (2-1 / 60th)
42. UCF (2-1 / 20th)
The buzz: The Knights lost on a last-second pick-six at Louisville last Friday. They also lost starting QB Dillon Gabriel to a broken collarbone; he may miss the rest of the season.
43. Boise State (1-2 / 29th)
44. Nevada (2-1 / 43rd)
45. Kentucky (3-0 / 46th)
46. Missouri (2-1 / 47th)
47. Miami (1-2 / 23rd)
The buzz: The Hurricanes' pass defense has been atrocious. They're allowing 271.3 passing yards per game and have surrendered nine TD passes (fifth-most nationally and the most by a Power 5 school).
48. Appalachian State (2-1 / 39th)
49. Mississippi State (2-1 / 40th)
The buzz: SEC refs get a lot of grief from SEC fans (and, really, everybody). A case can be made that SEC refs cost the Bulldogs the game in their non-conference loss to Memphis.
50. NC State (2-1 / 44th)
Teams 51-75
51. Minnesota (2-1 / 51st)
52. Utah (1-2 / 19th)
53. Virginia (2-1 / 52nd)
The buzz: QB Brennan Armstrong has thrown for 1,298 yards (he leads the nation at 432.7 passing yards per game). The school single-season record for passing yards is 3,538. To break the record, Armstrong needs to average 248.9 yards per game the rest of the way.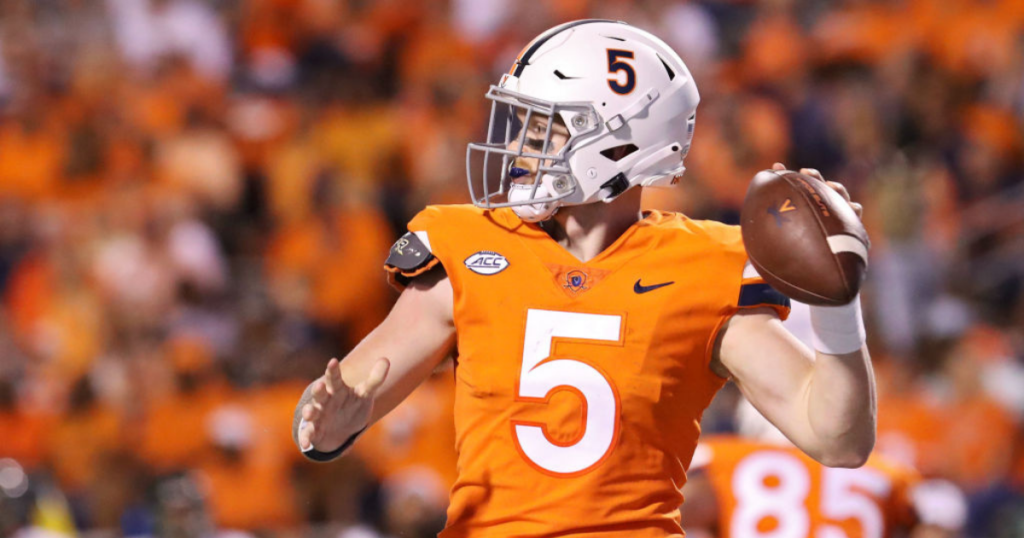 54. San Jose State (2-1 / 53rd)
55. UAB (2-1 / 54th)
56. San Diego State (3-0 / 83rd)
57. California (1-2 / 55th)
58. Texas Tech (3-0 / 56th)
The buzz: The Red Raiders have allowed just 163 rushing yards in three games, fifth-best nationally. The question: Are they really that good against the run or is it a by-product of the schedule (Houston, FCS Stephen F. Austin and FIU)? Texas Tech gets RB Bijan Robinson and Texas this week.
59. Pitt (2-1 / 42nd)
60. Washington (1-2 / 59th)
61. SMU (3-0 / 65th)
62. Colorado (1-2 / 58th)
The buzz: The Buffaloes' offense is a mess. Colorado has scored seven points and gained a total of 323 yards and 20 first downs in its past two games (losses to Texas A&M and Minnesota).
63. Tulane (1-2 / 62nd)
64. Purdue (2-1 / 64th)
65. Memphis (3-0 / 77th)
66. Houston (2-1 / 66th)
67. Rutgers (3-0 / 68th)
68. Florida State (0-3 / 61st)
The buzz: FSU is 0-3 for the first time since 1976, which was Bobby Bowden's first season. The Seminoles get Louisville this week and are trying to avoid their first 0-4 start since 1974. FSU went 1-10 that season.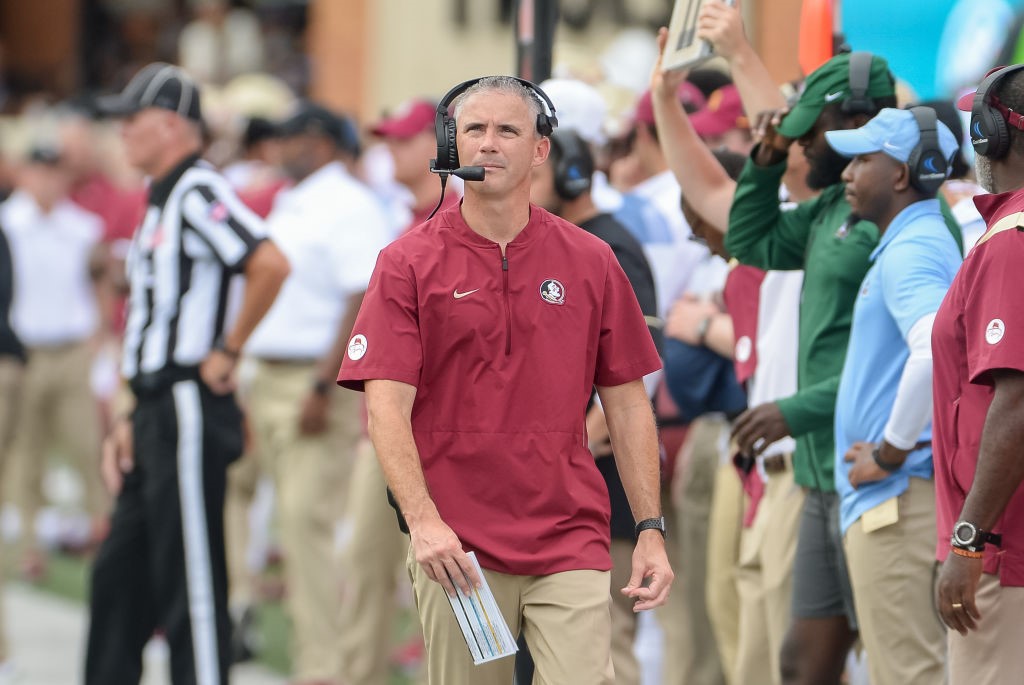 69. Baylor (3-0 / 72nd)
70. Tennessee (2-1 / 70th)
71. UTSA (3-0 / 76th)
The buzz: The Roadrunners have been solid defensively thus far, but they get a huge test this week when they play at Memphis, which piles up yards and points.
72. Nebraska (2-2 / 74th)
73. Oregon State (2-1 / 73rd)
74. Kent State (1-2 / 75th)
75. South Carolina (2-1 / 78th)
Teams 76-100
76. East Carolina (1-2 / 82nd)
77. Marshall (2-1 / 67th)
78. Buffalo (1-2 / 79th)
79. Tulsa (0-3 / 81st)
80. Louisiana Tech (1-2 / 80th)
The buzz: The Bulldogs need to learn how to finish. They lost their opener by blowing a 20-point fourth-quarter lead to Mississippi State, then lost this past Saturday on a last-play "Hail Mary" to SMU. The lone win was by three points over FCS Southeastern Louisiana in which they allowed 556 yards and almost blew a 10-point fourth-quarter lead.
81. Western Michigan (2-1 / 96th)
82. Wyoming (3-0 / 87th)
83. Illinois (1-3 / 84th)
84. Utah State (3-0 / 85th)
85. Washington State (2-1 / 86th)
86. Toledo (1-2 / 63rd)
The buzz: This week's game with Ball State (ranked one spot below the Rockets) was supposed to be a key early-season matchup to see which team was the MAC West Division frontrunner. Now it's to determine the frontrunner for most disappointing team in the league.
87. Ball State (1-2 / 50th)
88. Army (3-0 / 88th)
89. FAU (2-1 / 89th)
90. Georgia Tech (1-2 / 95th)
The buzz: The Yellow Jackets took Clemson to the brink. Sort of hard to believe a team that lost to Northern Illinois (which lost by 53 to Michigan) could almost upset Clemson.
91. Air Force (2-1 / 90th)
92. Central Michigan (1-2 / 92nd)
93. Syracuse (2-1 / 93rd)
94. Arkansas State (1-2 / 91st)
The buzz: Coach Butch Jones can't be happy with his defense. The Red Wolves have allowed 50 points in back-to-back losses, to Memphis and Washington.
95. Northern Illinois (1-2 / 94th)
96. Duke (2-1 / 99th)
The buzz: This past Saturday's win over Northwestern was just the Blue Devils' fifth over a Power 5 team since the start of the 2019 season.
97. Northwestern (1-2 / 71st)
98. Hawaii (1-3 / 98th)
99. Charlotte (2-1 / 97th)
100. Georgia State (1-2 / 103rd)
The bottom 30
101. Troy (2-1 / 101st)
102. Miami (Ohio) (1-2 / 102nd)
103. Colorado State (1-2 / 120th)
104. Georgia Southern (1-2 / 104th)
105. Western Kentucky (1-1 / 105th)
106. Ohio (0-3 / 106th)
The buzz: This is the Bobcats' first 0-3 start since 2008. In two games against FBS opponents, Ohio has scored just 23 points
107. USF (1-2 / 107th)
108. Vanderbilt (1-2 / 117th)
109. Navy (0-2 / 108th)
110. Kansas (1-2 / 110th)
The buzz: Yes, Kansas is bad. But the Jayhawks don't look to be the worst Power 5 team this season, and that's progress.
111. Middle Tennessee (1-2 / 109th)
112. North Texas (1-2 / 112th)
113. South Alabama (3-0 / 113th)
114. Eastern Michigan (2-1 / 114th)
115. Arizona (0-3 / 100th)
The buzz: Goodness gracious. The Wildcats fell to FCS Northern Arizona, which came in 0-2. Arizona has lost 15 in a row, dating to the 2019 season, and it's fair to think the Wildcats will finish winless this season.
116. Texas State (1-2 / 111th)
117. FIU (1-2 / 115th)
118. Southern Miss (1-2 / 116th)
119. New Mexico (2-1 / 119th)
120. Rice (0-3 / 118th)
121. Temple (1-2 / 121st)
122. UTEP (2-1 / 122nd)
123. UNLV (0-3 / 123rd)
124. Akron (1-2 / 124th)
125. UConn (0-4 / 125th)
126. ULM (1-1 / 126th)
The buzz: The Warhawks snapped a 12-game losing streak dating to 2019 by beating FCS Jackson State 12-7. That means ULM coach Terry Bowden got the best of Jackson State coach Deion Sanders, who was coached by Terry's dad in college. Also of note: The Jackson State quarterback was Shadeur Sanders, Deion's son, and the ULM quarterback was Rhett Rodriguez, the son of ULM offensive coordinator Rich Rodriguez.
127. Old Dominion (0-3 / 127th)
128. Bowling Green (1-2 / 128th)
129. Massachusetts (0-3 / 129th)
130. New Mexico State (1-3 / 130th)