Midseason report: 20 coaches whose stock is on the rise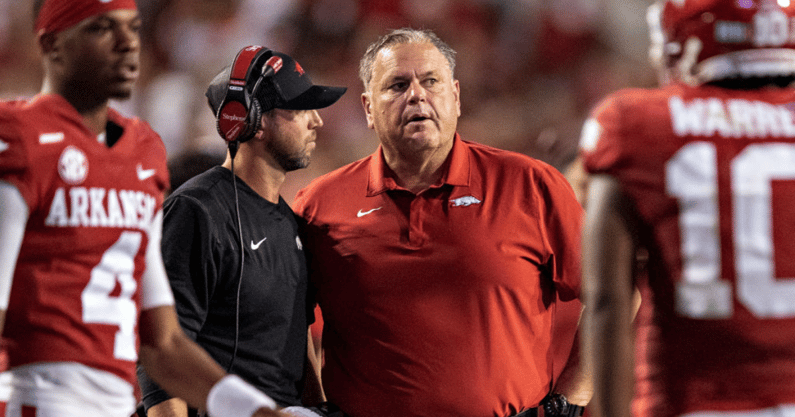 Earlier today, we posted the On3 midseason All-America team, a look at some of the top players in the country through the first half of the regular season. Now, here's something similar on their coaches.
After talking to industry sources, here's a look at 20 coaches whose stock is on the rise after the first six weeks of the season. They're listed alphabetically.
Dave Aranda, Baylor (second season)
Baylor, which finished 2-7 last season, is off to a 5-1 start with wins in three of its first four Big 12 games. The Bears' only loss was to Oklahoma State, which is 5-0 and ranked No. 12.
Troy Calhoun, Air Force (15th season)
Air Force is on track for potentially its second double-digit win total in the past three seasons. The Falcons, who were 3-3 last season, are 5-1. Each of the five wins has come by double digits. That includes a 24-14 victory last week over Wyoming, which had been 4-0.
Jamey Chadwell, Coastal Carolina (third season)
Coastal has followed up its 11-1 record in 2020 with a 6-0 start to this season. The Chanticleers have the nation's second-highest ranking among Group of 5 programs (15th) and have outscored opponents 293-90. Chadwell's offense is No. 1 nationally in yards per play (8.82) and No. 2 in scoring (48.8 points per game).
Dave Clawson, Wake Forest (eighth season)
Wake (6-0) is the only remaining undefeated team in the ACC and one of just eight remaining unbeatens among Power 5 programs. The Demon Deacons, 4-0 in the ACC, already have exceeded their conference win total from last season, when they finished 4-5 overall and 3-4 in ACC play.
Kalen DeBoer, Fresno State (second season)
Fresno, which was a combined 7-11 in 2019 and '20, was 4-1 and ranked No. 18 before an October 2 loss to Hawaii. During those opening five games, the Bulldogs beat then-No. 13 UCLA and led during the fourth quarter of an eventual 31-24 loss to No. 9 Oregon.
Dana Dimel, UTEP (fourth season)
UTEP, which has finished with a losing record in 14 of the past 15 seasons, is 5-1 overall and 2-0 against Conference USA competition. The Miners have already matched their win total from the previous four seasons combined.
Dave Doeren, NC State (ninth season)
NC State has followed up an 8-4 season in 2020 with wins in four of its first five games this season, including a Week 4 double-overtime victory over Clemson.
Sonny Dykes, SMU (fourth season)
Just a few years removed from a string of three losing records in a four-season period, SMU continues to establish itself as one of the nation's top Group of 5 programs under Dykes. The Mustangs are 6-0 and ranked No. 23. Among the six wins was a Week 4 victory over a Big 12 opponent (TCU).
Thomas Hammock, Northern Illinois (third season)
After going 5-13 in his first two seasons at Northern Illinois, including 0-6 last season, Hammock has led the Huskies to a 4-2 start. The season opened with an upset of an ACC opponent (Georgia Tech) and continued last week with a victory over one of the better teams in the MAC (Toledo).
Jim Harbaugh, Michigan (seventh season)
After finishing last season 2-4, Michigan is 6-0 and ranked No. 8 heading into the second half of the season, which includes matchups against three Big Ten squads ranked in the top 10 (No. 10 Michigan State, No. 7 Penn State and No. 6 Ohio State).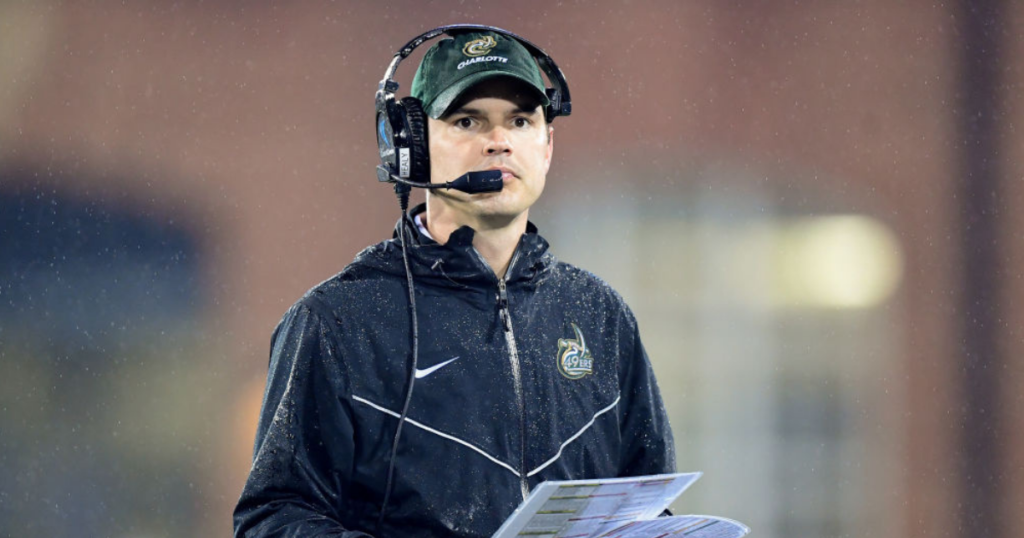 Will Healy, Charlotte (third season)
Two years after leading Charlotte to its first-ever winning record and bowl appearance, Healy has the 49ers 4-2 overall and 2-0 in Conference USA. Charlotte began the season with a win over Duke, the program's first victory over a Power 5 opponent.
Nick Hill, Southern Illinois (fifth season)
Under Hill, Southern Illinois has gone from 2-9 in 2018 to now being ranked No. 4 in the FCS. The Salukis are 5-1 and got a win last week over then-No. 2 South Dakota State, which played in last season's FCS national title game. Southern Illinois is 4-1 against top-five opponents the past two seasons. Its only loss came against a Big 12 team (Kansas State) in a game the Salukis led midway through the third quarter before falling 31-23.
Dana Holgorsen, Houston (fifth season)
Houston, which was 7-13 in its first two seasons under Holgorsen, is on a five-game winning streak since a season-opening loss to Texas Tech. The Cougars are 3-0 in AAC play, and already have matched their conference win total from last season.
Lane Kiffin, Ole Miss (second season)
After its 52-51 win over then-No. 13 Arkansas last week, Ole Miss is 8-2 in its past 10 games under Kiffin (including 4-1 this year). Before this season, the 13th-ranked Rebels hadn't been ranked since 2016, Hugh Freeze's final year as Ole Miss' coach.
Sam Pittman, Arkansas (second season)
Arkansas already has posted its highest win total since Bret Bielema's final season as coach in 2017 (four). One year after taking over a program in the midst of a 20-game SEC losing streak, Pittman has led the Razorbacks to a 4-2 start and had Arkansas ranked No. 8 before losses the past two weeks to No. 1 Georgia and Ole Miss.
Kalani Sitake, BYU (sixth season)
Even after losing star quarterback Zach Wilson, whom the New York Jets selected second overall in this year's NFL draft, BYU is 5-1 with wins over three Pac-12 programs (Arizona, then-No. 21 Utah and No. 18 Arizona State). The Cougars, who were ranked as high as No. 8 last season, were ranked 10th last week before a loss to Boise State.
Jonathan Smith, Oregon State (fourth season)
Oregon State has a shot at its first winning record and bowl appearance since 2013. The Beavers — who were 1-11 in 2017, the year before Smith took over — are 4-2 with wins over two Pac-12 foes who began the season ranked (USC and Washington). The victory over USC was Oregon State's first road win over the Trojans since 1960. It was also the Beavers' first win in a Pac-12 opener since 2013.
Mark Stoops, Kentucky (ninth season)
Heading into Saturday's game against No. 1 Georgia, Kentucky is 6-0 for the first time since 1950 and ranked No. 11. The past two weeks for the Wildcats have included a 42-21 win over LSU and a 20-13 victory over then-No. 10 Florida.
Jeff Traylor, UTSA (third season)
UTSA has progressed from 4-8 in Year 1 under Traylor to 7-5 last season to now 6-0 to start Year 3. The Roadrunners opened the season with a win over a Big Ten opponent (Illinois) and have gotten victories in recent weeks over teams such as Memphis and Western Kentucky.
Mel Tucker, Michigan State (second season)
After going 2-5 in his first season as Michigan State's coach, Tucker has the Spartans 6-0 and ranked No. 10 going into Saturday's matchup against Indiana (2-3). It's the best start for Michigan State since 2015, when the Spartans started 8-0 and reached the College Football Playoff.