Paul Finebaum names Ohio State as Alabama's biggest threat in 2022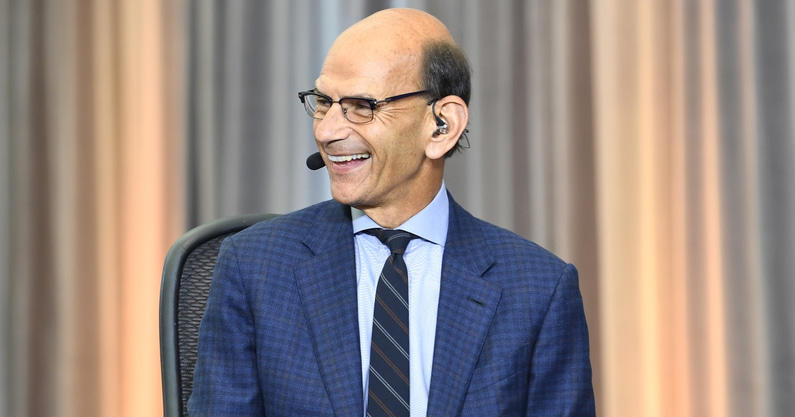 Not many were surprised when Alabama was raked No. 1 in the Preseason AP Top 25 Poll, as they typically are in the conversation for that spot heading into every college football season. But who has the best chance of challenging them in the College Football Playoff? College football analyst Paul Finebaum's answer is Ohio State, and he gave his reason why on the ESPN morning show Get Up.
"Unquestionably. And it's only the 15th straight year that at some point in the season that Alabama has been No. 1. The next closest is seven. That shows you the dominance," Finebaum said. "But Ohio State is built for this. They had a bad year last year. They did the unthinkable, the once-in-a-generation [mistake], they lost to Michigan. But that's not going to happen this year because they have one of the best quarterbacks in the country, they have wide receivers that will fill the NFL up. And they have Notre Dame at home in the first game of the season, they have Michigan later on, it's a tailor made schedule for Ryan Day to make a serious run at the championship."
A bad year last year for the Buckeyes may be a stretch, as their only two loses where an only an early season upset to Oregon and a loss to Big Ten champion Michigan, who had five players selected in this year's NFL draft and five sign as free agents, but the standard and expectation in Columbus is National titles.
ESPN's Emanuel Acho agreed with Finebaum's crowning of the Buckeyes as the No. 1 team to contend with Saban's Crimson Tide.
"I agree but it's for a different reason than Paul just said, obviously we know Ohio State has had the number one scoring offense and total offense in college football. But last year their defense was ranked 59th, this year they have the defensive coordinator from Oklahoma State who had the fifth best defense in all of college football, Jim Knowles. So now you have a top ranked offense, the best offense likely, with another top ranked defense. He's gonna use that talent and make them actually play up to their standards. I think Ohio State is primed to give Alabama a run for their money," Acho said.
The Buckeye's offensive attack has never been in question in recent history, but if Knowles can elevate their defensive unit and they can roll through their 'taylor made' schedule, we may see the Buckeye's back in the National Championship conversation.