Bowl breakdown: Celebrate New Year's Day with 5 more games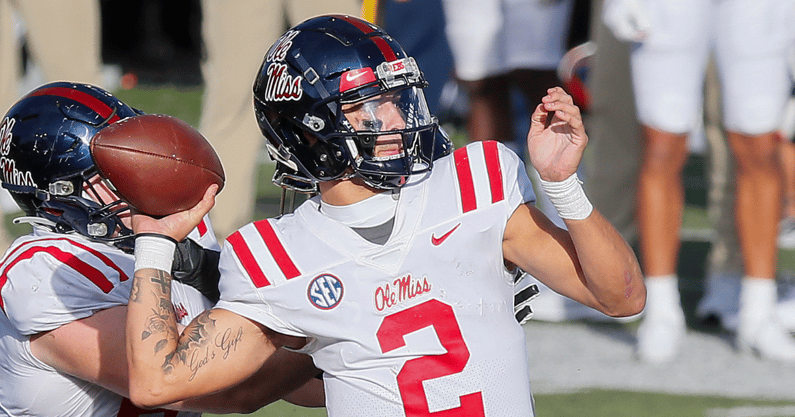 The bowl season — and the college football season as a whole — winds down further Saturday with five games. Enjoy them because there are just two games after these.
While there are some key players opting out of the five games, there still are some intriguing matchups, most notably Baylor-Ole Miss in the Sugar Bowl.
Here's a look at the five bowls on New Year's Day.
Outback Bowl
No. 21 Arkansas vs. Penn State
Time/TV: Noon, ESPN2 (Dave Flemming play-by-play, Rod Gilmore analyst)
Venue: Raymond James Stadium, in Tampa (capacity of 65,657)
On3 bowl ranking: 16th (of 42)
Team records: Arkansas 8-4; Penn State 7-5
Records vs. bowl teams: Arkansas 4-4; Penn State 5-4
All-time bowl records: Arkansas 15-24-3; Penn State 30-18-2
Officiating crew: From the Big 12
Key stats: Arkansas is 11th nationally in rush offense (217.3 yards per game); Penn State is 118th in the same category (106.6 ypg) and is 122nd in yards per carry (3.13).
The line: Arkansas by 2.5
The buzz: Arkansas was a pleasant surprise this season, Penn State a bit of a disappointment. Arkansas was far better than expected offensively, Penn State much worse. The big difference: Arkansas got its rushing attack cranked up, and Penn State never did. The Nittany Lions will be without a handful of key opt-outs, most notably WR Jahan Dotson, DE Arnold Ebiketie and S Jaquan Brisker, an On3 All-America selection. Arkansas will be without star WR Treylon Burks. But he will be missed less individually than the Penn State guys who opted out collectively. Penn State needs to make sure Arkansas QB K.J. Jefferson doesn't make many big plays with his legs.
Citrus Bowl
No. 15 Iowa vs. No. 22 Kentucky
Time/TV: 1 p.m., ABC (Dave Pasch play-by-play, Dusty Dvoracek analyst)
Venue: Camping World Stadium, in Orlando (capacity of 65,194)
On3 bowl ranking: 13th (of 42)
Team records: Iowa 10-3; Kentucky 9-3
Records vs. bowl teams: Iowa 5-3; Kentucky 5-3
All-time bowl records: Iowa 17-15-1; Kentucky 11-9
Officiating crew: From the ACC
Key stats: Iowa has forced 30 turnovers (fourth-most nationally) and has a plus-14 turnover margin (third nationally). Kentucky has a minus-13 TO margin, tied for second-worst nationally. UK QB Will Levis has thrown 12 picks, and Iowa leads the nation with 24 interceptions; it has four DBs with at least three picks.
The line: Kentucky by 3
The buzz: Iowa's offense is … well, it's sort of miraculous the Hawkeyes have won 10 games and played for the Big Ten title with an offense this bad. The Hawkeyes average 297.5 yards per game, the worst of any bowl team by almost 20 yards. But Iowa feasts on turnovers, and given Levis' propensity for picks, that bears watching. The Wildcats need to keep RB Chris Rodriguez Jr. going; he has rushed for 1,272 yards and enters with four consecutive 100-yard games.
Fiesta Bowl
No. 5 Notre Dame vs. No. 9 Oklahoma State
Time/TV: 1 p.m., ESPN (Bob Wischusen play-by-play, Dan Orlovsky analyst)
Venue: State Farm Stadium, in Glendale, Ariz. (capacity of 72,000)
On3 bowl ranking: 7th (of 42)
Team records: Notre Dame 11-1; Oklahoma State 11-2
Records vs. bowl teams: Notre Dame 6-1; Oklahoma State 7-2
All-time bowl records: Notre Dame 19-20; Oklahoma State 20-11
Officiating crew: From the Big Ten
Key stats: Oklahoma State is tied for the national lead with 113 tackles for loss and with 54 sacks. Notre Dame has allowed 33 sacks, tied for 31st-most in the nation.
The line: Notre Dame by 2.5
The buzz: This is the first game as coach for Notre Dame's Marcus Freeman. The Irish will be without star RB Kyren Williams, who has opted out. That hurts because he is the only player on the team with more than 50 rushing attempts. The Irish figure to have to throw the ball even more, but the Cowboys' pass rush could make that problematic. TE Michael Mayer is a big weapon for the Irish. LB Malcolm Rodriguez and E Collin Oliver are the guys to watch on Oklahoma State's defense. The Cowboys' offense is nothing special, meaning a return to health by RB Jaylen Warren is good news. This is the final game for Oklahoma State defensive coordinator Jim Knowles, who is headed to Ohio State. The Buckeyes' opening game next season? Notre Dame.
Rose Bowl
No. 6 Ohio State vs. No. 11 Utah
Time/TV: 5 p.m., ESPN (Chris Fowler play-by-play, Kirk Herbstreit analyst)
Venue: Rose Bowl Stadium, in Pasadena, Calif. (capacity of 90,888)
On3 bowl ranking: 3rd (of 42)
Team records: Ohio State 10-2; Utah 10-3
Records vs. bowl teams: Ohio State 7-2; Utah 5-3
All-time bowl records: Ohio State 26-27; Utah 17-6
Officiating crew: From the SEC
Key stats: Ohio State leads the nation in total offense (551.1 yards per game) and in yards per play (7.78). Utah is 15th in yards-per-play defense, allowing just 4.89.
The line: Ohio State by 4
The buzz: Ohio State opt-outs include standout WRs Chris Olave and Garrett Wilson, star OT Nicholas Petit-Frere and DT Haskell Garrett. Even without Olave and Wilson, QB C.J. Stroud — who will be playing about 30 miles from where he went to high school at Rancho Cucamonga High — still has a good receiving corps with which to work, headlined by Jaxon Smith-Njigba. And TreVeyon Henderson will be the most explosive running back Utah has seen. Utes LB Devin Lloyd, an On3 All-American, figures to get up close and personal with Henderson a few times. Offensively, it's vital for Utah to get its ground game cranked up. Tavion Thomas, an Ohio native who began his career at Cincinnati before heading to a junior college and then Utah, has 20 rushing TDs. Utah's passing attack isn't much, but TEs Brant Kuithe and Dalton Kincaid have a combined 13 TD receptions and will put pressure on Ohio State's linebackers and safeties.
Sugar Bowl
No. 7 Baylor vs. No. 8 Ole Miss
Time/TV: 8:45 p.m., ESPN (Joe Tessitore play-by-play, Greg McElroy analyst)
Venue: Superdome, in New Orleans (capacity of 74,295)
On3 bowl ranking: 4th (of 42)
Team records: Baylor 11-2; Ole Miss 10-2
Records vs. bowl teams: Baylor 7-1; Ole Miss 7-2
All-time bowl records: Baylor 13-12; Ole Miss 24-14
Officiating crew: From the Big Ten
Key stats: Ole Miss is fourth nationally in total offense (506.7 yards per game) and is ninth in rush offense (224.4 ypg). Baylor is 16th in rush defense (116.5 ypg) and 15th in yards-per-carry allowed (3.42).
The line: Ole Miss by 1
The buzz: An interesting clash of styles. Ole Miss is all about offense, Baylor all about defense. This will be the final college game for Rebels QB Matt Corral, who this season has thrown for 3,339 yards and 20 touchdowns and rushed for 597 yards and 11 scores. Ole Miss has three running backs with 100 carries: Jerrion Ealy, Snoop Conner and Henry Parrish Jr. They have combined for 1,850 yards and 19 TDs. Baylor has held 10 foes under 125 yards rushing and six to fewer than 100; if the Bears hold the Rebels under 100, they will win. But Iowa State and Oklahoma State (the first times the teams met) had big-time success on the ground. Still, it's a lot easier to move the ball in the air on the Bears, though Baylor has 16 picks and allowed just 12 TD passes. S Jalen Pitre and LB Terrel Bernard are the defensive standouts. Baylor RB Abram Smith has rushed for 1,429 yards and 12 TDs, and Ole Miss' run defense is bad.