Bowl breakdown: It's finally time for the CFP semifinals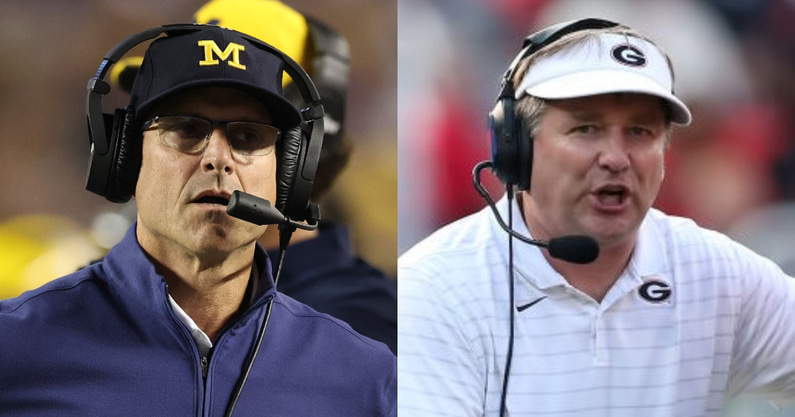 The postseason gets serious Friday. There are four bowls, but — let's be truthful — only two matter. Those are the College Football Playoff semifinals in the Cotton and Orange bowls.
The Gator and Sun bowls are appetizers — but if you want to skip the appetizers and go straight to the main course, we'll see you around 3:30 p.m. Eastern.
Gator Bowl
Rutgers vs. Wake Forest
Time/TV: 11 a.m., ESPN (Taylor Zarzour play-by-play, Matt Stinchcomb analyst)
Venue: TIAA Bank Field, in Jacksonville (capacity of 76,000)
Team records: Rutgers 5-7; Wake Forest 10-3
Records vs. bowl teams: Rutgers 0-6; Wake Forest 6-3
All-time bowl records: Rutgers 6-4; Wake Forest 9-6
Officiating crew: From Big 12
Key stats: Wake Forest is fifth nationally in scoring offense, averaging 41.2 points per game. Wake has been held to fewer than 35 points just twice, and four times have scored at least 45. Rutgers, meanwhile, is 113th in scoring offense (20.5 ppg), the lowest of any bowl team, and eight teams the Scarlet Knights have been held to 17 or fewer points. They scored 106 points in wins over Temple and Delaware, but just 140 in their other 10 games.
The line: Wake Forest by 16.5
The buzz: Rutgers is a replacement for Texas A&M, which had COVID issues, and the Scarlet Knights come in having lost seven of their past nine. The Scarlet Knights were chosen because of their high APR score. Rutgers is anemic offensively and mediocre defensively. LB Olakunle Fatukasi is a standout, though. Wake also is mediocre (at best) defensively; the Demon Deacons have allowed at least 42 points five times, and they're especially bad against the run. Offensively, though, they are fun to watch, and both explosive and efficient behind QB Sam Hartman. WR Jaquarii Roberson has opted out, but big-play threat A.T. Perry is expected to play and he figures to do some damage against Rutgers' secondary. Wake started playing football in 1908, and this is just the second season with double-digit wins; the Demon Deacons won 11 in 2006.
Sun Bowl
Central Michigan vs. Washington State
Time/TV: 12:30 p.m., CBS (Brad Nessler play-by-play, Gary Danielson analyst)
Venue: Sun Bowl Stadium, in El Paso, Texas (capacity of 51,500)
Team records: Central Michigan 8-4; Washington State 7-5
Records vs. bowl teams: Central Michigan 5-4; Washington State 2-4
All-time bowl records: Central Michigan 3-9; Washington State 8-8
Officiating crew: From Big Ten
Key stats: Central Michigan's Lew Nichols III is the nation's leading rusher at 142.5 yards per game. He has rushed for at least 163 yards in five consecutive games and has had nine 100-yard outings this season. Washington State is 83rd nationally in rush defense, allowing 162.2 yards per game. Five teams have rushed for 200 yards on the Cougars, including two (Oregon and Oregon State) who reached the 300-yard plateau.
The line: Washington State by 7
The buzz: Washington State was supposed to play Miami in the Sun Bowl, and Central Michigan was supposed to play Boise State in the Arizona Bowl. But Boise and UM had COVID issues, so the Chippewas instead are playing in El Paso. Nichols is a legit lead back, and he runs behind one of the best tackle duos in the nation (seriously, these guys are NFL prospects) in Luke Goedeke and Bernhard Raimann. Washington State also has an NFL prospect at tackle in Abraham Lucas, but he has opted out, as has starting RB Max Borghi. Cougars QB Jayden de Laura figures to target WR Travell Harris often, and he could have a big game because the Chippewas have the worst pass defense in the MAC. DE Ron Stone Jr. and LB Jahad Woods are the Cougars' defensive standouts.
Cotton Bowl
CFP semifinal: Alabama vs. Cincinnati
Time/TV: 3:30 p.m., ESPN (Sean McDonough play-by-play, Todd Blackledge analyst)
Venue: AT&T Stadium, in Arlington, Texas (capacity of 80,000)
On3 bowl ranking: 2nd (of 42)
Team records: Alabama 12-1; Cincinnati 13-0
Records vs. bowl teams: Alabama 9-1; Cincinnati 7-0
All-time bowl records: Alabama 44-26-3; Cincinnati 9-10
Officiating crew: From the Pac-12
Key stats: Alabama is the only team in the nation in the top 10 nationally in total offense (495.5 yards per game) and total defense (306.1 ypg). The Tide is one of three teams in the top 10 in yards per play on offense (6.72 yards) and defense (4.73). The others are Georgia (6.94 on offense, 4.01 on defense) … and Cincinnati (6.93 and 4.32).
The line: Alabama by 13.5
The buzz: A lot has been written about this game, including Cincinnati's "status" among the CFP semifinalists and what other coaches think about the matchup. The biggest key, though, would seem to be whether the Bearcats can get consistent pressure on Tide QB Bryce Young. The Tide has surrendered 36 sacks, and the Bearcats have a handful of guys who can apply pressure. Keep a close eye on DT Curtis Brooks, who leads the Bearcats with 7.5 sacks and 11.5 tackles for loss. Alabama has surrendered at least four sacks in four games (Texas A&M, LSU, Arkansas and Auburn). If Young has time to throw, the Bearcats have no shot.
Orange Bowl
CFP semifinal: Georgia vs. Michigan
Time/TV: 7:30 p.m., ESPN (Chris Fowler play-by-play, Kirk Herbstreit analyst)
Venue: Hard Rock Stadium, in Miami (capacity of 65,000)
On3 bowl ranking: 1st (of 42)
Team records: Georgia 12-1; Michigan 12-1
Records vs. bowl teams: Georgia 9-1; Michigan 8-1
All-time bowl records: Georgia 33-21-3; Michigan 21-27
Officiating crew: From the Big 12
Key stats: Georgia is second nationally in rush defense, allowing 81.69 yards per game; the Bulldogs are third in yards-per-rush defense at 2.61 and lead the nation by allowing just three rushing TDs, three fewer than anyone else. Michigan is 10th nationally in rush offense, averaging 223.85 yards per game; the Wolverines are 13th in yards per carry at 5.31 and third with 39 rushing TDs (behind only triple-option teams Army and Air Force).
The line: Georgia by 7.5
The buzz: There shouldn't be a lot of finesse in this one. Both want to play "bully ball" – run effectively and play extremely physical on defense. Georgia did it perfectly until the SEC Championship Game, when Alabama hammered the Bulldogs; that led to some questions being asked about the Bulldogs' passing attack and secondary. One positive for the Bulldogs: Michigan's passing attack isn't in the same stratosphere as Alabama's. The passing attack question? Well, that lingers. This game is filled with big-time defenders, with Michigan DE Aidan Hutchinson and Georgia LB Nakobe Dean the headliners. The Wolverines need to be able to run the ball with Hassan Haskins and Blake Corum. The Bulldogs want to do the same with Zamir White and James Cook. Georgia does have a legit big-time receiving weapon in true freshman TE Brock Bowers. The Wolverines have to find a way to keep him from making big plays. Maybe the overriding question: Can either quarterback make big plays when they are needed?