Bowl breakdown: Tuesday features high-level Group of 5 showdown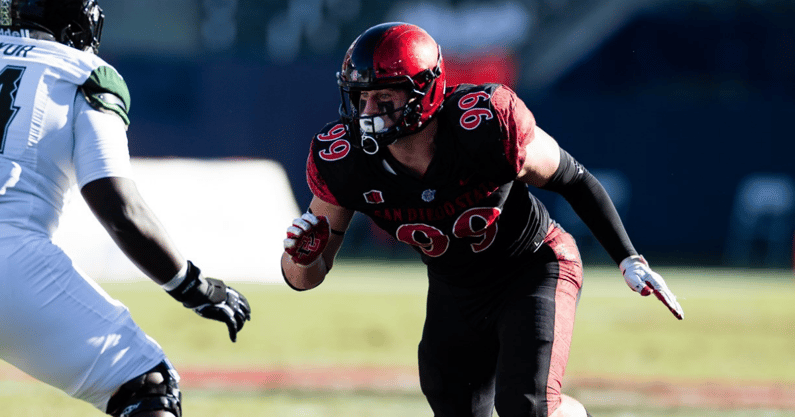 The bowl season chugs along Tuesday with one high-level game and one … well, one that isn't.
There is some history on the line in both bowls. Kent State is playing Wyoming in the Famous Idaho Potato Bowl; Kent State is 7-6, and a Golden Flashes win would clinch the first three-year stretch with a winning record since 1972-74. Nick Saban was a senior defensive back on that 1972 squad.
Meanwhile, San Diego State is playing UTSA in the Frisco Bowl. A win and Conference USA champion UTSA almost certainly would finish in the final polls for the first time in school history, while a San Diego State victory almost certainly would mean a finish in the final polls for just the third time in school history.
Here's a quick look at the Tuesday bowls.
Famous Idaho Potato Bowl
Kent State vs. Wyoming
Time/TV: 3:30 p.m., ESPN (Bill Roth play-by-play, Kelly Stouffer analyst)
Venue: Albertsons Stadium, in Boise, Idaho (capacity of 37,000)
On3 bowl ranking: 38th (of 42)
Team records: Kent State 7-2; Wyoming 6-6.
Records vs. bowl teams: Kent State 2-6; Wyoming 3-4
All-time bowl records: Kent State 1-2; Wyoming 8-8
Key stats: Kent State's defense is … well, it's rancid. The Golden Flashes surrender 466.8 yards (122nd nationally) and 35.1 points per game (119th), as well as 6.05 yards per play (104th). The yards per game and points per game are the worst of any bowl team. But there is a redeeming feature for that defense: It forces turnovers, and Kent State has a plus-12 turnover margin (sixth-best nationally). Wyoming, meanwhile, is sixth nationally in pass defense, allowing just 177.3 passing yards per game.
The line: Wyoming by 3
The buzz: Wyoming is 2-0 against MAC teams this season, including a win over MAC champ Northern Illinois. Kent State split with NIU this season, winning in early November, then losing in the MAC title game. Wyoming is all about the run offensively; when the Cowboys get their rushing attack cranked up, they generally are tough to beat. Indeed, when rushing for more than 150 yards, Wyoming is 6-1. When under 150, the Cowboys are 0-5. Wyoming features LB Chad Muma, a sort of human tackling machine. Over the past two seasons, Muma — who has accepted an invitation to the Senior Bowl — has averaged 11.1 tackles per game. Kent State has an excellent offense, averaging 480.9 yards per game (eighth nationally) and 6.42 yards per play (25th). Dual-threat QB Dustin Crum accounts for 273.5 yards of total offense per game and is a big-time threat as a runner. WR Dante Cephas is the go-to receiver, with six 100-yard games this season. Kent State leads the MAC and is fourth nationally in rushing offense at 243.4 yards per game. The Golden Flashes are seventh nationally with 35 rushing TDs.
Frisco Bowl
No. 24 San Diego State vs. UTSA
Time/TV: 7:30 p.m., ESPN (Clay Matvick play-by-play, Rocky Boiman analyst)
Venue: Toyota Stadium, in Frisco, Texas (capacity of 20,500)
On3 bowl ranking: 8th (of 42)
Team records: San Diego State 11-2; UTSA 12-1
Records vs. bowl teams: San Diego State 5-2; UTSA 6-1
All-time bowl records: San Diego State 6-8; UTSA 0-2
Key stats: San Diego has been tremendous against the run, allowing just 79.5 yards per game (second nationally), 2.66 yards per rush (fourth) and a total of six rushing TDs (second-lowest total in the nation, behind Georgia). UTSA has been excellent against the run, too, allowing 111.5 yards per game (14th), 3.23 yards per rush (10th) and 13 rushing TDs (22nd).
The line: San Diego State by 2.5
The buzz: This is a big-time matchup between two of the top three or four Group of 5 teams not named "Cincinnati." The combined records of the teams (23-3) is behind that of only the CFP semifinals (25-1 in the Cotton, 24-2 in the Orange). But it has lost some luster because of the opt-out decision by star UTSA running back Sincere McCormick, a two-time 1,400-yard rusher. San Diego State is all about defense; the Aztecs average just 330.4 yards per game (110th nationally) and 5.02 yards per play (109th). The passing attack is the third-worst of any bowl team (behind only triple-option teams Air Force and Army), averaging just 155.2 yards per game. But there is a stout defense featuring edge rusher Cameron Thomas (fourth nationally with 20.5 tackles for loss) and a physical secondary. Thomas is the Mountain West's defensive player of the year. The Aztecs also feature All-America P Matt Araiza, who averages 51.4 yards per punt, which would set an NCAA single-season record. UTSA QB Frank Harris (25 TD passes) and WR Zakhari Franklin (11 TD receptions) will need to be productive to make up for the loss of McCormick. Harris also is the Roadrunners' second-leading rusher, so his legs will be extra important without McCormick. UTSA's run defense has been solid for much of the season, and that needs to continue against SDSU.