Kirk Herbstreit predicts winner of ACC Atlantic Division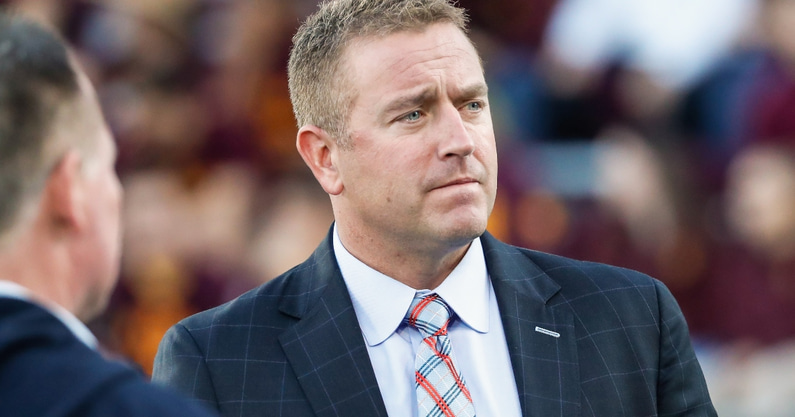 College football analyst Kirk Herbstreit evaluated the ACC Atlantic Division ahead of the 2022 college football season. To him, three teams have emerged as preseason favorites to win their division and earn a bid to Charlotte for the conference championship game.
"I tend to think that Clemson, NC State and Wake [Forest] are going to be in a kind of a battle," Herbstreit said on a recent appearance on Gramlich & Mac Lain. "I think Clemson has them back-to-back weeks if I'm not mistaken. So I think that's interesting. I'll be honest. I'm very nervous about the play of the quarterback position right now at Clemson.
"I think DJ [Uiagalelei] has the goods, I think he's a talented guy. But I think we just need to see a better job of what he can do more consistently. Watching him in the spring game it was exciting to see that he has a chance. I lean toward Clemson, but I'm nervous about the quarterback play."
Uiagalelei, who is coming off a disappointing 2021 campaign that saw him throw more interceptions than touchdowns. The former blue-chip prospect's down season could have just been a product of high expectations that caused major pressure to the Clemson signal caller.
For that, when Clemson hosts NC State on Oct. 1 in Death Valley – Herbstreit believes the Wolfpack could pull off the major upset, giving NC State a chance to be the Atlantic Division's top dog in 2022.
"That has a chance to be the game of the year in the ACC, I think," Herbstreit said of Clemson-NC State. "I was looking at [Clemson's] schedule. Usually you're sitting around in the summer and you're like, 'Who could Clemson lose to?' and there's one or two games, respectfully."
Wolfpack quarterback Devin Leary is entering his second season as NC State's primary signal caller, where he led his squad to a 9-3 record and was ranked as high as 18 in the AP Top 25 last season. With a 6-2 conference record, Leary has the chance to lead NC State to its first ACC title since 1979 if Herbstreit's praises pan out.
That isn't to say Clemson won't regain its national pedigree and perennial ACC dominance this season, but Herbstreit is basing his claims on last season's performance.
"This year, I'm not saying they're going to lose them, I'm saying until you see them getting back to scoring 35, 40 points a game, you sit there and you're like, 'That could be a good game, that could be a good game.' It's kind of an exciting time I think for Clemson
"… DJ could have a monster year and shut everybody up, because we saw what he could do the year before. I don't think it's a matter of his skillset, I think it's a matter of being more decisive and making good decisions and let it rip."