Take a bow: The On3 players of the week from Week 9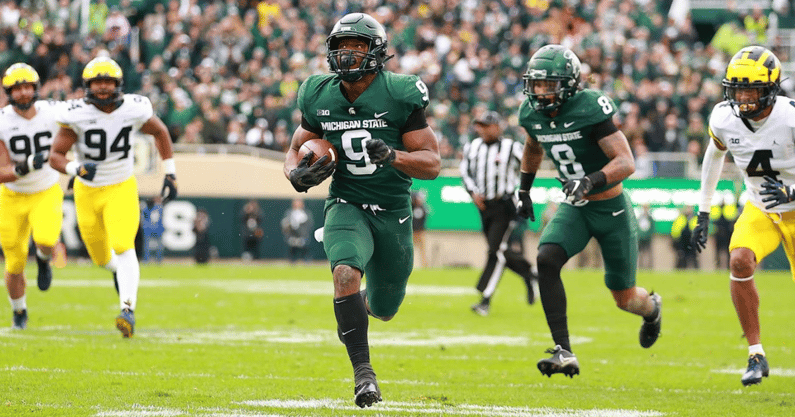 Here are the On3 players of the week for Week 9 of the season. Each week, we pick a player of the week in each Power 5 conference as well as an overall Group of 5 player of the week. Everything being equal, more weight is given to big performances against "good" opponents.
ACC
DE Myles Murphy, Clemson
The buzz: On a day with a ton of high-level offensive performances, Murphy and Clemson won a game with defense, beating Florida State 30-20 in a game that had just 618 total yards combined. Murphy, a sophomore who was a consensus national top-11 prospect in the 2020 recruiting cycle, had six tackles, 2.5 sacks, another 1.5 tackles for loss and a blocked extra point in the victory. His sacks came in the second half, when the Tigers held the Seminoles to seven points and 84 total yards. FSU had a season-low 65 rushing yards, and 49 of those came in the first quarter; the Seminoles came in averaging 230.3 rushing yards per game.
Big Ten
RB Kenneth Walker III, Michigan State
The buzz: Walker may have vaulted to the top of Heisman lists with his epic performance in a 37-33 victory over Michigan. Walker, a junior transfer from Wake Forest, rushed for 197 yards and five TDs; the five rushing TDs is the most ever against a Michigan defense. He didn't have any carries for negative yardage and scored on runs of 27, 8, 1, 58 and 23 yards. Walker scored twice in the second quarter, once in the third and twice in the fourth, including 23-yard game-winner with 5:08 left. Michigan had allowed just three rushing TDs on the season. He now has 13 runs of at least 20 yards and four of at least 50; both are tied for first nationally.
Big 12
RB Leddie Brown, West Virginia
The buzz: Brown, listed as a fourth-year senior by WVU, ran for 109 yards and two TDs as the Mountaineers surprised Iowa State 38-31, all but ending the Cyclones' Big 12 title hopes. Brown's performance was even more impressive when you consider that Iowa State was allowing just 99.0 rushing yards per game and had surrendered four rushing touchdowns all season. Brown scored on two 2-yard runs; the first was WVU's first TD of the game, and his second was the game-winner with 9:25 remaining. He also had five receptions. It was Brown's third 100-yard game of the season and his fourth outing with at least two rushing touchdowns; he is tied for the conference lead with 11 rushing TDs.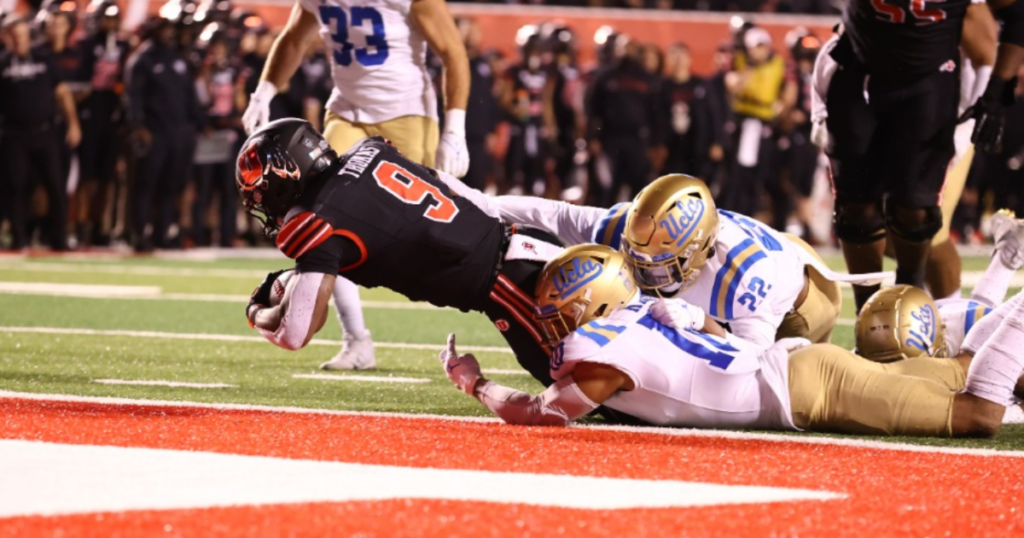 Pac-12
RB Tavion Thomas, Utah
The buzz: Thomas rushed for 160 yards and four touchdowns as the Utes beat UCLA to re-establish themselves as the team to beat in the Pac-12 South. He scored once in the first quarter and twice in the second as Utah built a 28-10 halftime lead and cruised from there; his final TD came in the fourth period. UCLA came in allowing just 94.9 rushing yards per game; Thomas ran for 97 in the second half by himself. Thomas is a fourth-year sophomore who began his career at Cincinnati in 2018; he transferred to a junior college for the 2020 season, then signed with Utah in the 2021 recruiting class. The UCLA game was his second start for the Utes.
SEC
QB Will Rogers, Mississippi State
The buzz: Rogers, a second-year sophomore, was razor-sharp in the Bulldogs' 31-17 victory over Kentucky; he was 36-of-39 for 344 yards and a TD. His 92.0 completion rate set a SEC record for a quarterback with more than 30 attempts. It was his seventh 300-yard game of the season, tying Dak Prescott's single-season school record for 300-yard games. He now has 327 completions this season, setting a school single-season record; Prescott held the record of 316 during the 2015 season.
Group of 5
RB Tyler Allgeier, BYU
The buzz: Allgeier, a fourth-year sophomore who began his career as a walk-on, rushed for 266 yards and a school-record-tying five touchdown on 29 carries in the Cougars' wild 66-49 win over Virginia. It's the third-highest single-game rushing total in school history. Allgeier ran for 192 yards and three touchdowns in the second half as BYU rallied from a 42-38 halftime deficit. He rushed for a TD in each quarter, with two coming in the fourth period. It was his second 200-yard game of the season and his career; in addition, he averaged 9.2 yards per carry, the sixth time since the beginning of the 2020 season that he averaged at least 9.0 yards in a game. The teams combined for 1,322 total yards. BYU had 734 total yards of offense, hitting the 300-yard plateau running and passing.