College football top to bottom: The 1-130 rankings after Week 11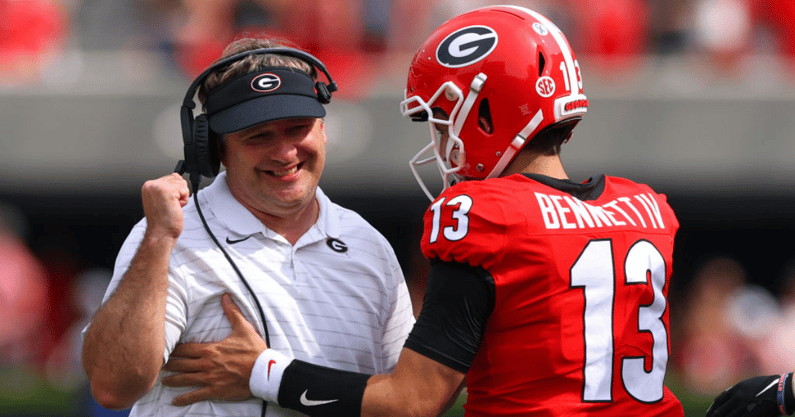 Here are the 1-130 rankings after Week 11.
There are two new teams in the top 10 and three in the top 25 as we head into the penultimate weekend of the regular season. Needless to say, there are a number of big games this week that could cause upheaval in the rankings.
Here are this week's 1-130 rankings; the rankings are updated every Tuesday during the season. There are comments on each of the top-25 teams; in addition, there are comments on other noteworthy teams this week.
The top 25
1. Georgia (10-0 / last week's ranking: 1st)
The buzz: The Bulldogs play Charleston Southern on Saturday. Charleston Southern did beat a team nicknamed the Bulldogs last week, taking down Gardner-Webb in two overtimes.
2. Ohio State (9-1 / 2nd)
The buzz: Game 2 of a difficult three-game stretch to close the regular season looms Saturday at home against Michigan State. The last time Ohio State lost at home to a Big Ten opponent? It was November 21, 2015 — six years ago Sunday — to Michigan State.
3. Alabama (9-1 / 3rd)
The buzz: The Crimson Tide has one SEC loss and closes out the regular season with two more conference games. Alabama has lost more than one SEC game in a season just once since 2010, in 2019,when it went 6-2.
4. Oregon (9-1 / 4th)
The buzz: The Ducks have prided themselves on toughness under coach Mario Cristobal. They will get a test in the toughness category Saturday from Utah in what likely will be the first of two meetings in a three-week period; the teams appear to be on track to play again in the Pac-12 title game.
5. Cincinnati (10-0 / 5th)
The buzz: Cincinnati is the only team in the nation that is in the top 10 in scoring offense and scoring defense. The defense gets a big test this week from SMU's potent passing attack.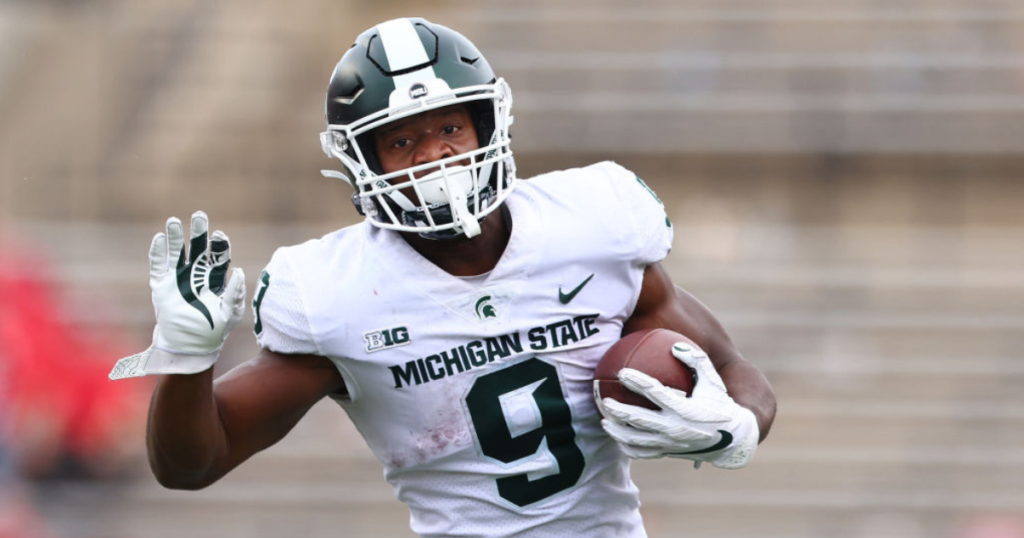 6. Michigan State (9-1 / 7th)
The buzz: Considering the Spartans have surrendered an astounding 1,597 yards in their past three games (an average of 532.3 yards per game) and Ohio State's potent offense awaits, RB Kenneth Walker III and QB Payton Thorne better be on point Saturday in Columbus.
7. Michigan (9-1 / 8th)
The buzz: The Wolverines should stroll past Maryland this week, setting up a potential winner-take-all game in the Big Ten East with Ohio State. How you feeling, Wolverines fans?
8. Oklahoma State (9-1 / 9th)
The buzz: The Cowboys were struggling to put away opponents earlier in the season, but they may have hit their stride. Oklahoma State has won its past three games by a combined 142-23 and gets Texas Tech this week, a team the Cowboys have beaten 10 times in their past 12 meetings.
9. Baylor (8-2 / 13th)
The buzz: The Bears are coming off an impressive defensive performance against Oklahoma, but have to guard against a letdown against a tough Kansas State team on the road. Baylor has won three in a row against K-State.
10. Ole Miss (8-2 / 12th)
The buzz: Ole Miss plays host to Vanderbilt on Saturday; the Commodores are the Rebels' annual division crossover opponent (that chortling you hear is from Ole Miss officials, coaches, players and fans). A win would enable Ole Miss to finish 7-0 at home in a season for the first time in school history.
11. Notre Dame (9-1 / 11th)
The buzz: The Irish play host to Georgia Tech this week, its fifth ACC opponent of the season. Notre Dame has won 13 consecutive home games against ACC foes. The Irish also have won 40 in a row against unranked opponents, the longest such current streak in the nation.
12. Oklahoma (9-1 / 6th)
The buzz: OU's CFP hopes basically were ended in a loss at Baylor and now the Sooners need to regroup quickly to keep their Big 12 title hopes alive. They welcome in Iowa State this week, and Oklahoma is 77-7-2 all-time against the Cyclones.
13. Wake Forest (9-1 / 20th)
The buzz: The ACC Atlantic Division title will be on the line Saturday when Wake plays at Clemson. A Demon Deacons win cinches the division title. These teams play annually, and Wake hasn't beaten Clemson since 2008 and hasn't won in Death Valley since 1998.
14. Wisconsin (7-3 / 21st)
The buzz: The Badgers surrendered 79 points in back-to-back losses to Notre Dame and Michigan on September 25 and October 2. In the ensuing six games, they've absolutely bludgeoned their foes, allowing a total of 44 points and winning by an average margin of 24 points.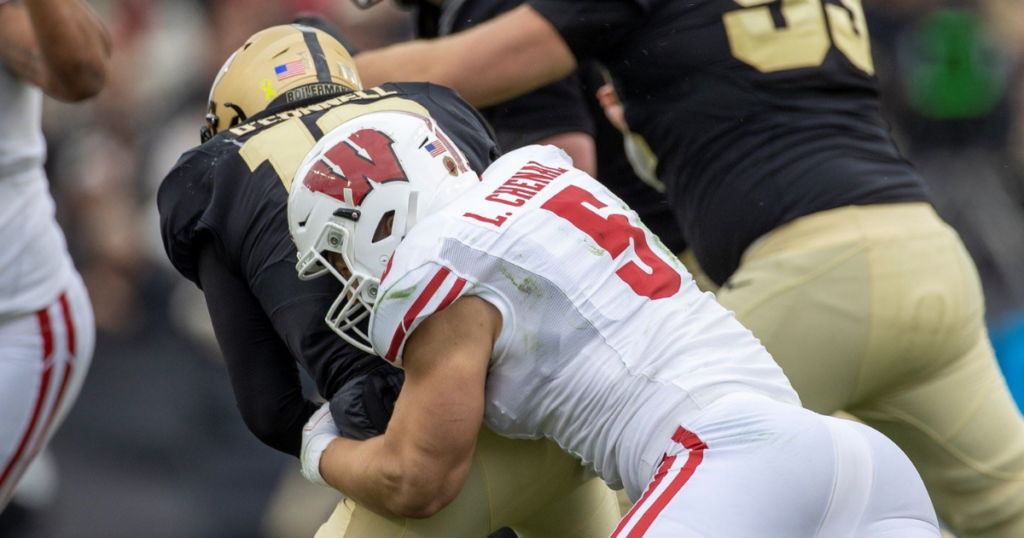 15. Iowa (8-2 / 16th)
The buzz: Iowa welcomes in Illinois this weekend; the Hawkeyes have won seven a row and 12 of the past 13 against the Illini.
16. Utah (7-3 / 26th)
The buzz: Utah has gotten its rushing attack cranked up of late, which is a big reason the Utes have gained at least 450 yards of offense in six consecutive games. Oregon's defense, though, should provide a sterner test than the likes of Arizona and USC.
17. Pitt (8-2 / 25th)
The buzz: The ACC Coastal Division title will be on the line Saturday when Pitt welcomes in Virginia. A Panthers win would clinch their second division title in four seasons.
18. Arkansas (7-3 / 22nd)
The buzz: The Hogs play at Alabama on Saturday and take a 14-game series losing streak into the contest. They've lost the past five to the Tide by an average of 35 points per game.
19. Texas A&M (7-3 / 10th)
The buzz: The Aggies play host to Prairie View this week. The two campuses are about 50 miles apart and the teams have met once; A&M won 67-0 in 2016.
20. BYU (8-2 / 19th)
The buzz: The Cougars play at Georgia Southern this week, marking the second time this season BYU will play a team with an interim coach (Washington State was the first). In addition, BYU ends the regular season next week with a game against USC, which also has an interim coach. Georgia Southern already has hired Clay Helton as its new coach — and Helton's firing in September, of course, was what led to USC having an interim coach.
21. Houston (9-1 / 17th)
The buzz: The Cougars have clinched a spot in the AAC title game (presumably, they will play Cincinnati). They are trying to get to double-digit wins for the ninth time in school history.
22. San Diego State (9-1 / 24th)
The buzz: The defense-minded Aztecs are coming off a two-point win over Nevada. It was their fourth consecutive one-score victory.
23. NC State (7-3 / 15th)
The buzz: The ACC is filled with highly productive quarterbacks this season, but when it comes to throwing TD passes in conference games, NC State's Devin Leary is at the top of the list. He has thrown 21 TD passes in six ACC games, four more than anyone else.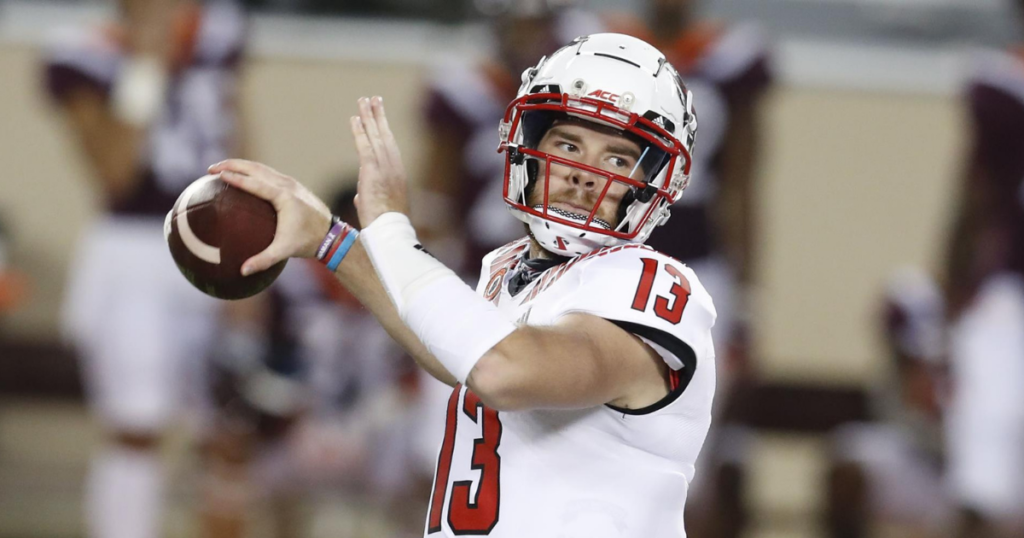 24. Kentucky (7-3 / 27th)
The buzz: UK already has finished its SEC schedule; the Wildcats are 5-3 in the league, and it is the first time since the conference divided into divisions in 1992 that UK finishes alone in second in the East.
25. Fresno State (8-3 / 28th)
The buzz: There's nothing like having an off week in the penultimate week of the season. But, hey, the Bulldogs — who did play in Week Zero — don't play this weekend.
Teams 26-50
26. Penn State (6-4 / 18th)

27. Mississippi State (6-4 / 38th)
The buzz: Will Rogers was a 1920s and '30s humorist who famously said, "I never met a man I didn't like." Well, Mississippi State QB Will Rogers soon will be saying, "I never threw a pass I couldn't complete." In his past three games, Rogers is an otherworldly 116-of-142 (81.6 percent) for 1,176 yards, 11 TDs and one pick. Completing 81.6 percent of your passes when you attempt 30 or 40 is notable enough. But 81.6 percent of 142 attempts? Come on.
28. Auburn (6-4 / 14th)
29. Purdue (6-4 / 23rd)
30. Louisiana (9-1 / 30th)
31. SMU (8-2 / 32nd)
The buzz: The Mustangs have a legit shot at double-digit wins for just the second time since 1984. That '84 season was a culmination of a four-year stretch in which the Mustangs (or "Mustang$" if you prefer) went 41-5-1 and had three top-10 finishes.
32. Kansas State (7-3 / 33rd)
33. Clemson (7-3 / 34th)
34. Arizona State (7-3 / 35th)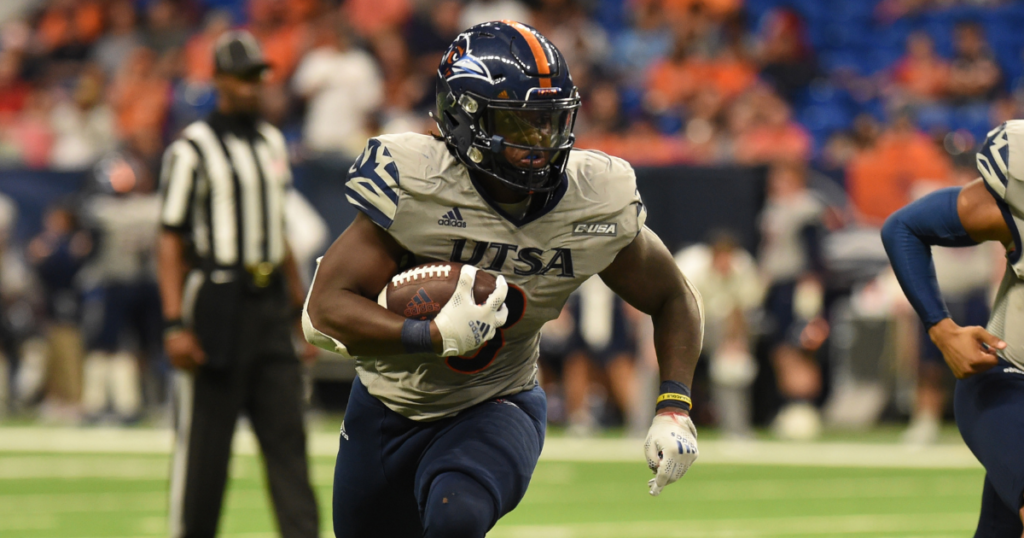 35. UTSA (10-0 / 36th)
The buzz: UTSA is one of just seven teams nationally with a quarterback who has thrown at least 20 TD passes (Frank Harris) and a running back who has at least 10 rushing TDs (Sincere McCormick). The others are Alabama, Cincinnati, Michigan State, North Carolina, Ohio State and Texas.
36. Appalachian State (8-2 / 40th)
37. Iowa State (6-4 / 31st)
The buzz: RB Breece Hall has rushed for a TD in 22 consecutive games, one game shy of the all-time NCAA record of 23, set by Arkansas' Bill Burnett from 1968-70.
38. Nevada (7-3 / 37th)
39. UCLA (6-4 / 41st)
40. Virginia (6-4 / 39th)
41. Boston College (6-4 / 44th)
42. Tennessee (5-5 / 42nd)
43. Boise State (6-4 / 45th)
The buzz: The Broncos host woeful New Mexico in their final home game of the season Saturday. Boise State is 2-3 at home this season and hasn't had a losing record on the blue turf since 1997.
44. Oregon State (6-4 / 49th)
45. Texas Tech (6-4 / 56th)
46. Minnesota (6-4 / 46th)
47. Washington State (5-5 / 47th)
48. North Carolina (5-5 / 48th)
49. Miami (5-5 / 43rd)
50. Louisville (5-5 / 50th)
Teams 51-75
51. Coastal Carolina (8-2 / 29th)
The buzz: Coastal's 12-game home winning streak was snapped in a stunning 42-40 upset loss to Georgia State. Actually, maybe it shouldn't be considered stunning at all: Georgia State now is 3-0 all-time when playing at Coastal.
52. LSU (4-6 / 52nd)
53. Maryland (5-5 / 53rd)
54. West Virginia (4-6 / 54th)
55. TCU (4-6 / 55th)

56. Florida State (4-6 / 61st)
The buzz: The Seminoles played bad football out of the gate, starting 0-4 and leading to talk that maybe coach Mike Norvell was overmatched. Hmmm – maybe not.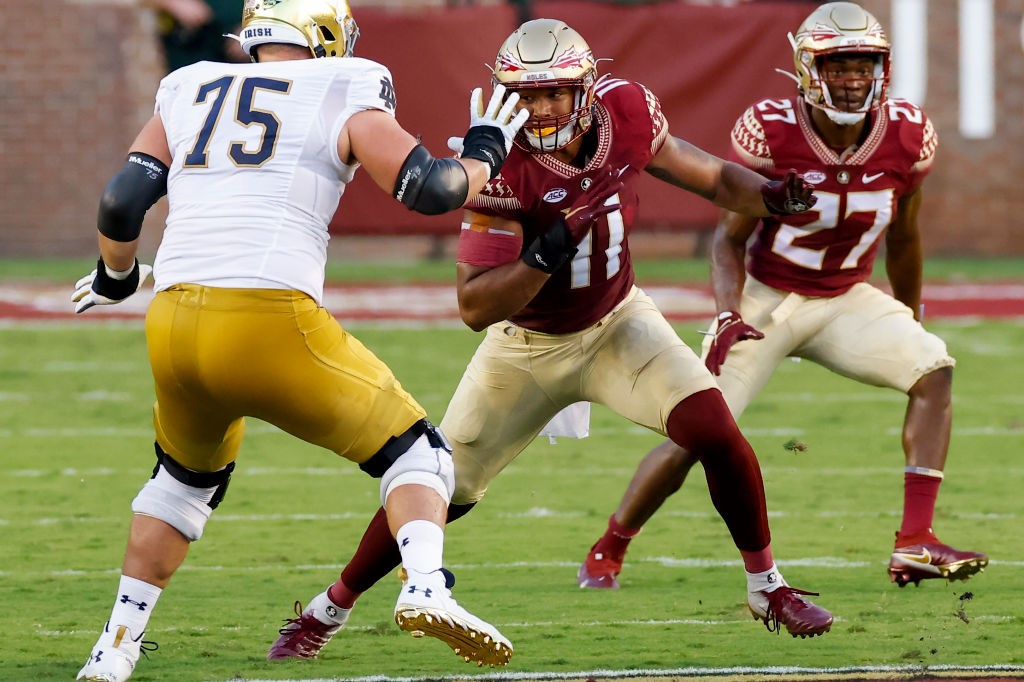 57. UCF (6-4 / 57th)
58. Western Michigan (6-4 / 58th)
59. Air Force (7-3 / 60th)
60. Texas (4-6 / 51st)
The buzz: Things have gone off the rails for the Longhorns, who have lost five in a row for the first time since 1956, which was the final season for coach Ed Price. Interestingly, starting in 1957 under Darrell Royal, the Longhorns went to six "big" bowls (Cotton, Orange or Sugar) in the next eight seasons — and finished in the top five in five of those seasons.
61. Memphis (5-5 / 59th)
62. Syracuse (5-5 / 62nd)
63. USC (4-5 / 63rd)
64. Liberty (7-3 / 64th)
65. Virginia Tech (5-5 / 65th)
66. UAB (7-3 / 70th)
67. Illinois (4-6 / 67th)
68. Nebraska (3-7 / 68th)

69. Utah State (8-2 / 71st)
The buzz: This is the 107th season of football for Utah State. Only seven times in program history have the Aggies won at least nine in a season; they close with Wyoming and New Mexico and, frankly, should get to 10 this season. They've gotten to double-digit wins just three times.
70. Rutgers (5-5 / 76th)
71. Indiana (2-8/ 66th)
72. Missouri (5-5 / 72nd)
73. South Carolina (5-5/ 73rd)
74. East Carolina (6-4 / 77th)
75. Kent State (5-5 / 69th)
Teams 76-100
76. Washington (4-6 / 74th)

77. Florida (5-5 / 75th)
The buzz: Giving up 52 points to a FCS team is bad enough. But giving up 52 points to an under-.500 FCS team — and an under-.500 FCS team that was beaten by 43 by Chattanooga — well, you'd sort of think that would embarrass the decision-makers at UF.

78. Stanford (3-7 / 78th)
79. Central Michigan (6-4 / 81st)
80. California (3-6 / 80th)
81. Georgia Tech (3-7 / 79th)
82. Army (6-3 / 82nd)

83. Northern Illinois (7-3 / 86th)
The buzz: The Huskies were winless last season But if they beat Buffalo on Wednesday night, they clinch the MAC West Division title and a berth in the league title game on December 4.

84. Marshall (6-4 / 83rd)
85. Wyoming (5-5 / 84th)
86. Ball State (5-5 / 85th)
87. Tulsa (4-6 / 87th)
88. Colorado (3-7 / 88th)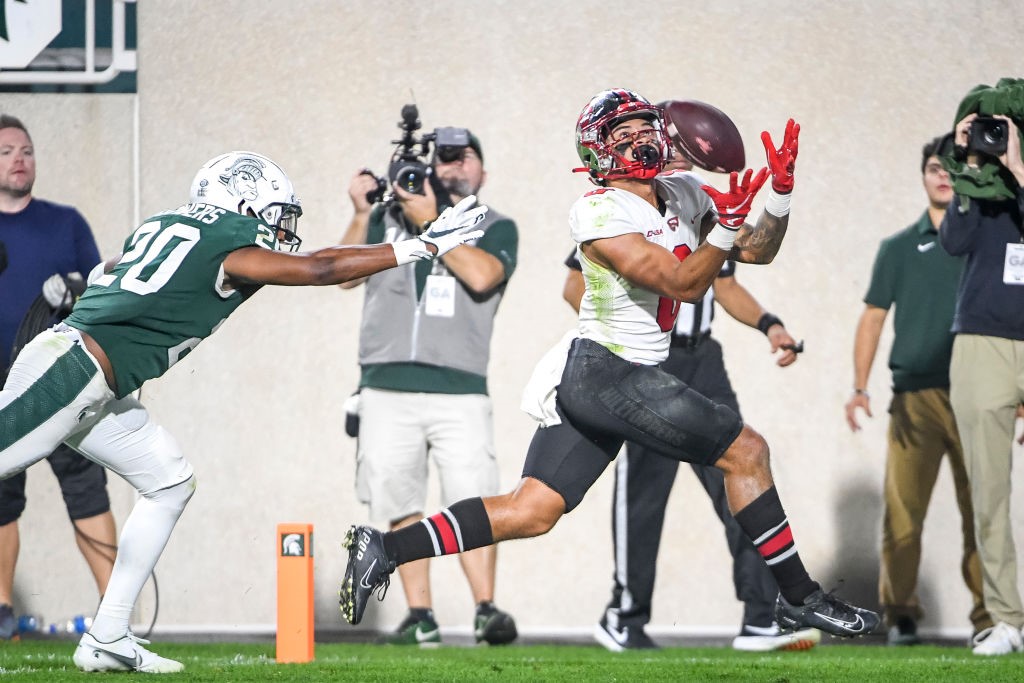 89. Western Kentucky (6-4 / 101st)
The buzz: The Hilltoppers started 1-4. But thanks to a prolific passing attack, they have won five in a row and are in first place in the East Division of Conference USA.

90. Georgia State (5-5 / 105th)
91. San Jose State (5-6 / 91st)
92. Toledo (5-5 / 92nd)
93. Northwestern (3-7 / 93rd)
94. FAU (5-5 / 89th)
95. UTEP (6-4 / 90th)
96. Louisiana Tech (3-7 / 96th)
97. Eastern Michigan (6-4 / 94th)
98. Hawaii (4-7 / 95th)
99. Miami (Ohio) (5-5 / 101st)
100. Navy (2-7 / 98th)
The bottom 30
101. Middle Tennessee (5-5 / 104th)

102. Duke (3-7 / 99th)
The buzz: If this is the final season for coach David Cutcliffe, it sure hasn't gone well. The Blue Devils haven't won since September 25, when they beat Kansas.

103. Colorado State (3-7 / 97th)
104. Buffalo (4-6 / 102nd)

105. Kansas (2-8 / 119th)
The buzz: All hail Lance Leipold. The Jayhawks' first-year coach did something that no other KU coach has been able to do since 2008: guide the team to a Big 12 victory on the road. Those who failed since that '08 win at Iowa State: Mark Mangino, Turner Gill, interim Clint Bowen, David Beaty and Les Miles.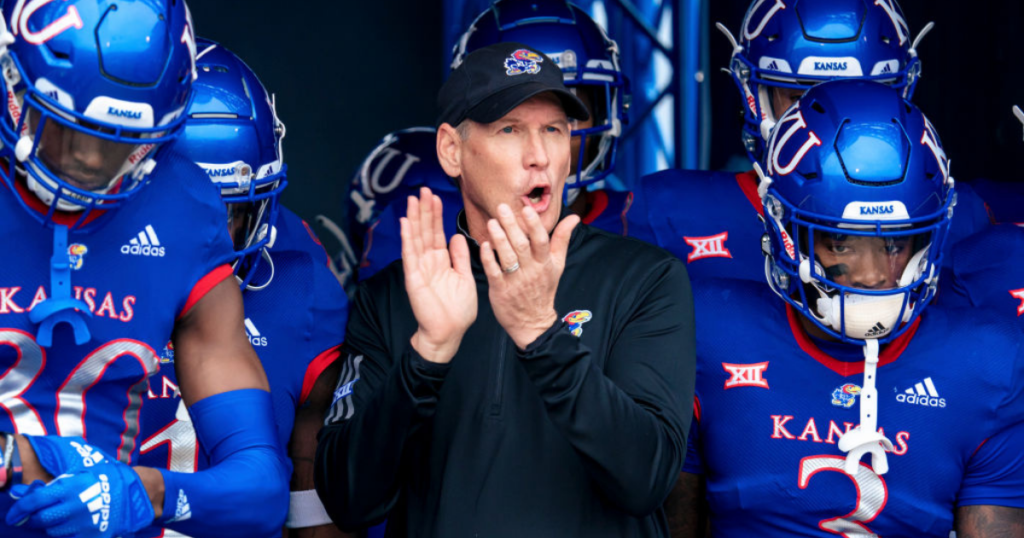 106. Charlotte (5-5 / 106th)
107. USF (2-8 / 107th)
108. Troy (5-5 / 109th)
109. Arizona (1-9 / 110th)
110. North Texas (4-6 / 114th)

111. Old Dominion (4-6 / 117th)
The buzz: ODU has a three-game winning streak, its first of that length since late in the 2017 season.

112. Tulane (1-9 / 100th)
113. Bowling Green (3-7 / 108th)
114. ULM (4-6 / 111th)
115. South Alabama (5-5 / 112th)
116. Ohio (3-7 / 120th)
117. UNLV (2-8 / 121st)
118. Georgia Southern (3-7 / 123rd)
119. Arkansas State (2-8 / 124th)

120. Temple (3-7 / 113th)
The buzz: Since scoring 34 points in an upset of Memphis on October 2 that gave the Owls 3-2 record, they've lost five in a row and scored a total of 35 points.
121. Vanderbilt (2-8 / 115th)
122. Rice (3-7 / 116th)
123. New Mexico (3-7 / 122nd)
124. Texas State (3-7 / 118th)
125. Akron (2-8 / 125th)
126. Southern Miss (1-9 / 126th)

127. FIU (1-9 / 127th)
The buzz: The last two seasons of Butch Davis' final act were bad ones — and it ended prematurely. Still, he took FIU to bowls in 2017, '18 and '19.

128. UMass (1-9 / 128th)
129. UConn (1-9 / 129th)
130. New Mexico State (1-9 / 130th)