Position unit breakdown: All you need to know about the top 12 defensive lines in 2022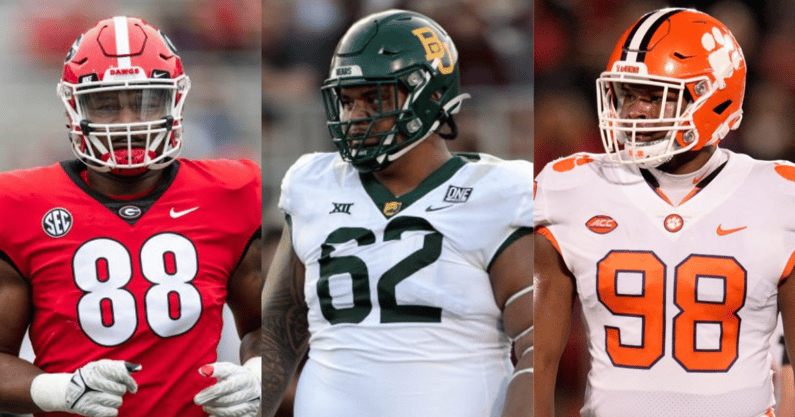 We continue our position breakdown series today with defensive lines.
We came up with the nation's 12 best defensive lines, as well as the top defensive line in each league (if it is not mentioned in the top 12) and the top three d-line transfer classes.
This is a mixture of talent, expected production and the comfort level with the line. Think of "comfort level" this way: If there are a handful of new starters up front or the returning guys had issues last season, well, the comfort level can't be all that high.
We looked at the nation's top 10 offensive backfields Tuesday, the top 12 receiving corps Wednesday and the top 12 offensive lines Thursday.
12. Michigan
3 key linemen: T Kris Jenkins, T Mazi Smith, E Julius Welschof
The buzz: Smith is an athletic marvel; he is 6 feet 3 and 337 pounds, and is both strong and quick. Welschof is a fifth-year senior who has been a reserve his whole career, but NFL scouts still like him a lot. The concern: Who applies consistent pressure with Aidan Hutchinson gone?
11. Iowa
3 key linemen: T Logan Lee, T Noah Shannon, E John Waggoner
The buzz: Iowa's front seven won't take a backseat to many, and a big reason is the guys up front. Lee and Shannon are a top-flight tackle duo. Seven of the top eight linemen return, and there is ample experience.
10. Auburn
3 key linemen: E Derick Hall, T Jayson Jones, E Colby Wooden
The buzz: The Tigers lost a lot of depth pieces along the line, but the starting group is quite good and, barring injury, there still should be enough depth. Hall is a big-time pass rusher. Wooden is the group's star. Jones, an Oregon transfer who is an Alabama native, is a big body (6-6, 330) in the middle.
9. Georgia
3 key linemen: T Jalen Carter, NT Zion Logue, E Tramel Walthour
The buzz: Last season's line was incredibly good and incredibly deep. This season, Carter will be incredible: He is the best defensive lineman in the nation. But no way will the line as a whole be as good as it was last season. Still, there is a lot of talent among the nine or 10 linemen who will see regular time.
8. Notre Dame
3 key linemen: T Jayson Ademilola, E Isaiah Foskey, NT Jacob Lacey
The buzz: Foskey emerged as a pass-rushing force last season, finishing with 11 sacks in his first season under Marcus Freeman. Ademilola emerged last season, as well, and provides an inside pass rush. Harvard transfer Chris Smith is a plug-and-play depth piece at tackle, and look for Justin Ademilola (Jayson's twin) to play both end and tackle.
7. Ohio State
3 key linemen: E Zach Harrison, T Taron Vincent, T Tyleik Williams
The buzz: Harrison hasn't been as flashy as his five-star recruiting ranking would've suggested, but he still has played well. Vincent can be tough to move in the middle. Williams, a second-year player, is poised for big things. Depth is good. And keep an eye on second-year E J.T. Tuimoloau.
6. LSU
3 key linemen: E Ali Gaye, E B.J. Ojulari, T Maason Smith
The buzz: The Tigers' front has been underwhelming the past two seasons, but things will change this fall. Smith, a sophomore, is ready to burst on the national scene in a big way. If healthy, Gaye and Ojulari will wreak havoc off the edge for new coordinator Matt House. Depth looks fine, too.
5. Alabama
3 key linemen: NT D.J. Dale, E Justin Egboigbe, E Byron Young
The buzz: There is no elite lineman, but there are a lot of talented linemen. Young can be an All-SEC guy, and Dale should be a force in the middle.
4. Oklahoma State
3 key linemen: E Tyler Lacy, E Brock Martin, E Collin Oliver
The buzz: The Cowboys return eight linemen who saw appreciable time on one of the nation's best defenses last season, so depth is a plus. Last season, Oliver was the Big 12 defensive freshman of the year and Martin was a first-team all-conference performer.
3. Pitt
3 key linemen: E Deslin Alexandre, E Habakkuk Baldonado, T Calijah Kancey
The buzz: Pitt is strong up front on both sides of the ball, and nine of the top 10 defensive linemen from last season are back. The Panthers had 54 sacks last season, when they allowed just 2.7 yards per rush. Baldonado and Kancey are underrated nationally, but cause all sorts of problems. Baldonado, who lived in Italy until he was a senior in high school, had nine sacks last season. Kancey is a squatty (6-0, 280) but quick tackle from Miami who had seven sacks and 13 tackles for loss in 2021.
2. Baylor
3 key linemen: E Gabe Hall, NT Siaki Ika, E Cole Maxwell
The buzz: Baylor's 3-4 defense plays with an aggressive physicality, and there is little drop-off among its top seven linemen. The three listed are returning starters, with Ika a 358-pound mountain in the middle. (Well, he's listed at 358, anyway; that seems … conservative.) Plus, the Bears added NT Jaxon Player, a Waco, Texas, native who transferred from Tulsa; he was a two-time All-AAC guy with the Golden Hurricane. While there are some concerns about the linebackers and DBs, there is zero concern about the group up front.
1. Clemson
3 key linemen: T Bryan Bresee, T Tyler Davis, E Myles Murphy
The buzz: My goodness, this is a talented and deep group. Bresee and Murphy are legit first-team All-America candidates, and Davis – from the same Orlando suburb (Apopka) as Georgia's Jalen Carter; they went to archrival high schools – can dominate inside. The top three ends (Murphy, K.J. Henry and Xavier Thomas) are former five-star recruits, as is Bresee.
Other leagues
AAC
Houston: The Cougars lost two first-team All-AAC selections in T Logan Hall (second-round pick by Tampa Bay) and E David Anenih, but still will have a high-caliber defensive line. T Chidozie Nwankwo (5-11, 285) is an emerging star, and there is a lot of talent at end, most notably D'Anthony Jones and Derek Parish (a combined 12.5 sacks last season).
Conference USA
UTEP: The Miners return all four starters up front, with Es Praise Amaewhule and Jadrian Taylor the guys to watch. Amaewhule, who was born in Nigeria, was a first-team all-conference selection last season, when he had 5.5 sacks, 10 quarterback hurries and seven pass breakups.
Mid-American
Toledo: The Rockets use a 3-3-5 set, and all three starters return up front. E Jamal Hines is one of the best defensive players in the MAC. T Judge Culpepper, a one-time Penn State transfer whose dad, Brad, was a longtime NFL defensive tackle, is a presence in the middle.
Mountain West
San Diego State: The Aztecs annually have one of the stingiest defenses in the nation, and that shouldn't change this season. SDSU uses a three-man front, and T Jonah Tavai will be joined up front this season by his brother, E/T Justus, a transfer from Hawaii. The top seven linemen have a combined 28 years of college experience, and two are sixth-year seniors.
Pac-12
Oregon: New coach Dan Lanning comes from Georgia, and he and new coordinator Tosh Lupoi figure to tweak some things up front. E Brandon Dorlus might be the best d-linemen on the West Coast. There should be a solid four-man rotation at the two tackle spots, with Popo Aumavae the headliner.
Sun Belt
Troy: The Trojans will run a 3-4 set, with an end and two tackles. But there's also a hybrid end/linebacker and we're counting what Troy calls its "Bandit" spot as a lineman. New coach Jon Sumrall might have the best pair of pass rushers in the Group of 5 ranks with E Javon Solomon (11 sacks last season) and E/LB Richard Jibunor (eight sacks).
The three best defensive line transfer classes
3. Missouri, with E D.J. Coleman (from Jacksonville State), E Tyrone Hopper (North Carolina), T Jayden Jernigan (Oklahoma State), T Josh Landry (Baylor) and T Ian Mathews (Auburn). The buzz: Jernigan figures to start after being a key rotation player last season at Oklahoma State, while the others should be depth pieces of varying importance. Hopper and Coleman will be part of what should be a solid group of edge rushers.
2. UCLA, with E Laiatu Latu (Washington), E Gabriel Murphy (North Texas), E Grayson Murphy (North Texas), T Gary Smith III (Duke) and T Jacob Sykes (Harvard). The buzz: Brian Kelly did some heavy lifting in the transfer portal to transform his roster, and no position was impacted more than the d-line. The Murphy twins should rev up the pass rush, while Smith and Sykes will be important pieces in the middle of the line for new coordinator Bill McGovern.
1. Miami, with E Mitchell Agude (UCLA), T Darrell Jackson (Maryland), T Jacob Lichtenstein (USC), E/T Ahkeem Mesidor (West Virginia) and T Antonio Moultrie (UAB). The buzz: New coach Mario Cristobal also did good work in the transfer portal. All five defensive line transfers will play important roles. Agude is expected to be UM's best pass rusher. Mesidor can be disruptive from two spots. Moultrie and Lichtenstein are experienced linemen. Jackson, though, eventually might end up being the key piece. He is from smalltown Havana, Fla., near Tallahassee, and has a big-time upside. He might not reach it this season, but he still figures to get a lot of playing time.