College Football TV Ratings: Top 10 most-watched games of Week 4
J.D.'s CFP Rankings After Week 4
Week 4 of the college football season was one of the biggest yet. Six ranked matchups highlighted the loaded slate of games, and that led to some impressive TV ratings, according to Sports Media Watch.
From the first games at noon ET to the last games which ended in the early hours of Sunday, fans were locked in to their TVs for some marquee matchups. The biggest draw was Deion Sanders and Colorado as they headed to Oregon to face Dan Lanning's Ducks. That helped set the table for the highly anticipated primetime showdown between No. 6 Ohio State and No. 9 Notre Dame, and that game delivered in a big way.
The Nielsen ratings showed people were dialed in for a jam-packed day of college football.
1. Colorado at Oregon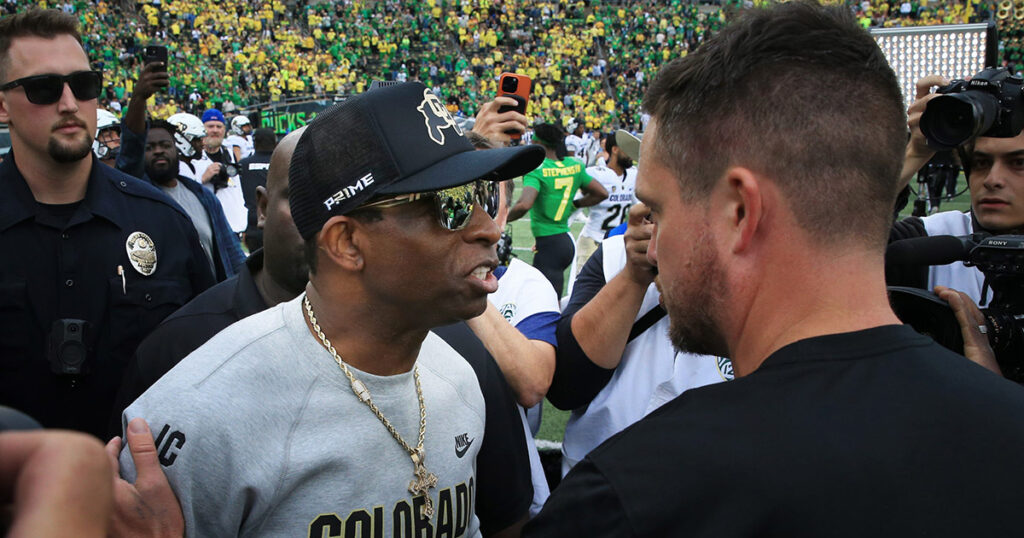 Channel: ABC
Date/Time: Sept. 23-3:30 p.m. ET
Viewers: 10.03 million
Colorado has been the story of college football this year as Coach Prime took over the program, and the game against Oregon was the biggest of the year even though the Buffs got blown out 42-6. Sanders' group remains one of the top draws in the game this season, and that will likely be the case again this week when CU takes on USC Saturday in the early window at noon ET — which is 9 a.m. PT.
2. Ohio State at Notre Dame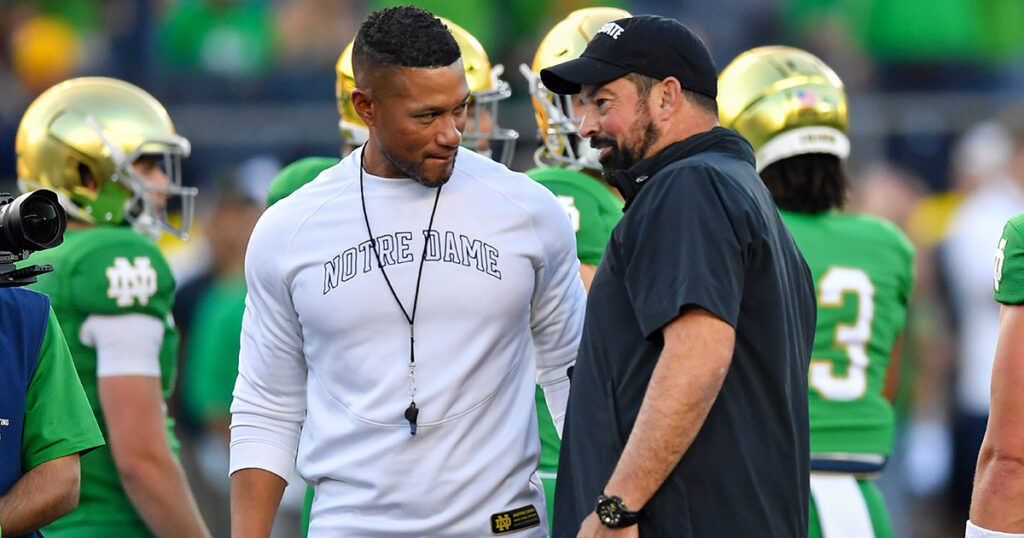 Channel: NBC
Date/Time: Sept. 23-7:30 p.m. ET
Viewers: 9.98 million
A top-10 showdown in Week 4 lived up to the billing as Ohio State punched in a last-second touchdown to avoid the upset at Notre Dame and jump into the top four of the AP Top 25. NBC said the game came in as the network's second-highest TV audience ever as the college football world turned its eyes to South Bend for arguably the game of the year.
3. Florida State at Clemson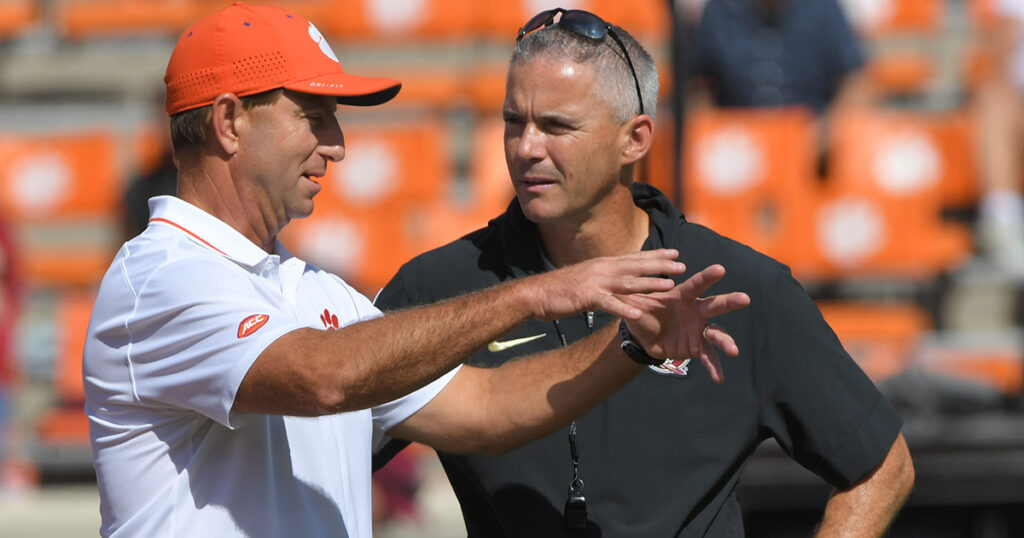 Channel: ABC
Date/Time: Sept. 23-noon ET
Viewers: 6.71 million
It's never easy to play in Death Valley — even during the day — which is why Florida State vs. Clemson was a fun start to the day. They ended up going to overtime as Keon Coleman hauled in a 24-yard touchdown to keep the Seminoles undefeated and squarely in the College Football Playoff mix.
4. Ole Miss at Alabama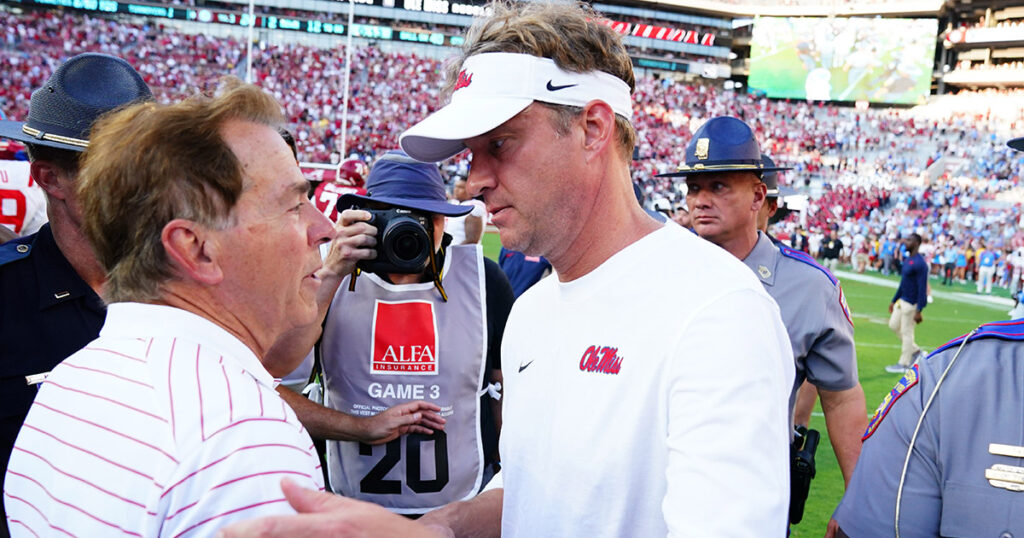 Channel: CBS
Date/Time: Sept. 23-3:30 p.m. ET
Viewers: 4.61 million
It's always a big game when Nick Saban and Lane Kiffin square off, especially when the conversations get fun off the field. Alabama still has some questions to answer, but the Crimson Tide did just enough to come away with a 24-10 victory at Bryant Denny Stadium in CBS' biggest game of the day.
5. Iowa at Penn State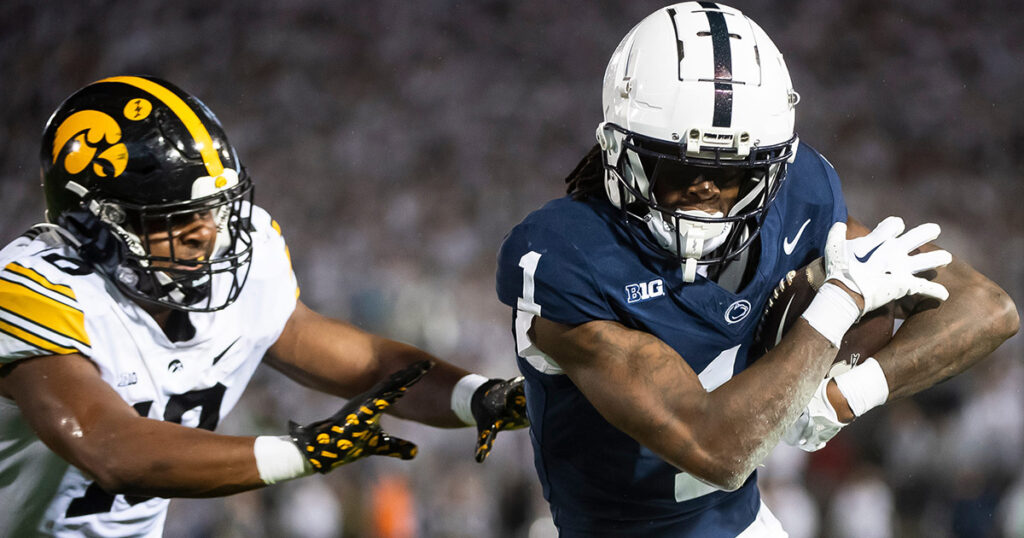 Channel: CBS
Date/Time: Sept. 23-7:30 p.m. ET
Viewers: 2.75 million
Some were surprised to find out CBS' lead broadcasting crew went to Happy Valley instead of Tuscaloosa, but the White Out game delivered once again. Penn State dominated Iowa en route to the 31-0 shutout, and the Big Ten on CBS got a nice win in its first primetime window of the new media deal considering the lopsided score.
6. USC at Arizona State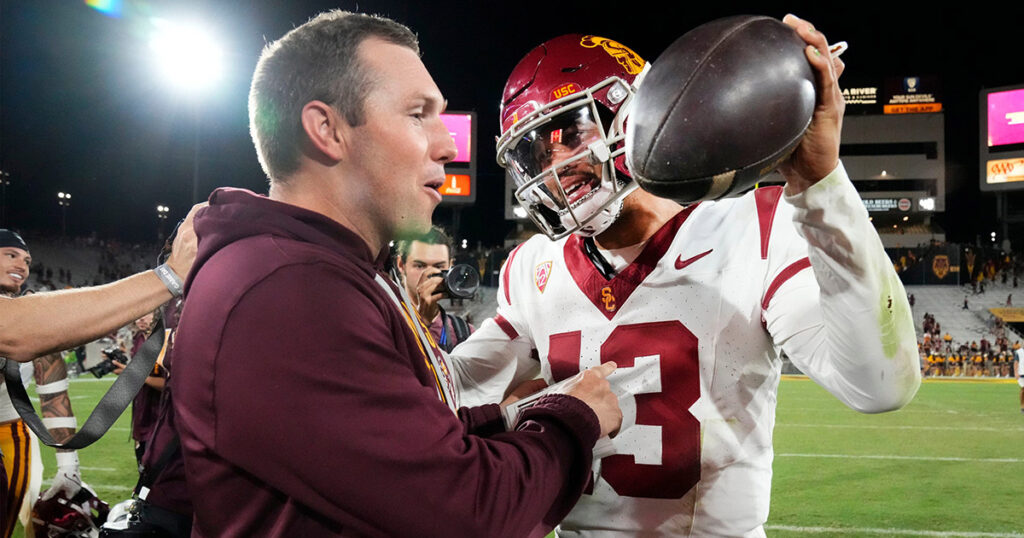 Channel: FOX
Date/Time: Sept. 23-10:30 p.m. ET
Viewers: 2.63 million
It was another late kickoff for Caleb Williams and USC, but Arizona State made things interesting early on. But the Trojans fought off the Sun Devils 42-28 in front of an impressive audience considering the game ended early Sunday morning.
7. Texas at Baylor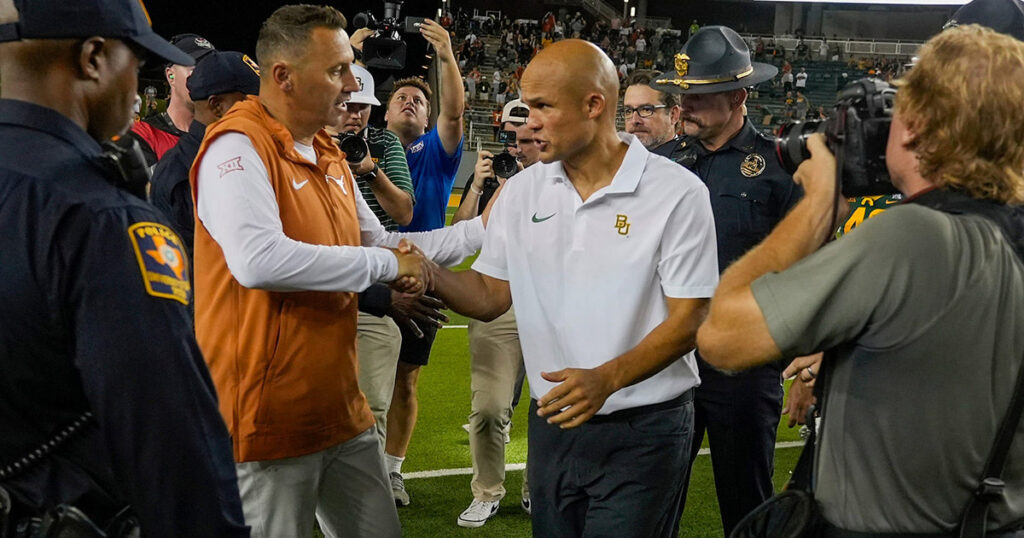 Channel: ABC
Date/Time: Sept. 23-7:30 p.m. ET
Viewers: 2.63 million
Texas at Baylor felt like one of the more underrated matchups of the day, but the Longhorns showed out once again en route to the 38-6 victory. It's always an important game when the in-state conference foes square off, and the viewership showed that even despite the blowout.
8. Arkansas at LSU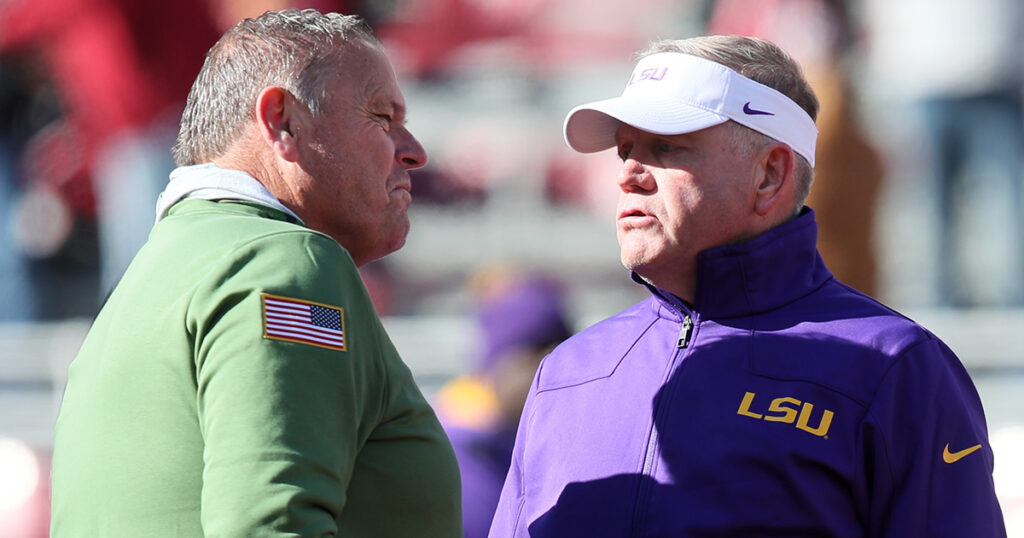 Channel: ESPN
Date/Time: Sept. 23-7 p.m. ET
Viewers: 2.44 million
The primetime slate was a packed one, and Arkansas at LSU was another thriller in that slot. The two teams were tied with 5:06 to play, but Jayden Daniels managed to milk the clock to set up the game-winning field goal and give the Tigers a 34-31 victory as time ticked away.
9. Auburn at Texas A&M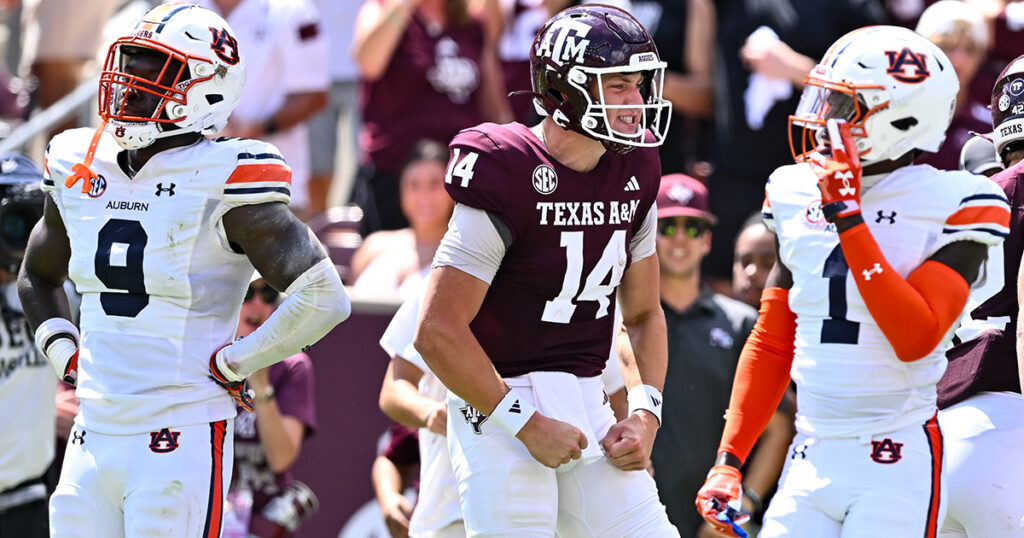 Channel: ESPN
Date/Time: Sept. 23-noon ET
Viewers: 2.18 million
The matchup with Auburn was a big one for Texas A&M, and the Aggies lost starting quarterback Conner Weigman to injury. But Max Johnson stepped up to the challenge to lead Jimbo Fisher's group to the 27-10 victory and quiet down some of the noise around the program — at least, for now.
10. Oklahoma at Cincinnati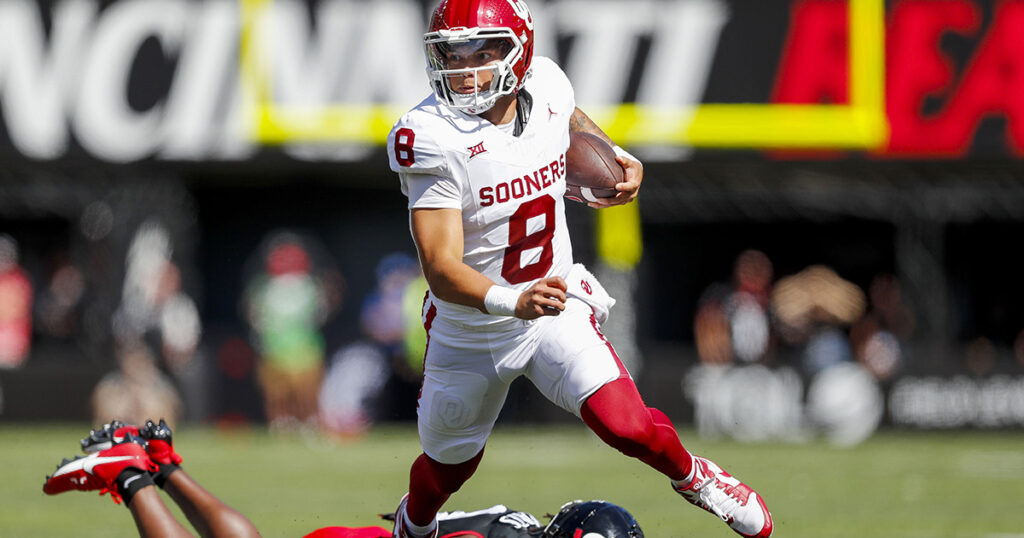 Channel: FOX
Date/Time: Sept. 23-noon ET
Viewers: 2.17 million
Cincinnati got its first taste of Big 12 play with FOX's Big Noon game, but saw Brent Venables' defense stymy the offense as Oklahoma got the 20-6 victory. The Sooners remain undefeated to start Venables' second year at the helm, which could create some momentums in the ratings with the Red River matchup against Texas looming next week.
The Week 5 schedule of games has a lot to live up to after some close finishes and so many ranked matchups in Week 4. Still, there will likely be some big draws with notable matchups in each time slot — starting with Oregon vs. USC and an intriguing 7:30 p.m. ET matchup between Notre Dame and Duke.