Week 10 wrapup: Cincinnati, Alabama, Ohio State unimpressive in wins; Wake Forest loses for 1st time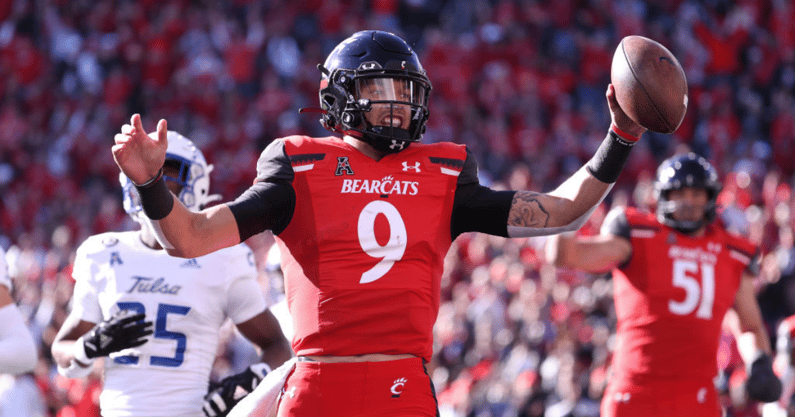 A look at the key games from Week 10.
Cincinnati barely holds on
Cincinnati supporters were upset the Bearcats were No. 6 in the first College Football Playoff rankings. As it turned out, maybe the Bearcats were ranked too high.
Cincinnati (9-0 overall, 5-0 in the AAC) needed two goal-line stands in the final 1:30 to fend off Tulsa 28-20. The reason for the two stands? After stopping the Golden Hurricane a yard short on a fourth-and-5 play from the Bearcats' 6 with 1:14 left, Cincinnati quarterback Desmond Ridder fumbled on the ensuing play. But Tulsa (3-6, 2-3) couldn't score on four plays from Cincinnati's 3.
It's the second time in three games the Bearcats had to hold on in the final minute; they held off two-win Navy 27-20 on October 23.
The Bearcats led 28-12 going into the fourth quarter, but were outgained 175-18 in the final period and didn't get a first down. They play at two-win USF on Friday.
Alabama escapes with win
No. 2 Alabama (8-1, 5-1 in the SEC) struggled offensively but did just enough to beat LSU 20-14, knocking down a Tigers pass in the end zone on the final play.
The Crimson Tide rushed for just 6 yards and was bailed out by a defense that came up with five sacks and limited LSU to 295 yards. LSU (4-5, 2-4) had four sacks and made things uncomfortable for Alabama quarterback Bryce Young, who threw for 302 yards and two touchdowns.
Alabama scored two TDs in the final three minutes of the first half for a 14-7 halftime lead, then scored on its first drive of the second half after LSU fumbled. But the Tide punted four times and fumbled on its other five possessions of the second half.
Alabama edge rusher Will Anderson Jr. had 12 tackles, 1.5 sacks and four tackles for loss.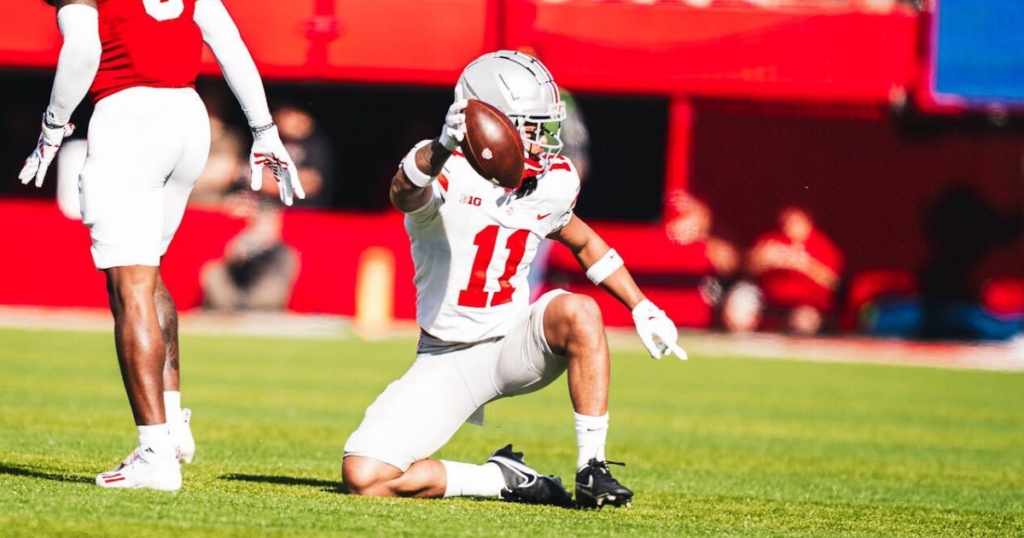 Ohio State muddles past Nebraska
For a while Saturday, it looked as if Nebraska was going to join Purdue from 2018, Iowa from '17 and Penn State from '16 as unranked teams to take down an Ohio State team ranked in the top five. But the fifth-ranked Buckeyes (8-1 overall, 6-0 in the Big Ten) were able to hold off the host Huskers 26-17.
Purdue beat No. 2 Ohio State in 2018, Iowa beat No. 3 Ohio State in 2017 and Penn State beat No. 2 Ohio State in 2016, with the first and last of those in late October and the Iowa game on the first weekend in November. Saturday, the Huskers (3-7, 1-6) twice had the ball in the fourth quarter with a chance to take the lead, but couldn't get it done. Ohio State sealed it on a 46-yard field goal with 1:29 left; that finished off a nine-play, 58-yard drive that took 3:41.
It was Nebraska's 16th consecutive loss to a ranked opponent, and sealed the Huskers' fifth losing season in a row. It was the Buckeyes' 24th consecutive conference win.
Ohio State led 20-10 at halftime, but struggled to move the ball in the second half. The Buckeyes are alone in first place in the Big Ten East thanks to Michigan State's loss to Purdue.
With Ohio State wide receiver Garrett Wilson out, Jaxson Smith-Njigba stepped up and had a monster game, finishing with a school-record 15 receptions for 240 yards. C.J. Stroud threw for 405 yards and two TDs, but also tossed two picks; he had gone four consecutive games without throwing an interception.
Ohio State finishes the regular season with three tough opponents in a row: Purdue at home next week, Michigan State at home on November 20 and at Michigan on November 27.
Four of the Huskers' losses have come to teams currently in the top 10; they previously lost to Oklahoma, Michigan State and Michigan. The four losses have been by a combined 22 points.
UNC hands Wake Forest its 1st loss
No. 9 Wake Forest (8-1) fell from the ranks of the unbeaten because its defense once again was overpowered. Host North Carolina (5-4) beat the Demon Deacons 58-55 by rallying from an 18-point third-quarter deficit.
Last season, UNC rallied from 21 down to beat Wake 59-53.
Saturday's game marked the fourth time this season Wake had surrendered at least 34 points and the second time it had allowed at least 56. The one positive from the loss: While both are in the ACC, the matchup was a non-conference game, so Wake remains the only team unbeaten in league play.
But the schedule gets tougher for the Demon Deacons from here, as they close against NC State, Clemson and Boston College. All three of those teams are physical, run-first teams, and UNC ran for 330 yards Saturday, with Ty Chandler rumbling for 213 yards and four TDs.
Wake lost despite rolling up 615 yards of offense. Sam Hartman threw for 398 yards and five TDs, but he completed less than 50 percent of his passes (25 of 51) and tossed two picks. It was Hartman's first multi-interception game of the season and just the second time he completed fewer than 50 percent of his passes in the past three seasons.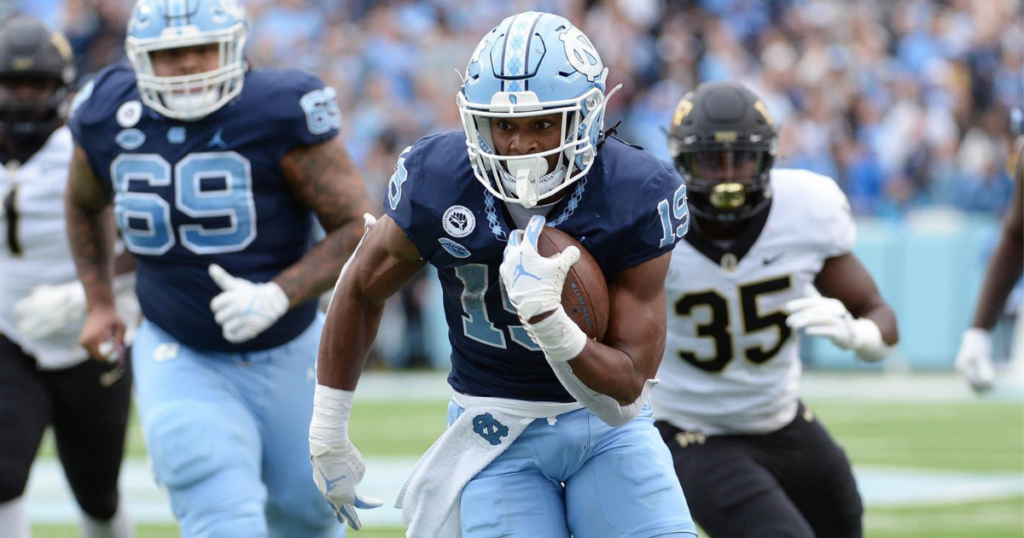 Morris, TCU upset No. 12 Baylor
TCU quarterback Chandler Morris threw for 461 yards and two TDs in his first start as the Horned Frogs upset No. 12 Baylor 30-28. It was TCU's first game without Gary Patterson as coach since 2000.
Baylor had been allowing just 209.0 passing yards per game and had surrendered more than 280 just once. But Morris — the son of former SMU and Arkansas coach Chad Morris — torched the Bears, finishing 29-of-41.
Baylor had been tied with Oklahoma State for second in the Big 12, but its title hopes may have suffered a fatal blow, considering they lost to the Cowboys. Baylor hosts unbeaten Oklahoma next Saturday.
The Bears had scored 11 rushing TDs in their past four games and came in with 23 on the season, but managed just one against a TCU defense that had allowed 15 rushing TDs in three league games.
No. 4 Oregon runs to win
No. 4 Oregon (8-1, 5-1 in the Pac-12) rode a powerful rushing attack to a 26-16 victory at Washington in the rain, the Ducks' 15th win in their past 17 meetings with the Huskies.
The offensively challenged Huskies (4-5, 3-3) kept it close in the first half, which ended with the Ducks leading 10-9. But Oregon dominated the second half, building a 24-9 lead early in the fourth quarter and coasting from there. Washington had 64 yards of offense in the second half and finished with just seven first downs.
Travis Dye ran for 211 yards and a TD for the Ducks, who outrushed the Huskies 329-55.
No. 14 Texas A&M beats No. 13 Auburn
No. 14 Texas A&M rode a dominant defensive performance to a 20-3 victory over No. 13 Auburn and remained in the hunt for the SEC West title.
Auburn was limited to 226 total yards, including just 73 on the ground.
The game's only touchdown came on a 24-yard return of a Bo Nix fumble by A&M defensive end Micheal Clemons early in the fourth quarter. Seth Small kicked four field goals for the Aggies, and Anders Carlson kicked one for the Tigers.
A&M plays at Ole Miss next week, while Auburn hosts Mississippi State.
Other key games in Week 10
+ No. 11 Oklahoma State (8-1, 5-1 in the Big 12) had eight sacks and that dominant defensive performance led to a 24-3 victory at West Virginia (4-5, 2-4). The Mountaineers had just 133 yards of total offense, including only 33 on the ground. Oklahoma State didn't do much offensively, finishing with 285 yards, but the Cowboys did get two TD catches from Tay Martin. Oklahoma State is alone in second place, behind unbeaten Oklahoma, in the Big 12.
+ No. 16 Ole Miss (7-2) handled Liberty (7-3) 27-14 in former Rebels coach Hugh Freeze's return to Oxford. Ole Miss QB Matt Corral threw for 324 yards and a TD, and Jerrion Ealy ran for 115 yards and two scores. The Rebels, who led 24-0 at halftime, get back into SEC play next week when they host Texas A&M.
+ No. 20 Minnesota (6-3 overall, 4-2 in the Big Ten) had been alone in first place in the Big Ten West. No more. The Golden Gophers' four-game winning streak came to a surprise end in a 14-6 loss to Illinois (4-6, 3-4), who was a 15-point underdog. Minnesota relies on the run, but its rushing attack was stymied for much of the day by the Illini; the Golden Gophers finished with 89 yards on 35 carries. Two of the Gophers' three losses have come to teams with losing records; they also have lost to Bowling Green, as well as Ohio State. Illinois had been 0-10 vs. CFP-ranked teams since the format was instituted in 2014.
+ No. 25 Pitt (7-2, 4-1) remained alone at the top of the ACC Coastal Division with a 54-29 victory at Duke (3-6, 0-5). Panthers QB Kenny Pickett threw for 416 yards and three touchdowns, and Jordan Addison had seven receptions for 171 yards and a score. It was Pickett's third 400-yard game of the season and his second in a row. Pitt hosts North Carolina on Thursday.
+ Two weeks ago, SMU was unbeaten and looked as if it could compete with Cincinnati for the AAC title. Now the Mustangs (7-2, 3-2) are riding a two-game losing streak after falling 28-25 at Memphis (5-4, 2-3). The Mustangs managed just 323 total yards against a Tigers defense that had been surrendering 409.8 yards per game.