College football Week 13: The 10 best games in the final weekend (sob!) of the season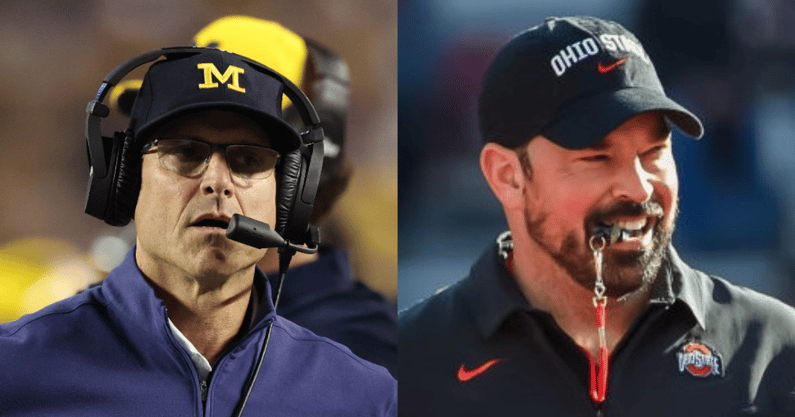 We write this with a heavy heart: This is the final week of the regular season. (It's week 13, and 13 is unlucky, you know.) The season takes so long to get here, then — whoosh! — it goes by in the blink of an eye.
Some advice: Even if your team is rancid this season, savor this final week. Yes, some teams have three or even four games left, and a majority have at least two (because, hey, there are 973 bowl games). But regular-season football is over after this week, and that is disheartening.
But as with every final week, this one is important, especially in the ACC, Big Ten, Big 12, Mountain West and Pac-12.
Here are the 10 best games of Week 13. All games are Saturday except where indicated and all times are Eastern.
10. Boise State (7-4) at San Diego State (10-1)
Time/TV: Friday, noon, CBS
The buzz: One of the biggest games of the season in the Mountain West — and it kicks off at 9 a.m. local time. Ridiculous. If defense-minded San Diego State is victorious, it wins the West Division of the Mountain West. If Boise State beats the Aztecs, Fresno State wins the West and Boise could finish in a three-way tie for the Mountain Division title with Air Force and Utah State that would go to a tiebreaker. Boise State has won four in a row, thanks to a resurgent rushing attack headed by George Holani (three consecutive 100-yard games). But the Aztecs are third nationally against the run and are allowing just 2.61 yards per carry. SDSU also has a good pass rush, headed by E Cameron Thomas (9.5 sacks, 18 tackles for loss, 11 quarterback hurries). The Aztecs' offense isn't much, though RB Greg Bell has had five 100-yard games, including a 119-yard, two-TD performance in a win over Utah.
9. Alabama (10-1) at Auburn (6-5)
Time/TV: 3:30 p.m., CBS
The buzz: Alabama already has won the SEC West and will play Georgia in the SEC Championship Game. Auburn is coming off a loss to … South Carolina. On paper, this shouldn't be close, especially since a loss would remove Alabama from the College Football Playoff discussion and the Tide figures to be extremely ready to play. But the Iron Bowl frequently doesn't go to form. If Auburn wants to pull the upset, it's vital that it gets its rushing attack going. And if nothing else, Alabama WR Jameson Williams vs. Auburn CB Roger McCreary should be a high-level individual matchup.
8. Penn State (7-4) at Michigan State (9-2)
Time/TV: 3:30 p.m., ABC
The buzz: The Spartans have lost two of their past three in a row and visions of a College Football Playoff berth have disappeared. There still is a chance for a New Year's Six bid, but that will be replaced by the likelihood of a Citrus or Outback bowl appearance if they lose this. Penn State has won with defense all season, and you wonder if Michigan State can get RB Kenneth Walker III cranked up again after a 25-yard outing against Ohio State. He's still second in the nation in rushing and likely can nail down an invitation to the Heisman ceremony with a return to form (he's averaging 136.2 yards per game and also is second nationally with 17 rushing TDs). Penn State struggles to run, but that shouldn't matter: Once Nittany Lions star WR Jahan Dotson (83 receptions, 1,045 yards, 10 TDs) sees tape of Michigan State's corners, you wouldn't blame him for going to coach James Franklin and begging for the ball to be thrown to him on every play.
7. Cincinnati (11-0) at East Carolina (7-4)
Time/TV: Friday, 3:30 p.m., ABC
The buzz: Cincinnati has clinched a spot in the AAC championship game against Houston, but you get the idea that the season will be a disappointment if the Bearcats don't make the Playoff. They are coming off a 48-14 demolition of SMU. ECU has won four in a row since a seven-point loss at Houston. RB Keaton Mitchell has rushed for 1,077 yards and nine TDs, and dual-threat QB Holton Ahlers has accounted for 23 TDs. ECU's defense has played well during the winning streak, but the opponents (USF, Temple, Memphis and Navy) weren't good. This one is all about Cincinnati: If it plays well, it wins, no matter what ECU does.
6. Ole Miss (9-2) at Mississippi State (7-4)
Time/TV: Thursday, 7:30 p.m., ESPN
The buzz: The Egg Bowl always is … ahem … interesting, and this one should be quite good. Ole Miss is in the hunt for a New Year's Six bid and cannot afford a loss, while Mississippi State would finish tied for second in the SEC West with a win. The quarterback matchup is excellent: Ole Miss' Matt Corral vs. Mississippi State's Will Rogers. Corral has thrown for 3,100 yards and 19 TDs and rushed for 552 and 10 scores; Rogers, meanwhile, is 144-of-176 (81.8 percent) for 1,567 yards, 16 TDs and one pick in his past four games, and has thrown 34 TD passes this season. Statistically, Mississippi State's defense is much better than Ole Miss'. But Alabama, Arkansas and Texas A&M put up big rushing numbers on the Bulldogs, and Ole Miss is statistically better on the ground than all three of those teams.
5. Wisconsin (8-3) at Minnesota (7-4)
Time/TV: 4 p.m., Fox
The buzz: Wisconsin has won seven in a row and will be Big Ten West champs with a victory; a Gophers win would give the title to Iowa if the Hawkeyes beat Nebraska on Friday. Both rely on defense and the running game; they have combined to throw for 3,542 yards — and 10 teams nationally have thrown for more. Wisconsin true freshman Braelon Allen has had seven consecutive 100-yard games. Despite getting just 12 total carries in the first four games, he is second in the Big Ten in rushing yards per game (106.2). Injuries have wreaked havoc on Minnesota's depth chart at running back; still, freshmen Ky Thomas and Mar'Keise Irving have proven to be a nice tandem. Badgers LB Leo Chenal is one of the best in the nation and figures to be around the ball all day. This will be the 131st meeting in the series, with the Badgers leading 62-60-8; the schools first met in 1890 and have met every season since except 1906. They play for Paul Bunyan's Axe.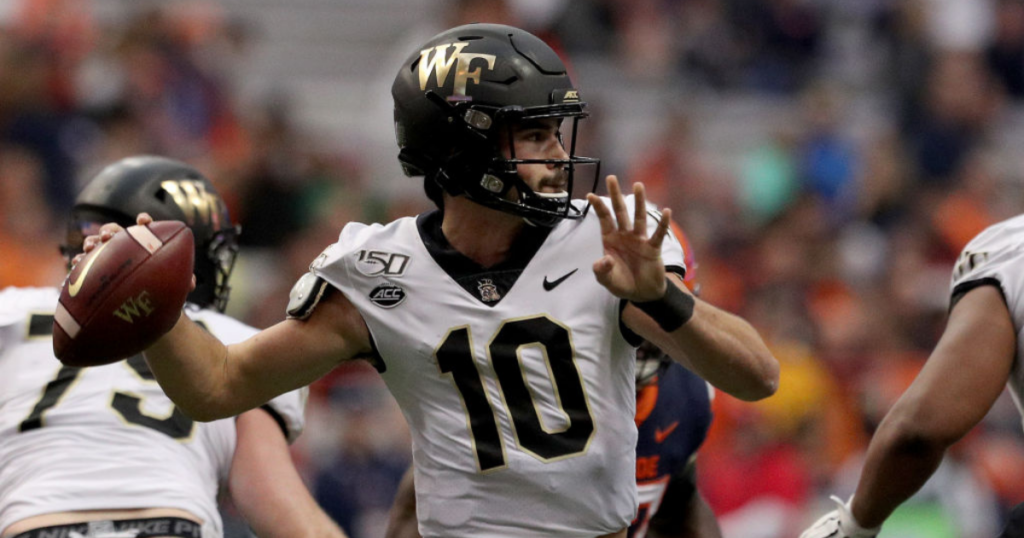 4. Wake Forest (9-2) at Boston College (6-5)
Time/TV: Noon, ESPN2
The buzz: Wake has lost two of its past three, but still can win the ACC Atlantic Division with a victory. The Demon Deacons' defense has been shredded the past three weeks (148 points, 1,571 yards), especially on the ground. Thus, expect BC to feed Wake a steady dose of RB Pat Garwo III. The return of QB Phil Jurkovec from injury has opened up the passing attack the past three games. Wake QB Sam Hartman has struggled with his accuracy of late; six of his nine picks have come in the past three games, with a completion percentage of 51.1. The Demon Deacons will stress BC's secondary with WRs A.T. Perry and Jaquarii Roberson (a combined 109 receptions for 1,984 yards and 19 TDs).
3. Oregon State (7-4) at Oregon (9-2)
Time/TV: 3:30 p.m., ESPN
The buzz: A rivalry game with a lot on the line. Oregon's College Football Playoff hopes ended with a lopsided loss at Utah; now it's in danger of not even winning the Pac-12 North. A victory and the Ducks advance to the league title game against Utah. But a loss could mean no division title. Neither team is that proficient in throwing the ball, so it means the respective rushing attacks need to come through. Oregon State, which has a win over Utah, counts heavily upon B.J. Baylor; he leads the Pac-12 in rushing (109.0 yards per game) and has six 100-yard games this season. Oregon leans on RB Travis Dye (85.2 ypg, 12 TDs) and QB Anthony Brown (50.8 ypg, 8 TDs). The Ducks are better against the run, though they were run over last week by Utah. Two top-notch linebackers will be on view in Oregon State's Avery Roberts, the conference's leading tackler, and Oregon's Noah Sewell, who is fourth in the league in stops.
1-B. Oklahoma (10-1) at Oklahoma State (10-1)
Time/TV: 7:30 p.m., ABC
The buzz: Another rivalry game with a lot on the line, and "Bedlam" should be especially intense this season. Oklahoma State already has clinched a spot in the Big 12 title game, but the Cowboys still have hopes for a CFP berth. OU must win to get to the league title game and keep alive its faint hope for a spot in the CFP. Sooners true freshman QB Caleb Williams has really struggled the past two weeks against the tough defenses of Baylor and Iowa State; bad news for him is that Oklahoma State is even better defensively. The Cowboys lead the nation in sacks (42) and tackles for loss (93), and coordinator Jim Knowles sends guys from all over. OU must get RB Kennedy Brooks cranked up. Oklahoma State is nothing special offensively, and the Cowboys will be in trouble if RB Jaylen Warren — a transfer from Utah State — doesn't have room to run. Oklahoma State has one receiver of note (Tay Martin), and OU has to make absolutely sure Martin doesn't make any chunk plays.
1-A. Ohio State (10-1) at Michigan (10-1)
Time/TV: Noon, Fox
The buzz: And yet another rivalry game with a lot on the line. The winner clinches the Big Ten East title and stays on track for the College Football Playoff. Ohio State is coming off a 56-7 demolition of a Michigan State team that beat Michigan. The Buckeyes have the best group of receivers in the nation, with Chris Olave, Garrett Wilson and Jaxon Smith-Njigba having combined for 187 receptions, 2,919 yards and 30 TDs. RB TreVeyon Henderson has been one of the best true freshmen in the nation. And QB C.J. Stroud has been razor-sharp the past two games, going 63-of-73 (86.3 percent) for 793 yards and 11 TDs. Michigan has a powerful rushing attack (218.4 yards per game, 5.1 yards per carry) behind Hassan Haskins and Blake Corum (a combined 1,841 yards and 23 TDs). Which defense holds up the best? Michigan also has to overcome a lot of recent history: Ohio State has won eight in a row and 15 of the past 16 against the Wolverines.