Numbers game: 15 stats you need to know from Week 4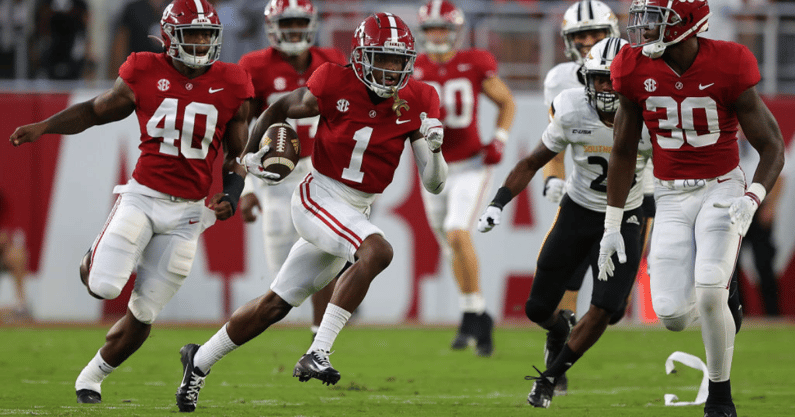 Each Sunday, On3 will take a look at some interesting stats you should know coming out of that week's games. Here are 15 from Week 4:
0: Army beat Miami (Ohio) 23-10 without completing a pass. While Black Knights QB Christian Anderson was 0-of-5 as a passer, he ran for a team-high 236 yards and two touchdowns. Army, which finished with 384 rushing yards, is 4-0 for the first time since 1996.
2: Alabama wide receiver Jameson Williams, a transfer from Ohio State, became the first player in Crimson Tide history with two kickoff-return touchdowns in a single game. In Alabama's 63-14 rout of Southern Miss, Williams returned the opening kickoff 100 yards for a score, added an 83-yard return for a touchdown in the fourth quarter and also had an 81-yard touchdown catch in the second quarter. Williams has scored five touchdowns in his first four games at Alabama.
4: Wisconsin quarterback Graham Mertz tossed four interceptions during the Badgers' 41-13 loss to Notre Dame, including two that were returned for touchdowns. In his past seven starts against Power 5 opponents, Mertz has three touchdown passes and 11 interceptions, and is averaging only 184 passing yards per game. Wisconsin is 2-5 in those games and has been held to 13 or fewer points in each of the five losses.  The Badgers' 1-2 start is their worst start since 2001.
8: Georgia Tech had eight sacks and 13 tackles for loss in a 45-22 upset of QB Sam Howell and then-No. 21 North Carolina. The Yellow Jackets, who were coming off a strong defensive performance in a 14-8 loss to then-No. 6 Clemson, held the Tar Heels to 369 yards.
11: Arkansas' 20-10 win over No. 7 Texas A&M was its first victory over an AP top-7 team since 2010. It's the first time since 1986 that the Razorbacks have opened the season with four straight double-digit wins.
15: In a 62-0 loss to Georgia, Vanderbilt had just 15 more yards (77) than Georgia had points. 
19: One of the highlights of the day was a 14-yard touchdown run by Hawaii running back Calvin Turner in a victory over New Mexico State. Turner backtracked 19 yards behind the line of scrimmage before evading a few New Mexico State defenders and reaching the end zone.
22.3: Auburn has a QB controversy heading into next Saturday's game at LSU. T.J. Finley replaced a struggling Bo Nix on Saturday and led the Tigers to a 34-24 comeback win over Georgia State. Nix's ESPN QBR, which uses a scale from 0-100, was just 22.3 before he was benched early in the fourth quarter. At the time, Auburn was trailing 24-19. Finley, who transferred to Auburn from LSU this summer, finished with an ESPN QBR of 79.9. During the fourth quarter, he threw for 97 yards and the go-ahead touchdown pass with 45 seconds left. The Tigers added a pick-six with 31 seconds left.
30.5: Bowling Green, which beat Minnesota 14-10, was a 30.5-point underdog heading into the game. The win snapped a 10-game losing streak for Bowling Green against FBS teams that went back to 2019.
42: UTSA RB Sincere McCormick, the reigning Conference USA Offensive Player of the Year, had a program-record 42 carries for 184 yards and three touchdowns in a 31-28 win over Memphis. McCormick, averaging 135 yards per game against FBS teams, helped the Roadrunners overcome a 21-0 first-quarter deficit; it was the largest comeback victory in school history.
61: Oregon State's 45-27 win at USC was the Beavers' first road victory over the Trojans in 61 years. The 45 points were the most Oregon State ever has scored vs. USC. In addition, the win gave the Beavers (3-1) their first victory in a Pac-12 opener since 2013.
70: Texas beat Texas Tech 70-35. It was the first time Texas scored 70 points since Vince Young led the Longhorns to a 70-3 win over Colorado in the 2005 Big 12 championship game.
128: Georgia Tech QB Jeff Sims, who hadn't played since Week 1, came on in the second quarter of the Yellow Jackets' game against North Carolina and proved to be a driving force behind the upset. Sims ran for 128 yards and three touchdowns. He also passed for 112 yards and a score.
214: Clemson had just 214 offensive yards in a 27-21 overtime loss to NC State. The Tigers (2-2) have failed to reach 300 yards in any of their first three games against FBS opponents. It comes after Clemson averaged 502 yards or better each of the past three seasons.
350: SMU ran for 350 yards and an average of 6.7 yards per carry in a 42-34 win over TCU. Ulysses Bentley ran for 153 yards and a touchdown. Tre Siggers also eclipsed 100 yards, finishing with 110 yards on 18 carries. The Mustangs (4-0) also got four touchdown passes from QB Tanner Mordecai.