College football Week 5: Point spreads for every game
J.D.'s CFP Rankings After Week 4
It's hard to believe that we're already one month in to the college football season, but here we are with Week 5 looming. It should be a good one with a few top 25 matchups on the schedule, and FanDuel has already released the point spreads for some of the biggest college football games of Week 5.
We saw a number of top 25 teams fall in Week 4 including Notre Dame, which lost on the final second to Ohio State. Colorado also saw its winning streak snapped in a 42-6 loss to Oregon and LSU narrowly avoided its first SEC loss against Arkansas.
This week features several more big time matchups, including a chance for Notre Dame to bounce back on the road against No. 17 Duke, which is the site for College GameDay. You can view the full points spreads for Week 5 of college football, according to FanDuel, below.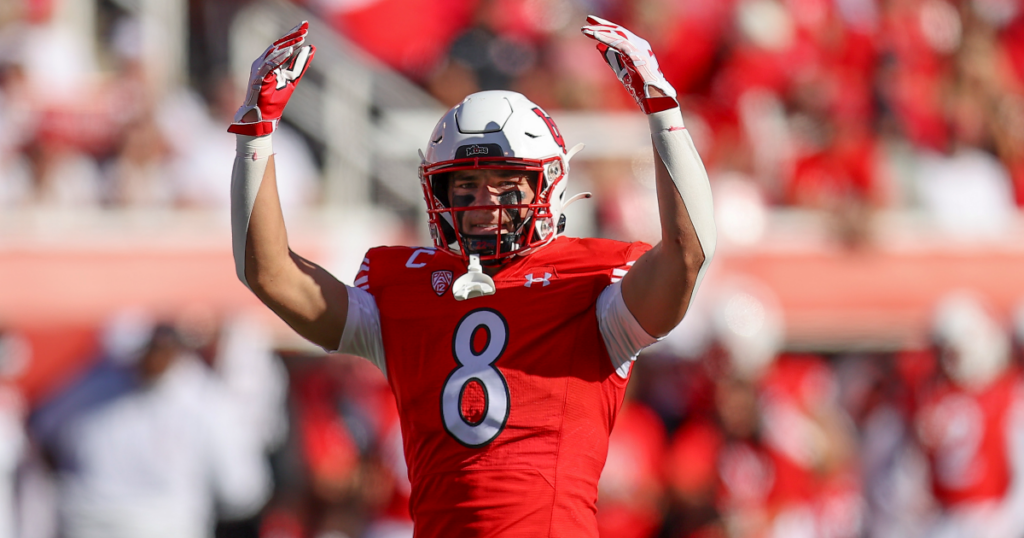 Details: 9 p.m. ET on Friday, Sept. 29 on FS1
Utah has still yet to return quarterback Cam Rising as he recovers from an ACL injury suffered last season. That has made life difficult on the Utes offense, but they've managed a 4-0 record thanks to their defensive effort.
Last week in a 14-7 win against UCLA, Utah held the Bruins to just nine yards rushing and forced quarterback Dante Moore to complete less than half of his passes (42.9%). They'll run into an Oregon State team that suffered its first loss in Week 4 to Washington State, but the Beavers boast a top 10 rushing attack (224.8 rushing yards per game).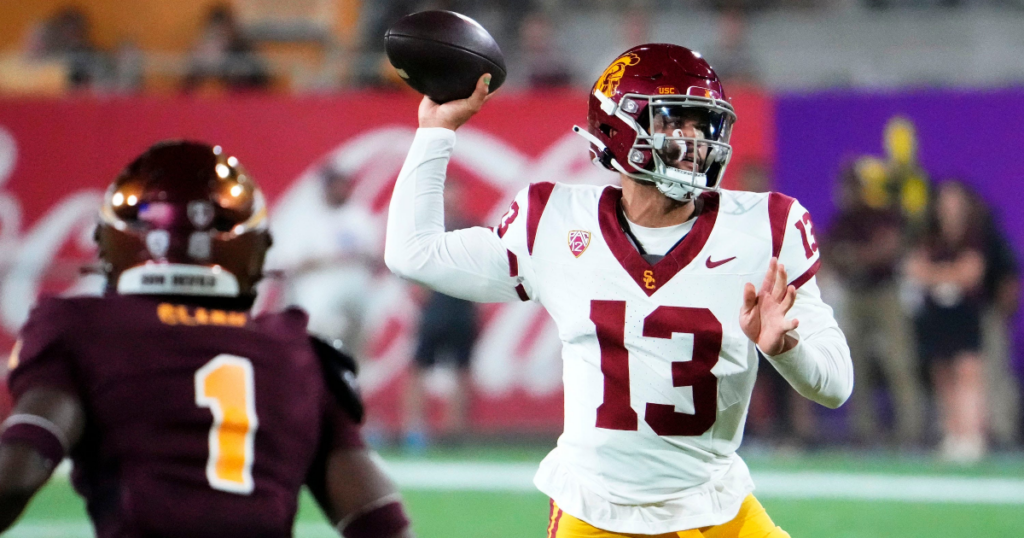 Details: Noon ET on Saturday, Sept. 30 on FOX
Colorado's spectacular start to the season came to a screeching halt on Saturday as it suffered a 42-6 blowout loss against Oregon. Playing without star receiver/cornerback Travis Hunter, the Buffaloes couldn't get anything going as quarterback Shedeur Sanders threw for a season-low 159 yards and a touchdown.
USC dropped three spots in the AP poll this week after struggling to put away Arizona State. The Trojans defense has continued to be up and down this season and will be put to the test against Sanders and the Colorado passing attack. Still, with what we saw out of the Buffaloes this past week, USC is still a heavy favorite even on the road.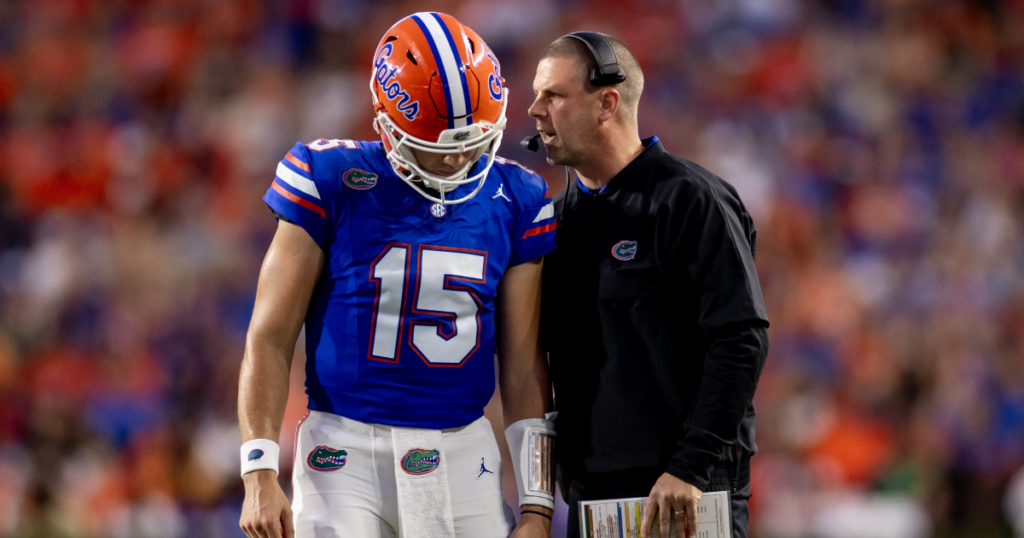 Details: Noon ET on Saturday, Sept. 30 on ESPN
Florida has rebounded well after losing to Utah in Week 1 as it won its next three games, including the SEC opener against Tennessee. The Gators leaned on their rushing attack against the Vols, but turned to Graham Mertz last week in a 22-7 win against Charlotte as he threw for 259 yards and a touchdown.
They'll hit the road against an unbeaten Kentucky team coming off of a 45-28 victory in its conference opener against Vanderbilt. Wildcats QB Devin Leary ranks seventh in the SEC with 1,060 yards passing and nine touchdown, but has also thrown the second-most interceptions (five).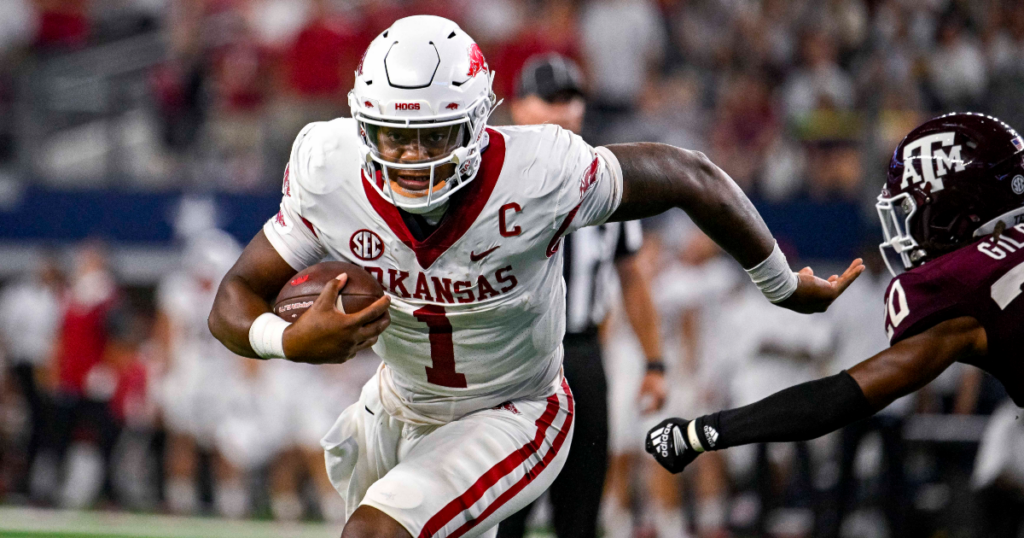 Details: Noon ET on Saturday, Sept. 30 on SEC Network
The Aggies and Razorbacks face off in the Southwest Classic at AT&T Stadium in a game both teams need to win. Arkansas is coming off of two straight losses to BYU and LSU, though it was still competitive as both of those games came down to the end.
Texas A&M used a strong defensive effort and rushed for 209 yards last week to win its SEC opener against Auburn. The Aggies lost to Miami in Week 2 but can still find success in the SEC West and this matchup will be a big factor in doing so.
No. 24 Kansas at No. 3 Texas (-17)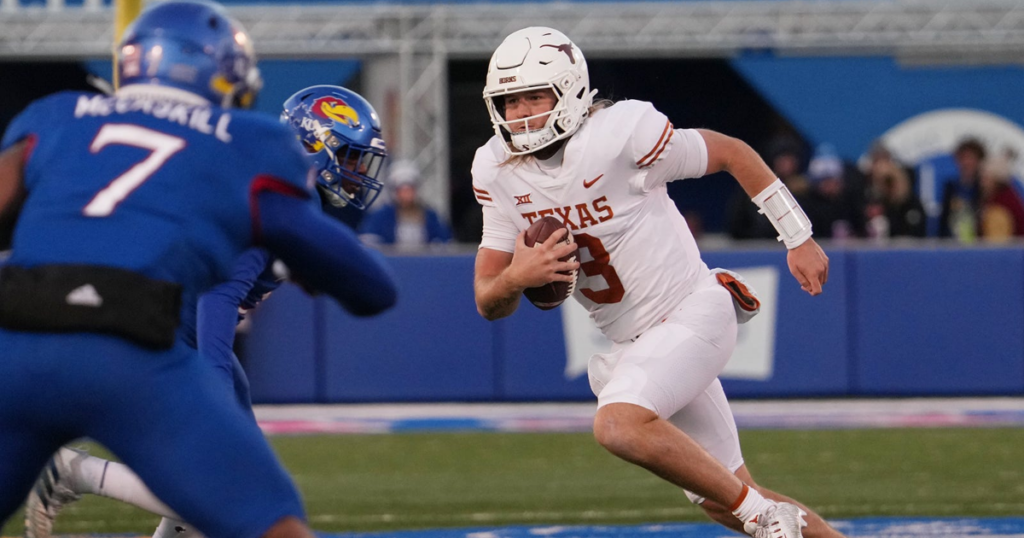 Details: 3:30 p.m. ET on Saturday, Sept. 30 on ABC
The Jayhawks have managed just four wins against the Longhorns all-time, and two of them have come within the past six meetings. KU is off to its second straight 4-0 start after beating BYU in front of a sold-out crowd on Saturday and will hope the recent success carries over to this week in Austin.
Texas is also off to a 4-0 start for the first time since 2012 and is out to prove this year's team is a College Football Playoff contender. The Longhorns made easy work of Baylor in their Big 12 opener as Quinn Ewers threw for 293 yards and a touchdown and will look to avoid another upset against Kansas.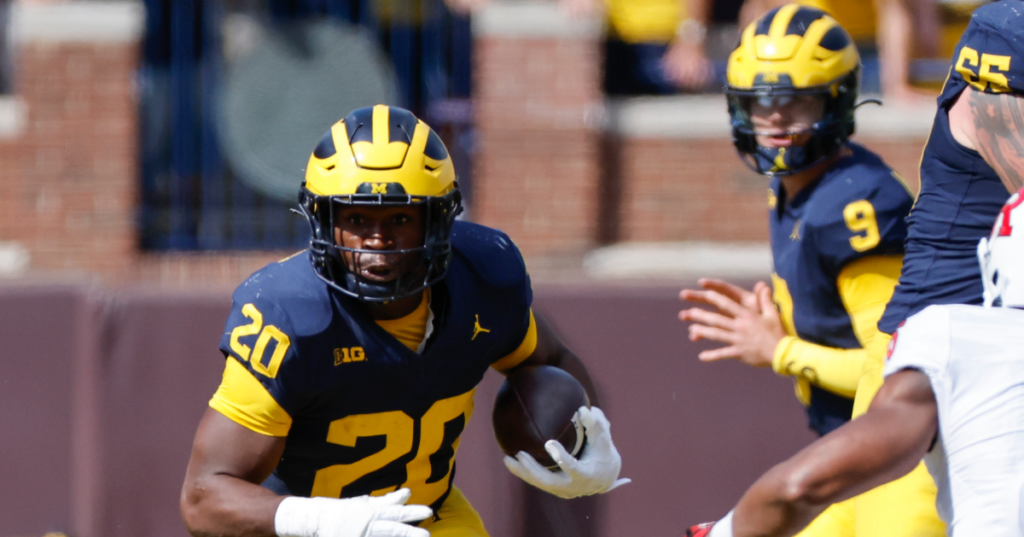 Details: 3:30 p.m. ET on Saturday, Sept. 30 on FOX
Coach Jim Harbaugh returned from a three-game suspension this past week as Michigan dispatched of Rutgers in its Big Ten opener. The Wolverines have yet to allow double digit points through four games this season and should stand a good chance to keep that streak alive against Nebraska.
The Cornhuskers offense hasn't exactly been explosive as it ranks 72nd in yards per play (5.7), despite showing improvement in the past couple of weeks against some lower-level opponents. Michigan should continue to ride the duo of JJ McCarthy and Blake Corum to another easy win.
No. 13 LSU (-1.5) at No. 20 Ole Miss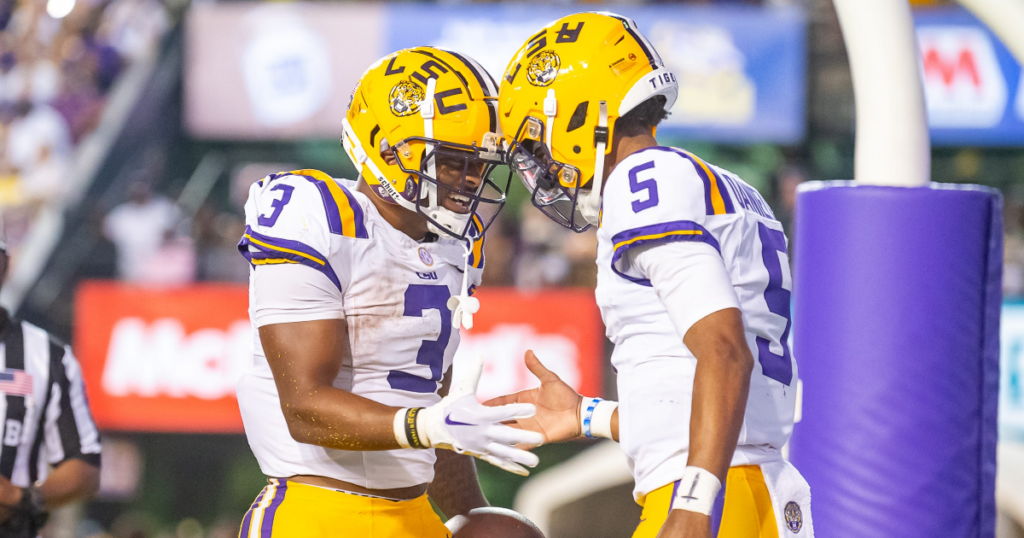 Details: 6 p.m. ET on Saturday, Sept. 30 on ESPN
LSU needed a last-second field goal to escape Arkansas by a score of 34-31 this past week but is still unscathed early in SEC play. The Tigers now have another pivotal matchup in the conference race as they run into a Rebels team coming off a loss to Alabama in Tuscaloosa.
The Ole Miss offense struggled against the Crimson Tide as quarterback Jaxson Dart was sacked five times and threw for 244 yards and an interception. The Rebels also managed just 1.9 yards per carry on the ground. LSU will hope to get another big day from Jayden Daniels and Malik Nabers, who've connected for 523 yards and five touchdowns so far.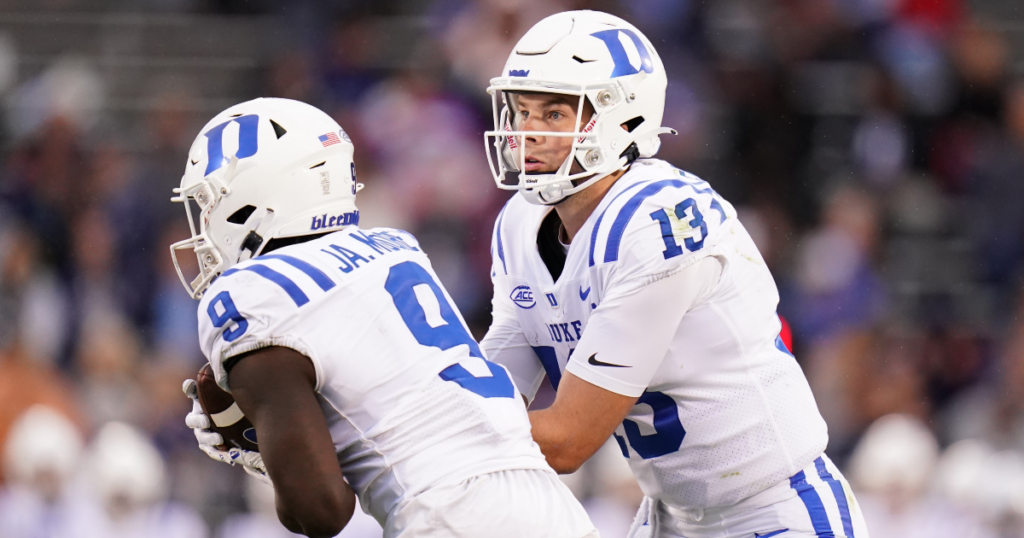 Details: 7:30 p.m. ET on Saturday, Sept. 30 on ABC
Notre Dame saw an opportunity to notch a top 10 win slip through its grasp this past week as it lost 17-14 to Ohio State. The Fighting Irish led 14-10 when the Buckeyes got the ball with 1:26 remaining but made a critical error on the final to plays to allow the game-winning touchdown with one second remaining.
Now they have to get back on track in Week 5 against a Duke team that has been one of the biggest surprises in college football early on. The Blue Devils are 4-0 behind the nation's No. 4 scoring defense (8.8 points allowed per game) and a rushing attack that averages more than 200 yards per game. If they manage a win here, it would be a massive boost to their already solid resume.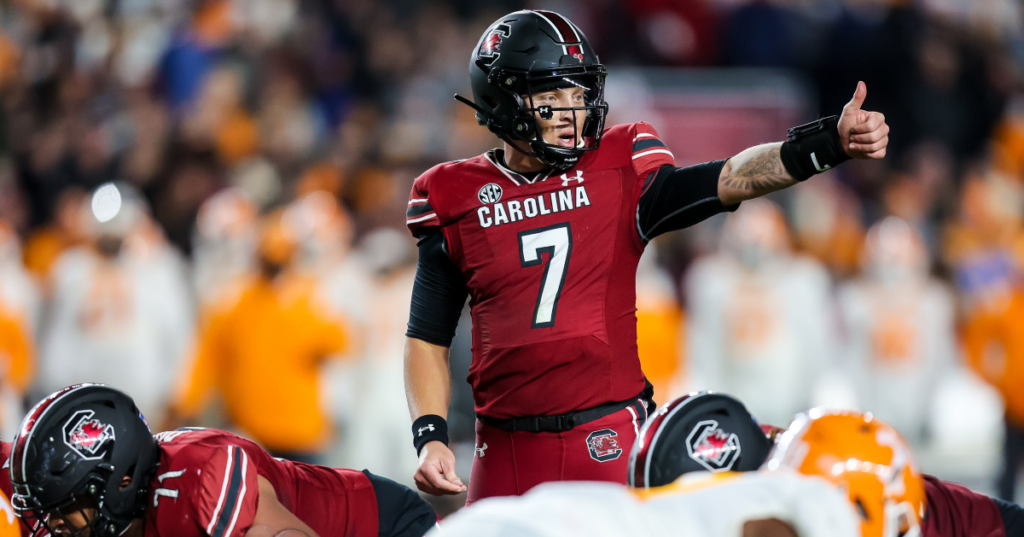 Details: 7:30 p.m. ET on Saturday Sept. 30 on SEC Network
Tennessee fans should remember vividly what Spencer Rattler did the last time these two teams met. The Gamecocks quarterback threw for 438 yards and six touchdowns as South Carolina rolled to a 63-38 victory against the Vols to end their Playoff hopes.
Rattler is off to an impressive start this season despite injury issues at receiver, ranking third in the SEC with 1,242 yards passing to go with seven touchdowns. The Vols will not only want their revenge from last year, but also desperately need this win if they hope to avoid an 0-2 start to conference play.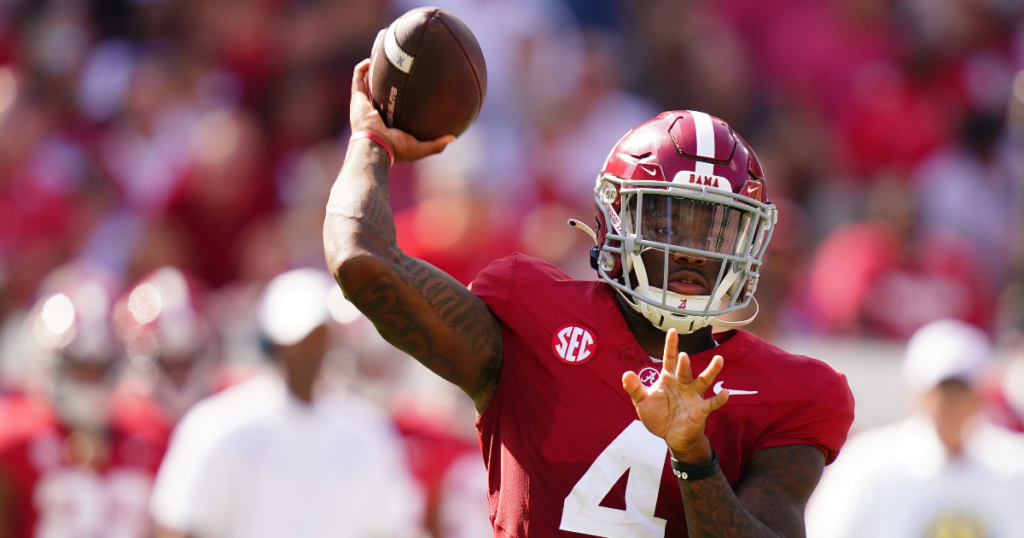 Details: 9 p.m. ET on Saturday, Sept. 30 on ESPN
Alabama turned back to Jalen Milroe at quarterback after a failed experiment with Tyler Buchner and Ty Simpson in Week 3. He led the Crimson Tide to a 24-10 victory against Ole Miss while going 17-of-21 passing for 225 yards, one touchdown and an interception in addition to 28 yards rushing.
With Milroe the clear starter moving forward, Alabama aims to still compete for an SEC West title. Mississippi State is so far 0-2 in league play after dropping games to LSU and South Carolina and now finds itself in serious danger of an 0-3 start.
Point spreads for every Week 5 college football game
Thursday, Sept. 28
Middle Tennessee at Western Kentucky (-8.5)
Temple at Tulsa (-6)
Jacksonville State (-4.5) at Sam Houston State
Friday, Sept. 29
Louisville (-3) at NC State
Louisiana Tech at UTEP (-1.5)
Cincinnati at BYU (-3)
Saturday, Sept. 30
No. 1 Georgia (-17) at Auburn
No. 6 Penn State (-24.5) at Northwestern
Louisiana at Minnesota (-9.5)
Utah State at UConn (N/A)
Clemson (-6.5) at Syracuse
UAB at Tulane (-19.5)
South Alabama at James Madison (N/A)
Buffalo at Akron (N/A)
Eastern Michigan at Central Michigan (N/A)
Virginia at Boston College (N/A)
Miami (OH) at Kent State (N/A)
Arizona State at California (N/A)
Indiana at Maryland (-14.5)
Illinois (-1.5) at Purdue
Houston at Texas Tech (-10)
Baylor at UCF (-10.5)
Arkansas State at Massachusetts (N/A)
South Florida at Navy (N/A)
Old Dominion at Marshall (N/A)
Ball State at Western Michigan (N/A)
Northern Illinois at Toledo (N/A)
No. 23 Missouri (-10.5) at Vanderbilt
Boise State at Memphis (N/A)
Hawaii at UNLV (N/A)
New Mexico at Wyoming (N/A)
No. 9 Oregon (-24.5) at Stanford
Iowa State at No. 14 Oklahoma (-17.5)
East Carolina at Rice (N/A)
Abilene Christian at North Texas (N/A)
Coastal Carolina at Georgia Southern (-4.5)
Troy at Georgia State (N/A)
Texas State at Southern Miss (N/A)
Utah Tech at Colorado State (N/A)
Michigan State at Iowa (-9.5)
Charlotte at SMU (N/A)
Pittsburgh (-3) at Virginia Tech
West Virginia at TCU (-10)
Appalachian State at Louisiana-Monroe (N/A)
San Diego State at Air Force (-10.5)
No. 7 Washington (-17.5) at Arizona
Nevada at No. 25 Fresno State (-22.5)