College GameDay: Picks for Week 7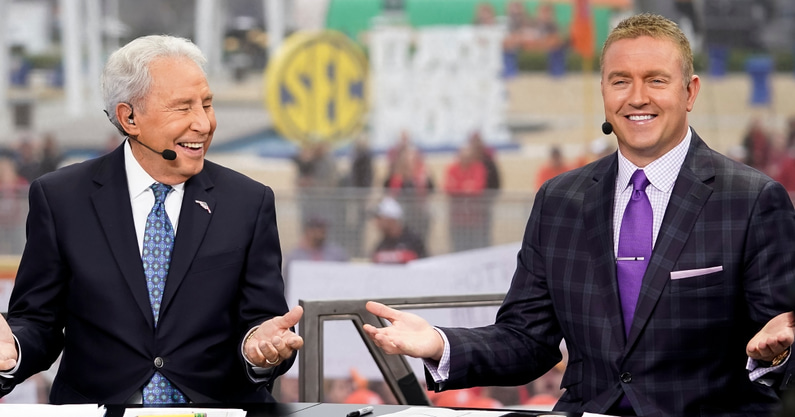 College GameDay headed back to Athens, Georgia today — establishing residence as they are on hand for the second time in three weeks. The crew was on site for today's riveting SEC matchup between the undefeated Kentucky Wildcats and Georgia Bulldogs.
With a great crowd on-hand prior to a matchup with huge College Football Playoff implications, the College GameDay crew made their selections for Saturday's games. Additionally, comedian and Georgia native Jeff Foxworthy joined the fun as the guest picker.
Born in Atlanta and a huge Bulldogs fan, Foxworthy hopes to bring some luck to the College GameDay set. Big game energy was palpable, and the excitement of a ranked match-up was unmistakable. With the anticipation reaching its zenith, Desmond Howard, Lee Corso and Kirk Herbstreit made their picks for an exciting Saturday slate.
All of GameDay's Week 7 picks:
Kentucky at Georgia: "Last time we were here I thought Arkansas would compete, but that game was over early. .. I'm going Bulldogs," stated Howard. While the game may be closer, Howard is on Georgia.
"I expect a better game, a more competitive game — but I don't know if there's a team in the country that can come to Athens and beat Georgia," said Herbstreit. Evidently, Herbstreit is picking the Bulldogs
"This is our town, this is our year — nobody gets in our end-zone," said Foxworthy as he locked in his pick of Georgia.
Finally, Corso brought Uga onto the set to make his selection, As he picked Georgia, he reminded the bulldog that he's the best mascot in the nation — and grabbed his head gear.
"Georgia is the number one team in the country, that makes you the number one mascot in the nation," Corso told Georgia's mascot, Uga.
Florida at LSU: "I'm not sure that LSU has bought into what Coach O is selling .. I like Florida," said Howard. Speculation surrounds the Ed Orgeron's job security, and Corson is the lone believer in the Tigers.
Alabama at Mississippi State: "This one's over quicker than a pizza disappears at a Weight Watcher's convention," joked Foxworthy. Everyone is on the Crimson Tide to rebound.
Ole Miss at Tennessee: "I think it's a shootout, and Matt Corral in shootouts finds a way," said Herbstreit. Howard, Corso and Herbstreit are riding with Lane Kiffin, but Foxworthy believes the Volunteers get the win.
BYU at Baylor: "Gotta start paying attention to Baylor," warned Herbstreit. Everyone sans Howard agrees, as he's picking the Cougars.
Oklahoma State at Texas: "Tough test, but I'm going Cowboys in a close one," stated Howard. The Longhorns are looking to rebound from last week's gut-wrenching loss, but Corso and Howard believe they won't.
TCU at Oklahoma: "I think TCU has more holes than Larry the Cable Guy's underwear," said Foxworthy. Everyone is on the Sooners today.
Michigan State at Indiana: "This today could be a chance for them to turn their season around .. I'm going to go with the spirit of Tom Allen," said Herbstreit. However, he's alone in that sentiment — everyone else is on the Spartans.
Arizona State at Utah: "Not so fast my friend! Utah wins this one," Corso said in response to Foxworthy's pick. Herm Edwards has fans in Howard and Foxworthy, but Corso and Herbstreit are going with Utah.
Pittsburgh at Virginia Tech: "I like Pitt. I think they're one of, if not the best team in the ACC," said Howard. Perhaps surprisingly, everyone is on the Panthers.
NC State at Boston College: "I love BC. Matt Ryan — my Falcons guy is from BC. But I think the Wolfpack defense is as nasty as the squeegee water at the gas station," joked Foxworthy. The comedian and Howard are riding with NC State, but Corso and Herbstreit are on the Eagles.
College GameDay Crew Picks:
Kirk Herbstreit: Georgia, Florida, Alabama, Ole Miss, Baylor, Texas, Indiana, Utah, Pittsburgh, Boston College
Lee Corso: Georgia, LSU, Alabama, Ole Miss, Baylor, Oklahoma State, Oklahoma, Michigan State, Utah, Pittsburgh, Boston College
Desmond Howard: Georgia, Florida, Alabama, Ole Miss, BYU, Oklahoma State, Oklahoma, Michigan State, Arizona State, Pittsburgh, NC State
Jeff Foxworthy: Georgia, Florida, Alabama, Tennessee, Baylor, Texas, Oklahoma, Michigan State, Arizona State, Pittsburgh, NC State