Commitment tracker: The weekend that was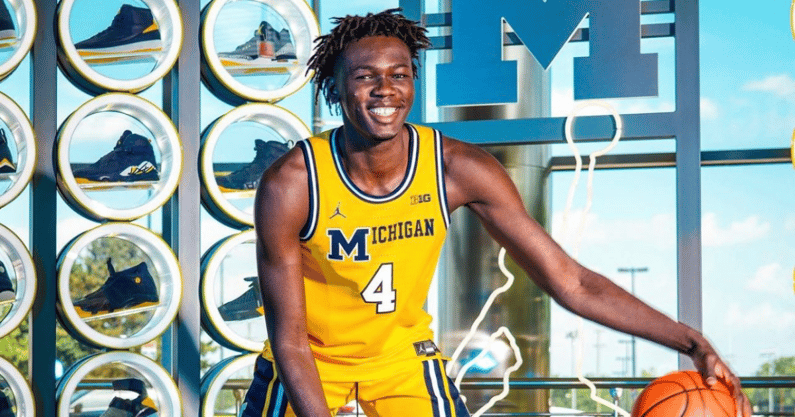 While the recruiting trail may be slowing down a bit, there was still some heavy movement this past weekend with a number of commitments taking place. Signing day for the 2023 class is rapidly approaching, and the majority of players are looking to be wrapped up by the November 9 date.
A couple more 2023 players came off the board this weekend. Here is a quick-hitter recap of the prospects and their fit within the chosen program.
Four-star SF Carl Cherenfant commits to Memphis
The real upside of Carl Cherenfant's game is on the defensive end of the floor. While there are some things to clean up, the four-star has the physicality and the explosive athleticism to be a menace on that end of the floor. Offensively, he is a slasher and best in transition. Physically, he should be ready to get on the floor early. That will all depend on, as with all freshmen, how quickly he adapts to the speed of play and picks up the concepts.
Full Breakdown: Four-star wing Carl Cherenfant
Four-star SG Darren Harris (2024) commits to Duke
Darren Harris is in the conversation for the purest shooter in his class. The 6-foot-5 shooting guard is a noted marksman with deep and consistent range. Harris gives good effort as a team defender and has developed his one and two dribble pull-ups from different angles. In putting together a team, you don't necessarily need to accumulate the best players, but you need to piece together the best players who fit each other. The Fairfax (VA) Paul VI shooting guard fits a lot of different situations with his floor spacing.
Full Breakdown: Four-star SG Darren Harris
Four-star C Papa Kante commits to Michigan
Juwan Howard landed one of the best centers in the 2023 class. Papa Kante is a high-floor, 6-foot-10 post who will push a double-double each time he steps on the high school floor. Kante works hard on the defensive end, protecting the paint, and is an excellent defensive rebounder. Throughout the summer, Kante worked on the jump shot and is looking more and more comfortable as a pick-and-pop threat.
Full breakdown: Four-star C Papa Kante
Three-star PF Jayden Hastings commits to Boston College
Jayden Hastings has a lot of tools that project moving forward, especially if given time to develop. He has good length and an active motor, so that is a good start. The Bradenton (FL) IMG Academy center is still raw on offense and in his defensive footwork and will need to add strength. But for Earl Grant, the long-term play here, with patience, could play out favorably.
Quick Hitters
*Wing Gabe Warren of Glendale (AZ) Dream City Christian committed to Rice.
*Guard Max Sims of Bradenton (FL) IMG Academy committed to Binghampton.
*Shooting guard Richard Barron of Chicago (IL) Saint Ignatius committed to George Mason.
*Power forward Wesley Rubin of Chicago (IL) Simeon committed to Northern Iowa.