A complete list of all the FBS coordinator changes this cycle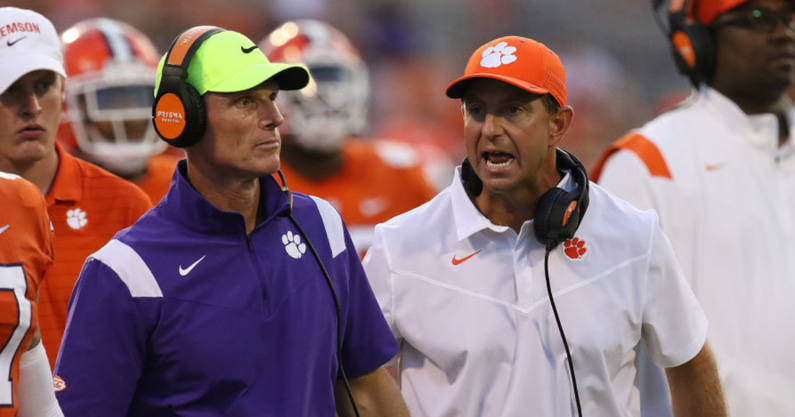 Coaching changes are an annual occurrence — there have been 29 in the FBS ranks this cycle — and with coaching changes come coordinator changes.
But not all coordinator changes are tied to new coaches. In this cycle, 66 FBS schools (that's a bit more than 50 percent of the 130) have changed offensive coordinators, including 11 of the 14 in the ACC, nine of the 14 in Conference USA and seven of the 12 in the AAC. There were 56 defensive coordinator changes, with eight in the Pac-12, seven each in the ACC and SEC and six in the Big Ten.
Of the 29 schools with new coaches, 27 have new coordinators on both sides of the ball; UConn changed offensive coordinators, and Notre Dame hired only a defensive coordinator.
In addition, 10 schools that didn't change head coaches have, for various reasons, two new coordinators: Arizona State, Auburn, Clemson, FAU, Memphis, Michigan, Ole Miss, ULM, UNLV and USF.
Here's a look at all the new coordinators in the FBS ranks and their previous job. If a departed coordinator got a new job, that is listed, too. And schools designated with an asterisk are the ones with new head coaches.
New offensive coordinators
Akron*
The old: Bryan Gasser (previous staff fired)
The new: Joe Moorhead (coach will serve as own OC; had been Oregon OC)
Appalachian State
The old: Frank Ponce (became Miami quarterback coach)
The new: Kevin Barbay (had been Central Michigan OC)
Arizona State
The old: Zak Hill (resigned)
The new: Glenn Thomas (had been UNLV OC)
Auburn
The old: Mike Bobo (became Georgia offensive analyst)
The new: Eric Kiesau (promoted from receivers coach; Austin Davis, who had been Seattle Seahawks quarterback coach, had the job for about a month before stepping down)
Boston College
The old: Frank Cignetti Jr. (became Pitt OC)
The new: John McNulty (had been Notre Dame tight ends coach)
Central Michigan
The old: Kevin Barbay (became Appalachian State OC)
The new: Paul Petrino (had been Idaho coach; fired)
Cincinnati
The old: Mike Denbrock (became LSU's OC)
The new: Gino Guidugli (promoted from quarterbacks coach)
Clemson
The old: Tony Elliott (became Virginia's coach)
The new: Brandon Streeter (promoted from quarterbacks coach)
Colorado
The old: Darrin Chiaverini (became UCLA offensive analyst)
The new: Mike Sanford Jr. (had been Minnesota OC)
Colorado State*
The old: Jon Budmayr (previous staff fired)
The new: Matt Mumme (had been Nevada OC)
Connecticut*
The old: Frank Giufre (previous staff fired)
The new: Nick Charlton (had been coach at Maine)
Duke*
The old: Re'quan Boyette (became East Carolina receivers coach) and Jeff Faris (became UCLA tight end coach)
The new: Kevin Johns (had been Memphis OC)
FAU
The old: Michael Johnson (became Syracuse receivers coach)
The new: Brent Dearmon (had been Middle Tennessee State OC)
FIU*
The old: Andrew Breiner (became Jacksonville Jaguars offensive assistant)
The new: David Yost (out of football in 2021)
Florida*
The old: shared duties (previous staff fired)
The new: Rob Sale (had been New York Giants offensive line coach)
Florida State
The old: Kenny Dillingham (became Oregon OC)
The new: Alex Atkins (promoted from offensive line coach)
Fresno State*
The old: Ryan Grubb (became Washington OC)
The new: Kirby Moore (promoted from receivers coach)
Georgia Southern*
The old: Doug Ruse (previous staff fired)
The new: Bryan Ellis (had been Western Kentucky receivers coach)
Georgia Tech
The old: Dave Patenaude (became Old Dominion OC)
The new: Chip Long (had been Tulane OC)
Hawaii*
The old: shared duties (previous staff let go)
The new: Ian Shoemaker (had been Eastern Washington OC)
Illinois
The old: Tony Petersen (became Illinois State OC)
The new: Barry Lunney Jr. (had been UTSA OC)
Indiana
The old: Nick Sheridan (became Washington tight end coach)
The new: Walt Bell (had been UMass coach)
Kansas State
The old: Courtney Messingham (fired)
The new: Collin Klein (promoted from quarterbacks coach)
Kentucky
The old: Liam Coen (became LA Rams offensive coordinator)
The new: Rich Scangarello (had been San Francisco 49ers quarterback coach)
Louisiana*
The old: Michael Desormeaux (promoted to coach)
The new: Tim Leger (promoted from receivers coach)
Louisiana Tech*
The old: Joe Sloan (became LSU quarterback coach)
The new: Jake Brown (had been Texas Tech quality control assistant) and Scott Parr (had been Navarro College coach)
Louisville
The old: shared duties
The new: Lance Taylor (had been Notre Dame running backs coach)
LSU*
The old: Jake Peetz (became LA Rams offensive assistant)
The new: Mike Denbrock (had been Cincinnati OC)
Marshall
The old: Tim Cramsey (became Memphis OC)
The new: Clint Trickett (promoted from receivers coach)
Massachusetts*
The old: shared duties (previous staff fired)
The new: Steve Casula (had been Michigan analyst)
Memphis
The old: Kevin Johns (became Duke OC)
The new: Tim Cramsey (had been Marshall OC)
Miami*
The old: Rhett Lashlee (became SMU coach)
The new: Josh Gattis (had been Michigan OC)
Michigan
The old: Josh Gattis (became Miami OC)
The new: Sherrone Moore (also will remain as offensive line coach) and Matt Weiss (also will remain as quarterback coach)
Middle Tennessee State
The old: Brent Dearmon (became FAU OC)
The new: Mitch Stewart (had been Samford OC)
Minnesota
The old: Mike Sanford Jr. (became Colorado OC)
The new: Kirk Ciarroca (had been West Virginia analyst)
Nebraska
The old: Matt Lubick (fired)
The new: Mark Whipple (had been Pitt OC)
Nevada*
The old: Matt Mumme (became Colorado State OC)
The new: Derek Sage (had been UCLA tight ends coach)
New Mexico State*
The old: shared duties (previous staff fired)
The new: Tim Beck (had been TCU analyst)
Oklahoma*
The old: Lincoln Riley (became USC coach)
The new: Jeff Lebby (had been Ole Miss OC)
Old Dominion
The old: Kirk Campbell (became Michigan offensive analyst)
The new: Dave Patenaude (had been Georgia Tech OC)
Ole Miss
The old: Jeff Lebby (became Oklahoma OC)
The new: Charlie Weis Jr. (had been UCF OC)
Oregon*
The old: Joe Moorhead (became Akron coach)
The new: Kenny Dillingham (had been Florida State OC)
Pitt
The old: Mark Whipple (became Nebraska OC)
The new: Frank Cignetti Jr. (had been Boston College OC)
SMU*
The old: Garrett Riley (became TCU OC)
The new: Casey Woods (had been Missouri tight ends coach)
Southern Miss
The old: shared duties
The new: Sam Gregg (had been Liberty offensive line coach)
Syracuse
The old: Sterlin Gilbert (fired)
The new: Robert Anae (had been Virginia OC)
TCU*
The old: Doug Meacham (demoted to inside receivers coach)
The new: Garrett Riley (had been SMU OC)
Temple*
The old: shared duties (previous staff fired)
The new: Danny Langsdorf (had been Colorado quarterbacks coach)
Texas Tech*
The old: Sonny Cumbie (became Louisiana Tech coach)
The new: Zach Kittley (had been Western Kentucky OC)
Troy*
The old: Luke Meadows (previous staff fired)
The new: Joe Craddock (had been UAB tight ends coach)
Tulane
The old: Chip Long (became Georgia Tech OC)
The new: Jim Svoboda (had been Central Missouri coach)
UCF
The old: G.J. Kinne (became Incarnate Word coach)
The new: Chip Lindsey (had been Troy coach)
ULM
The old: Rich Rodriguez (became Jacksonville State coach)
The new: Matt Kubik (had been assistant at Columbia [Miss.] High; former ULM OC)
UNLV
The old: Glenn Thomas (became Arizona State OC)
The new: Nick Holz (had been Las Vegas Raiders assistant wide receiver coach)
USC*
The old: Graham Harrell (became West Virginia OC)
The new: Josh Henson (had been Texas A&M offensive line coach)
USF
The old: Charlie Weis Jr. (became Ole Miss OC)
The new: Travis Trickett (had been West Virginia tight ends/inside receivers coach)
UTSA
The old: Barry Lunney Jr. (became Illinois OC)
The new: Matt Mattox (also will remain offensive line coach) and Will Stein (promoted from receivers coach; also will be quarterback coach)
Vanderbilt
The old: David Raih (fired)
The new: Joey Lynch (had been interim OC as well as quarterback coach)
Virginia*
The old: Robert Anae (became Syracuse OC)
The new: Des Kitchings (had been Atlanta Falcons running backs coach)
Virginia Tech*
The old: Brad Cornelsen (previous staff fired)
The new: Tyler Bowen (had been Jacksonville Jaguars tight ends coach)
Washington*
The old: John Donovan (fired)
The new: Ryan Grubb (had been Fresno State OC)
Washington State*
The old: Brian Smith (not retained by new coach)
The new: Eric Morris (had been coach at Incarnate Word)
Western Kentucky
The old: Zach Kittley (became Texas Tech OC)
The new: Ben Arbuckle (also will be QB coach; promoted from quality control coach), Josh Crawford (also will remain as outside receivers coach) and Zach Lankford (also will be line coach; promoted from quality control coach)
West Virginia
The old: Gerad Parker (became Notre Dame tight end coach)
The new: Graham Harrell (had been USC OC)
Wisconsin
The old: shared duties
The new: Bobby Engram (had been Baltimore Ravens tight ends coach)
New defensive coordinators
Air Force
The old: John Rudzinski (became Virginia DC)
The new: Brian Knorr (promoted from inside linebacker coach)
Akron*
The old: Matt Feeney (became Western Illinois DC)
The new: Tim Tibesar (had been Oregon State DC; fired)
Arizona
The old: Don Brown (became UMass coach)
The new: Johnny Nansen (had been UCLA defensive line coach)
Arizona State
The old: Antonio Pierce (became Las Vegas Raiders linebacker coach)
The new: Donnie Henderson (had been interim secondary coach)
Auburn
The old: Derek Mason (became Oklahoma State DC)
The new: Jeff Schmedding (promoted from inside linebackers coach)
Clemson
The old: Brent Venables (became Oklahoma coach)
The new: Wesley Goodwin (promoted from analyst)
Colorado State*
The old: Chuck Heater (previous staff fired)
The new: Freddie Banks (had been Montana State DC)
Duke*
The old: Ben Albert (became UMass defensive line coach) and Matt Guerrieri (became Ohio State analyst)
The new: Robb Smith (had been Rutgers DC)
FAU
The old: Mike Stoops (became Kentucky inside linebackers coach)
The new: Todd Orlando (had been USC DC)
FIU*
The old: Everett Withers (became chief of staff for new Temple coach Stan Drayton)
The new: Jovann Dewitt (had been Nebraska outside linebackers coach)
Florida*
The old: Todd Grantham (previous staff fired)
The new: Patrick Toney (had been Louisiana DC) and Sean Spencer (had been New York Giants defensive line coach)
Fresno State*
The old: William Inge (became Washington co-DC)
The new: Kevin Coyle (had been LSU analyst)
Georgia
The old: Dan Lanning (became Oregon coach)
The new: Will Muschamp (promoted from analyst) and Glenn Schumann (also will remain inside linebacker coach)
Georgia Southern*
The old: Scot Sloan (became Army safeties coach)
The new: Will Harris (had been Washington secondary coach)
Hawaii*
The old: Victor Santa Cruz (not retained by new coach)
The new: Victor Yoro (promoted from linebackers coach)
Kent State
The old: Tom Kaufman (fired)
The new: Jeremiah Johnson (had been Northern Iowa DC)
Liberty
The old: Scott Symons (became SMU DC)
The new: Josh Aldridge (promoted from defensive line coach; now also will coach linebackers) and Jack Curtis (also will remain safeties coach)
Louisiana*
The old: Patrick Toney (became Florida co-DC)
The new: LaMar Morgan (had been Vanderbilt cornerbacks coach)
Louisiana Tech*
The old: David Blackwell (previous staff fired)
The new: Scott Power (had been Stephen F. Austin DC)
LSU*
The old: Daronte Jones (became Minnesota Vikings secondary coach)
The new: Matt House (had been Kansas City Chiefs linebacker coach)
Maryland
The old: Brian Stewart (dismissed)
The new: Brian Williams (promoted from defensive line coach)
Massachusetts*
The old: Tommy Restivo (previous staff fired)
The new: Keith Dudzinski (had been Arizona outside linebackers coach)
Memphis
The old: Mike MacIntyre (became FIU coach)
The new: Matt Barnes (had been Ohio State secondary coach)
Miami*
The old: Manny Diaz (had been coach; previous staff fired)
The new: Kevin Steele (out of football in 2021)
Michigan
The old: Mike Macdonald (became Baltimore Ravens DC)
The new: Jesse Minter (had been Vanderbilt DC)
Nevada*
The old: Brian Ward (became Washington State DC)
The new: Kwame Agyeman (had been Oregon analyst) and Mike Bethea (had been Ottawa [Ariz.] DC)
New Mexico State*
The old: Frank Spaziani (previous staff let go)
The new: Nate Dreiling (had been SE Missouri State linebacker coach)
North Carolina
The old: Jay Bateman (became Florida linebacker coach)
The new: Gene Chizik (had been SEC Network analyst)
Notre Dame*
The old: Marcus Freeman (promoted to coach)
The new: Al Golden (had been Cincinnati Bengals linebacker coach)
Ohio State
The old: Kerry Coombs (became Cincinnati cornerbacks coach)
The new: Jim Knowles (had been Oklahoma State DC)
Oklahoma*
The old: Alex Grinch (became USC DC)
The new: Ted Roof (had been Clemson analyst)
Oklahoma State
The old: Jim Knowles (became Ohio State DC)
The new: Derek Mason (had been Auburn DC)
Ole Miss
The old: D.J. Durkin (became Texas A&M DC)
The new: Chris Partridge (also will remain safeties coach)
Oregon*
The old: Tim DeRuyter (became Texas Tech DC)
The new: Tosh Lupoi (had been Jacksonville Jaguars defensive line coach)
Oregon State
The old: Tim Tibesar (fired)
The new: Trent Bray (promoted from linebackers coach)
Penn State
The old: Brent Pry (became Virginia Tech coach)
The new: Manny Diaz (had been Miami coach)
Purdue
Old co-coordinator: Brad Lambert (became Wake Forest DC)
The new: Lambert had been one of three co-coordinators; Ron English (safeties) and Mark Hagen (line) remain, and English will call the defense
Rutgers
The old: Robb Smith (became Duke DC)
The new: Joe Harasymiak (had been Minnesota safeties coach)
SMU*
The old: Jim Leavitt (not retained by new coach)
The new: Scott Symons (had been Liberty DC)
TCU*
The old: Chad Glasgow (previous staff fired)
The new: Joe Gillespie (had been Tulsa DC)
Temple*
The old: Jeff Knowles (previous staff fired)
The new: D.J. Eliot (out of football in 2021)
Texas A&M
The old: Mike Elko (became Duke coach)
The new: D.J. Durkin (had been Ole Miss DC)
Texas Tech*
The old: Keith Patterson (became Abilene Christian coach)
The new: Tim DeRuyter (had been Oregon DC)
Troy*
The old: Brandon Hall (became Oklahoma safeties coach)
The new: Shiel Wood (had been Army inside linebackers coach)
Tulsa
The old: Joe Gillespie (became TCU DC)
The new: Luke Olson (promoted from safeties coach)
UCLA
The old: Jerry Azzinaro (resigned)
The new: Bill McGovern (had been Chicago Bears inside linebackers coach)
ULM
The old: Zac Alley (became Jacksonville State DC)
The new: Les Koenning (had been Gulf Shores [Ala.] High DC)
UNLV
The old: Peter Hansen (became Denver Broncos linebacker coach)
The new: Keith Heyward (had been California linebacker coach)
USC*
The old: Todd Orlando (became FAU DC)
The new: Alex Grinch (had been Oklahoma DC)
USF
The old: Glenn Spencer (became Wake Forest linebacker coach)
The new: Bob Shoop (had been Miami analyst)
Vanderbilt
The old: Jesse Minter (became Michigan's DC)
The new: Nick Howell (promoted from secondary coach, a position he had held for about a month; had been Virginia's DC)
Virginia*
The old: Nick Howell (became Vanderbilt's secondary coach, then DC)
The new: John Rudzinski (had been Air Force DC)
Virginia Tech*
The old: Justin Hamilton (previous staff fired)
The new: Chris Marve (had been Florida State linebackers coach)
Wake Forest
The old: Lyle Hemphill (became Duke safeties coach)
The new: Brad Lambert (had been Purdue co-DC)
Washington*
The old: Bob Gregory (previous staff fired)
The new: William Inge (had been Fresno State DC) and Chuck Morrell (had been Fresno State safeties coach)
Washington State*
The old: Jake Dickert (promoted to coach)
The new: Brian Ward (had been Nevada DC)
League-by-league breakdown
AAC: 7 OC, 5 DC
ACC: 11 OC, 7 DC (of note, NC State is the only one of the league's 14 teams that made no coordinator change)
Big Ten: 6 OC, 6 DC
Big 12: 5 OC, 4 DC
Conference USA: 9 OC, 3 DC
Mid-American: 2 OC, 2 DC
Mountain West: 6 OC, 6 DC
Pac-12: 6 OC, 8 DC
SEC: 6 OC, 7 DC
Sun Belt: 5 OC, 4 DC
Independents: 3 OC, 4 DC