Coveted WR Mekhai White cuts list to eight schools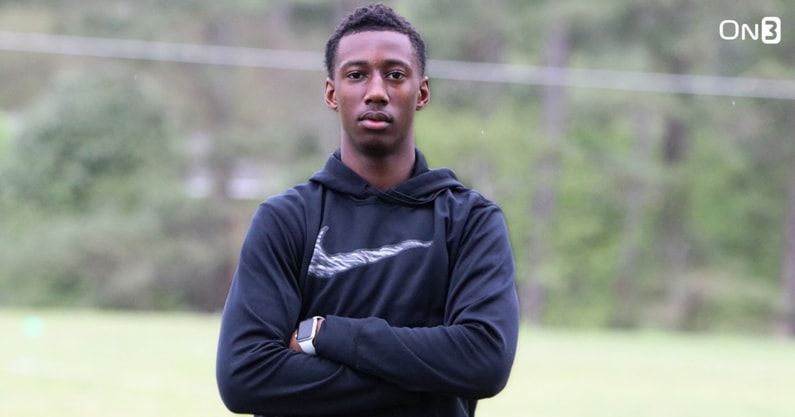 King George (Va.) three-star wide receiver Mekhai White has hit his home stretch in his recruitment. The coveted pass catcher has cut his list of schools down to eight from nearly 30 offers.
White is still considering Arkansas, Penn State, Tennessee, LSU, Maryland, Oklahoma, Michigan and Virginia Tech.
White had originally planned on being committed by now — he set a commitment date for May 12 back in January.
That timeline has shifted. White is now working back through his recruitment with some new options on the table. On3's Recruiting Prediction Machine has Michigan as White's leader. The Wolverines have a 70.1 percent chance of landing White, per the RPM.
Breaking down the contenders
Tennessee: "It's a great place, with a great coaching staff and a high-paced offense."
Penn State: "Penn State has been recruiting me since 8th grade, it's a great college town."
Maryland: "I have a great relationship with the coaches, close to home and they have been recruiting me very hard."
Virginia Tech: "It's an in-state school, they're building the program back up to where it used to be, I can be a hometown hero."
Michigan: "They have a great culture. They have a very experienced coaching staff, it feels like home and academics and development."
Arkansas: "I just have a great relationship with the coaches."
Oklahoma: "Great school, great culture and they send great players to the NFL."
LSU: "LSU has a great culture sends a lot great receivers to the NFL. Coach (Brian) Kelly is really doing a great job with that program and will win a natty really soon."
White has official visits set
White has a few official visit lined up already. He will visit Maryland on June 9, then will head to Arkansas on June 16 and Virginia Tech on June 23. He is also working on official visits to Tennessee, Oklahoma, Penn State and Michigan as well.