Curtis Givens tracking as one of 2024's top guards; "Duke was 'the school' growing up"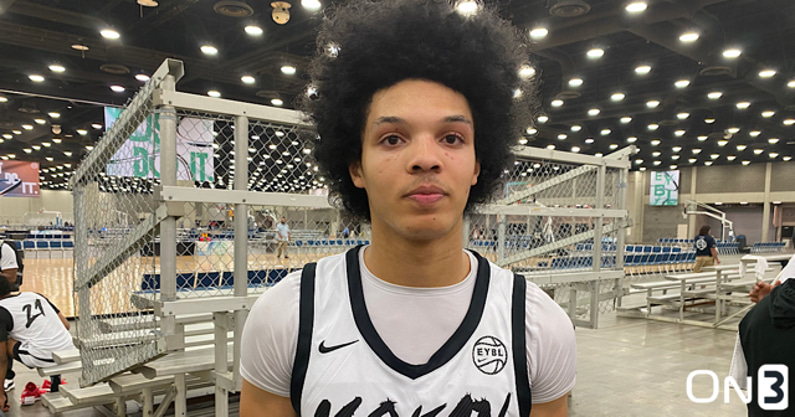 Curtis Givens is trending as one of the top guards in the 2024 class. The 6-foot-2 guard has been consistently good for the MoKan 16u team on Nike's EYBL Circuit.
"I'm a scoring guard, but I take what the defense gives me," Givens told On3. "I can make my teammates better, facilitate for them. I watch a lot of Steph Curry with how he can score and shoot but still make his teammates better."
On3 recently caught up with Curtis Givens to see which schools were on him early.
"I would say we hear the most from Tennessee right now," Givens said. "I have been on unofficial visits to Tennessee and Ole Miss so far."
Givens on recruitment
Tennessee: "I've built a great relationship with Coach (Justin) Gainey. He has been telling us how much he loves my game and how I fit with what they do. I watched them play Auburn and saw their guards get downhill and rely on them to make a lot of plays. I feel like I can fit into that system well."
Ole Miss: "Their fan base is really great; that is something I did not know about them and sticks out. Their practices are intense, and I know they play at a fast pace, which I like."
"We've recently heard from Duke; they haven't offered yet. I was never really a fan of any team growing up, but I did grow up watching a lot of Duke. They were 'the school' growing up."
Givens' take
"When I look at a college, I look for the best relationship with the coaches," Givens said. "I'll look at how much they want me and how much love the program shows me. I will go to the place that fits me best, the place that makes me a better player on the floor and a better person off the floor."
On3's take
Curtis Givens is a skilled and confident lead guard. He has smooth three-point range that extends well beyond the arc. While he will need to continue developing his explosion, he can get to his spots, off the bounce, in the half-court, and has good floor vision. Givens is a modern type guard who can score and facilitate. He should track among the top in his class.