D1Baseball releases Field of 64 projection entering conference tournament week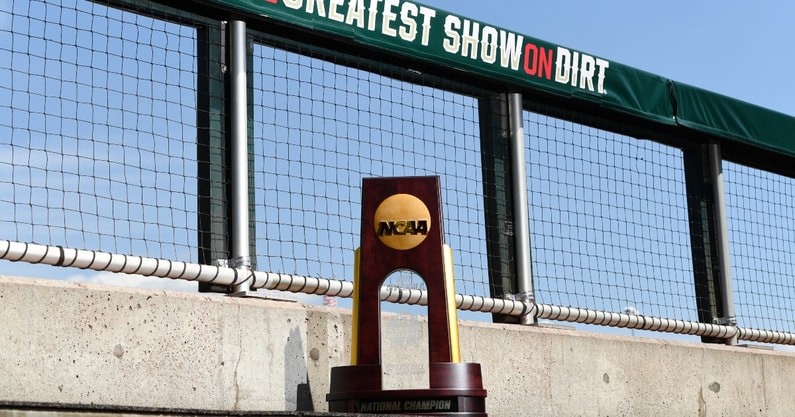 College baseball has officially flipped into postseason mode. The regular season is now done, and now teams are making their final attempts to boost their postseason resume. On the eve of conference tournament week getting underway, D1Baseball has released a brand new NCAA Tournament Field of 64 projection.
31 teams will earn automatic bids to the NCAA Tournament through winning their respective conference tournaments. From there, 33 teams would earn at-large bids.
The field is far from set, with a lot that can happen from top to bottom. There are probably only seven or eight teams that are 100 percent locked into hosting a regional, with the remaining spots still up for grabs.
Some teams will go on runs this week in their conference tournaments. If they manage to win their tournament, they could steal a bid and wreak havoc on the projected field. D1Baseball's field is based on who they think will win each respective conference tournament, but bid stealers could completely change everything.
Here is the full Field of 64 projection from D1Baseball, which was released on Tuesday afternoon.
D1Baseball's projected NCAA Tournament Field of 64
Last four in: Arizona State, Notre Dame, Oklahoma, NC State
First four out: Texas State, Elon, UTSA, Cal State Fullerton
*Indicates automatic qualifier
Winston-Salem Regional
1. Wake Forest* (No. 1 overall)
4. Saint Joseph's*
2. Northeastern
3. TCU
Austin Regional
1. Texas (No. 16 overall)
4. Loyola Marymount*
2. Dallas Baptist*
3. Texas A&M
Gainesville Regional
1. Florida* (No. 2 overall)
4. Central Connecticut*
2. Maryland*
3. Kansas State
Brighton Regional
1. Boston College (No. 15 overall)
4. Fairfield*
Fayetteville Regional
1. Arkansas (No. 3 overall)
4. Maine*
2. Indiana
3. Oklahoma
Tuscaloosa Regional
1. Alabama (No. 14 overall)
4. Samford*
2. Southern Miss
3. Arizona State
Baton Rouge Regional
1. LSU (No. 4 overall)
4. Nicholls*
2. Washington
3. Texas Tech
Stillwater Regional
1. Oklahoma State* (No. 13 overall)
4. Oral Roberts*
2. Oregon State
3. Grand Canyon*
Stanford Regional
1. Stanford* (No. 5 overall)
4. San Jose State*
2. North Carolina
3. UC Santa Barbara*
Auburn Regional
1. Auburn (No. 12 overall)
4. Alabama State*
2. East Carolina*
3. Troy
Clemson Regional
1. Clemson (No. 6 overall)
4. Army*
2. Campbell*
3. Oregon
Coral Gables Regional
1. Miami (No. 11 overall)
4. Wright State*
2. Tennessee
3. Kent State*
Nashville Regional
1. Vanderbilt (No. 7 overall)
4. Lipscomb*
2. Duke
3. UC Irvine
Conway Regional
1. Coastal Carolina* (No. 10 overall)
4. UNC Wilmington*
2. South Carolina
3. NC State
Charlottesville Regional
1. Virginia (No. 8 overall)
4. Penn*
2. West Virginia
3. Iowa
Lexington Regional
1. Kentucky (No. 9 overall)
4. Morehead State*
2. Indiana State*
3. Notre Dame