Dabo Swinney shows he's serious about fixing Clemson's offense by going with a strong, external hire in TCU coordinator Garrett Riley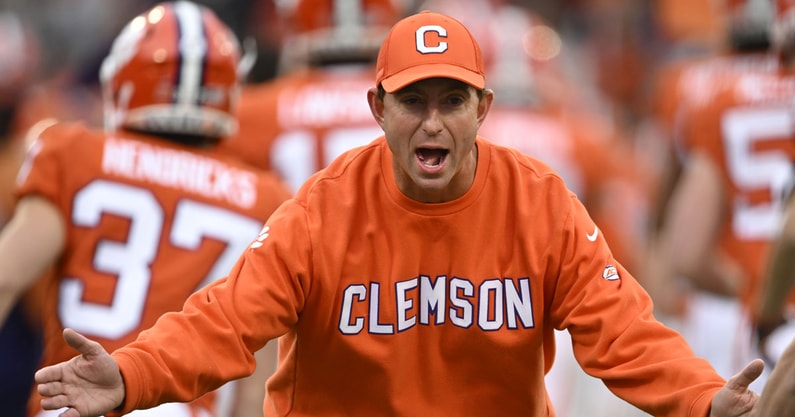 Twelve years ago, Dabo Swinney made a decision that changed the trajectory of Clemson's football program. 
After a 6-7 season in 2010, with an offense than ranked 90th in yards per play and 86th nationally in scoring, the Tigers' then-young head coach fired offensive coordinator Billy Napier, who had been with Clemson's program since the Terry Bowden days. Swinney opted to go outside the Tigers' family tree, and hired then-hot-shot coordinator Chad Morris. 
Clemson would win its first ACC Championship under Swinney the very next season, kickstarting a ridiculous nine-year run. 
Flash forward to Thursday, and Dabo Swinney made another savvy call that could propel Clemson back into a college football superpower. 
"As the leader of this program, I am accountable for our staff and accountable for our results, and though we took a step forward offensively in 2022, after evaluating our offense in-depth, I felt it was in the best interest of our program to seek new leadership at that position," Dabo Swinney said in a statement after firing offensive coordinator Brandon Streeter, who'd been the Tigers' QB coach from 2015-21 before earning his promotion to OC last year. 
"These decisions are never easy, but it is my job to evaluate and assess every part of our program every year, and this was just the right time to make a change."
It was probably several years too late, but with Tony Elliott landing at Virginia last season, Dabo Swinney could've made the move for new ideas a year ago. He didn't, opting to continue Clemson's history of promoting from within. 
That cultural continuity helped the Tigers win two national championships, but it eventually came with a cost. Superstar quarterbacks  Deshaun Watson and Trevor Lawrence were able to mask an offensive system that was antiquated and clunky, but the staleness was too much for DJ Uiagalelei or Cade Klubnik to overcome. 
The Tigers didn't have a single offensive on-field assistant last season who had any Power 5 coaching experience at anywhere but Clemson. 
The lack of fresh ideas or ingenuity has been apparent for years, especially in NFL Draft scouting circles, but Swinney continued to stubbornly lean on internal promotions. 
Sure, it initially worked with Elliott and Jeff Scott, but again, how much was them vs. the all-world talents of Watson and Lawrence? 
Uiagalelei had a really rough 2021 season (nine touchdowns to 10 interceptions), and while he was better this fall (22 touchdowns to seven picks), he still only completed 61% of his passes and was so inconsistent that Swinney was finally forced to turn over the offense to the 5-star freshman. Klubnik faired well in the ACC Championship against North Carolina's porous defense but struggled against Tennessee in the Orange Bowl. 
Uiagalelei transferred to Oregon State this offseason, and at the AFCA convention in Charlotte over the weekend, one Beavers staffer told On3 he was stunned watching film of Clemson's offensive system in 2022, saying they were running schemes he'd rarely seen in the last decade of coaching. 
That won't be a problem any longer. 
Not only did Swinney make the move to change coordinators, but he did what Texas A&M's Jimbo Fisher could not — poach now-hot-shot OC Garrett Riley away from TCU. The move is expected to become official later this afternoon after Clemson's Board of Trustees holds a meeting with the agenda: "Football Assistant Coach Contract."
Many predicted that Swinney might stay in the family and re-hire Jeff Scott, who was fired as head coach at USF in December. 
Scott is an excellent receivers coach and recruiter, but Swinney smartly avoided such an urge, and opted to shake up the snow globe, making a move that demonstrates he's serious about modernizing Clemson's offense. 
"I look forward to bringing in a dynamic, proven leader at offensive coordinator with the specific purpose of meeting — and raising — the standard of excellence that has been established at Clemson," Swinney also said in his statement Thursday. 
"I passionately believe in our staff and in the young men in our program and am excited about the opportunity to see them grow even more in 2023."
He certainly raised Clemson's ceiling for 2023 by poaching Riley from TCU. 
Riley, the reigning Broyles Award winner as the nation's top assistant coach, just piloted a Horned Frogs offense that lacks Clemson's 4-and 5-star recruits into the national title game appearance. He turned Max Duggan, a backup to start the 2022 season, into the Heisman Trophy runner-up.
Clemson has been unable to consistently generate chunk plays for two seasons now, but that shouldn't be a problem with Riley calling the shots (TCU ranked No. 4 nationally in explosiveness). 
Hiring Riley won't instantly solve Clemson's recent issues of developing offensive linemen or churning out future NFL wide receivers, but it's a major step in the right direction.  
The Tigers return promising tailbacks Will Shipley and Phil Mafah, and they have plenty of former blue-chip recruits at wideout and tight end ready to step into bigger roles. 
Riley made the most of the pieces he had to work with at TCU, and he'll need to do the same at Clemson in 2023. 
But even if it takes more than a single season for Clemson's offense to get back to elite status, Swinney just saved the Tigers' program from its recent regression.
If the move pans out right away?
Clemson could be back in the national title conversation as soon as next season.