Dak Prescott 'can't imagine' Cowboys locker room without Ezekiel Elliott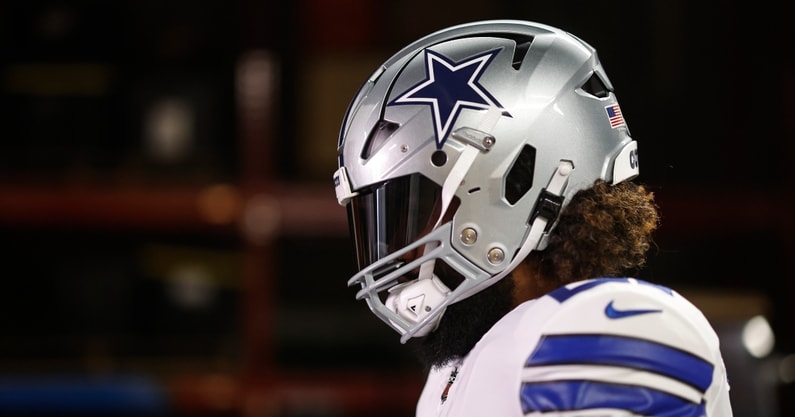 The Dallas Cowboys recently decided to move on a player who has been one of the mainstays of their franchise for the past seven years. The Cowboys recently released Ezekiel Elliott, a running back that's enjoyed a very prolific career during his time in Dallas. Since 2016, he's pounded and pummeled his way to the tune of 8,262 rushing yards for the franchise, including four seasons of over 1,000 rushing yards. It's certainly going to different in Dallas without Elliott, who's been a constant in the franchise for several years now, but the keys to the Cowboys' backfield have officially been handed over to Tony Pollard, who has emerged as one of the game's superstars. Owner Jerry Jones even released a statement earlier this week, after he cut his star tailback. Quarterback Dak Prescott is having a hard time stomaching the release of Elliott, his longtime teammate. On Thursday evening, he shared his emotional feelings on Elliott no longer being with the franchise.
You can listen to his audio below or read the transcribed version below the clip.
"Zeke's a guy that man, he played this game, did everything about this game the right way. Had fun. Did that. But when it was time to lock in, when it was time to focus and give everything that you had. To show your teammates and to show the younger guys what really mattered and how to get things done. Zeke was a guy to follow. Just of how to be a pro and how to be a pro with a smile on your face and enjoying this game and enjoying life. I can't imagine him not [being] in the locker room," Prescott said.
Cowboys' owner Jerry Jones' statement on Ezekiel Elliott release
Cowboys' owner Jerry Jones acknowledged the business aspect of their decision as a franchise, but made it clear that Elliott has been — and will continue to be — a lasting part of the Dallas Cowboys organization, when he released a statement earlier this week.
"Zeke's impact and influence is seared into the Cowboys franchise in a very special and indelible way," said Jones. "He has been a consummate professional and leader that set a tone in our locker room, on the practice field and in the huddle. Zeke defined what a great teammate should be, and anyone that has ever played a team sport would be lucky to have a teammate like Zeke and be much better for it. His commitment and passion for winning is selfless, and the accountability he brings everyday earned the respect of our coaches, his teammates and our entire organization. He wore the Cowboys Star with pride and purpose every single time he put it on, and we're a better franchise because of the example he set for veterans and rookies alike. That carried over into our community as well, with Zeke's generosity and spirit about giving and caring for others.
"We have mutually agreed with Zeke that the best decision for everyone is that he will be able to experience free agency, and we can increase our flexibility and options as well. This is one of the toughest parts of operating a team. Moments like this come, and extremely difficult decisions and choices ae made. For the franchise. For me personally. For players too. We will always have a special place and love for Zeke and what he means to our Cowboys family, both as a person and a player. That will never change."
On3's Austin Brezina also contributed to this article.