Dak Prescott finds himself in elite company after Tampa Bay game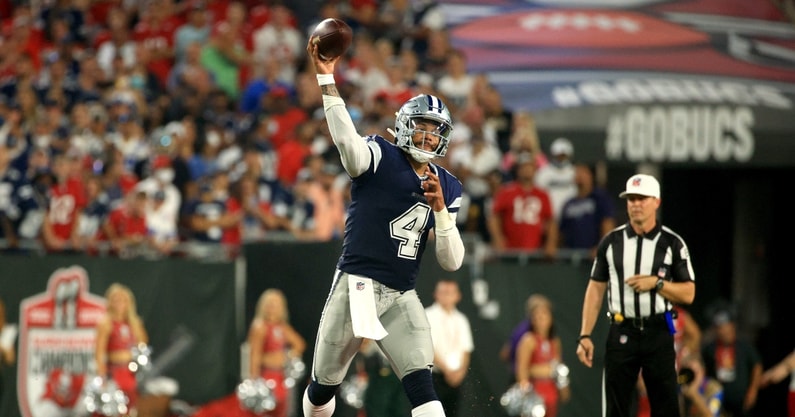 The more you look at it, the more special Dak Prescott's Thursday Night Football performance becomes. Although the Dallas Cowboys could not pull off the upset win against the defending Super Bowl champions, Prescott put up big numbers. He finished the game with 42 completions on 58 attempts, three touchdowns, one interception, and a grand total of 403 yards through the air.
Prescott's 403 yards passing was the most yards passing in week one of the season until Monday night's Baltimore Ravens versus Las Vegas Raiders game. Raiders quarterback Derek Carr finished with 435 yards passing, but he did need the overtime period to surpass Prescott's 403. His three touchdown passes ties him for fifth-best in the league heading into Week two.
A master of 400 yard games
The most impressive part of Dak's passing performance is that it's his eighth 400-plus yard passing game since 2016, the year in which he was drafted. Ever since the Dallas Cowboys took him with the 135th pick in the fourth round, Dak leads all active quarterbacks with 400-yard passing games. The next closest is a four-way tie between Aaron Rodgers, Patrick Mahomes, Ryan Fitzpatrick, and Kirk Cousins, at five games each. When it comes to the most in a quarterback's first six seasons, Prescott only trails Hall of Fame quarterback Dan Marino who had nine to start his career.
For even more perspective on this passing feat, in four of his last five games, Prescott threw for over 400 yards. Last year before his season ended with a leg injury, he was on pace to break the single-season passing record of 5,477 yards set by Peyton Manning. With the way he opened up the season against the Tampa Bay Buccaneers, Prescott appears to a picked up right where he left off last year.
Prescott's dillema
The one issue that can be taken with Prescott's 400-yard passing games as of late is that they do not transfer over into wins for the Dallas Cowboys. In those four games, the Cowboys are just 1-3. If the Dallas Cowboys can rally around Dak Prescott's impressive quarterback play, they can easily see more wins than losses when he passes for more than 400 yards.