Cowboys add Oklahoma State DE Tyler Lacy, LSU DT Jaquelin Roy to top-30 visitors list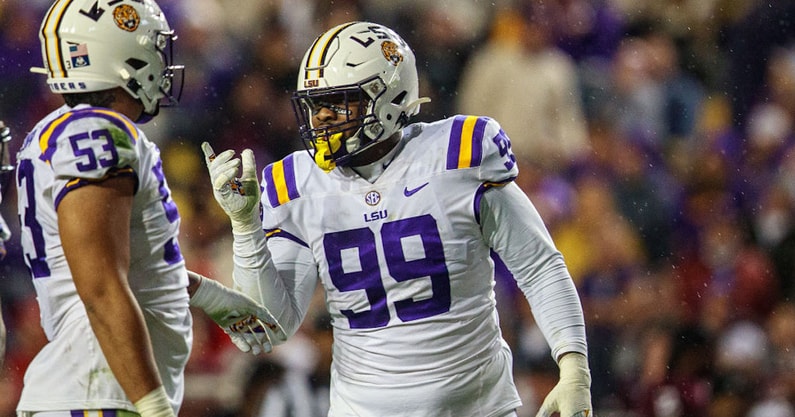 The list of top-30 prospect visitors coming to Dallas is getting longer and longer. According to Calvin Watkins of the Dallas Morning News, Oklahoma State defensive end Tyler Lacy and LSU defensive tackle Jaquelin Roy will make their way to see the Cowboys ahead of the 2023 NFL Draft.
Lacy and Roy are No. 20 and No. 11, respectively, at their positions on ESPN's best-available board for the draft.
The Cowboys have talent stockpiled at defensive end but defensive tackle is definitely an area they could address in a high round of the draft.
Lacy, a four-year contributor for the Pokes, racked up 11.5 tackles during his collegiate career. A Sachse, Texas native, he had 113 tackles over four seasons, including 20 in 2022.
Roy, a three-year player for LSU, had a career year for the Tigers. He posted 49 tackles in his junior season.
Top-30 visits scheduled for this week
After getting a big boost already early in the free agency window, Cowboys owner Jerry Jones is feeling confident about the upcoming draft. Dallas currently has seven picks to work with later this month – one in each round.
"We've got ourselves in real good shape to get us some picks that can play immediately," Jones said. "And that's the goal here. If you get yourself in a position where you can draft some players you can put on the field, and be a position selective a little bit, you're doing it (right). Now you never want to pass on the guy you ought to be taking, but still be position selective. And that's, I think, where we are. I feel good that we can take any position there."
Other prospects the Cowboys have coming into the Star are WR Jalin Hyatt, WR Quentin Johnston, WR Zay Flowers, LB Trenton Simpson, WR Jonathan Mingo and WR Josh Downs.
More on the 2023 NFL Draft
The 2023 NFL Draft takes place from Thursday, April 27 through Saturday, April 29 in Kansas City, Missouri. The event location this year is the plaza just outside of Union Station.
Round 1 of the NFL Draft begins at 8 p.m. ET on Thursday, Apr. 27. Rounds 2-3 will begin at 7 p.m. ET on Friday, Apr. 28, and Rounds 4-7 will begin at 12 p.m. ET on Saturday, Apr. 29. The draft broadcast runs throughout the weekend on both ESPN and NFL Network.
Following two trades that cost them two fifth-round compensatory picks (No. 161, No. 169), these are the seven draft picks left on the Cowboys board for April.
Round 1, No. 26
Round 2, No. 58
Round 3, No. 90
Round 4, No. 128
Round 5, No. 176*
Round 6, No. 212*
Round 7, No. 243
*denotes compensatory pick